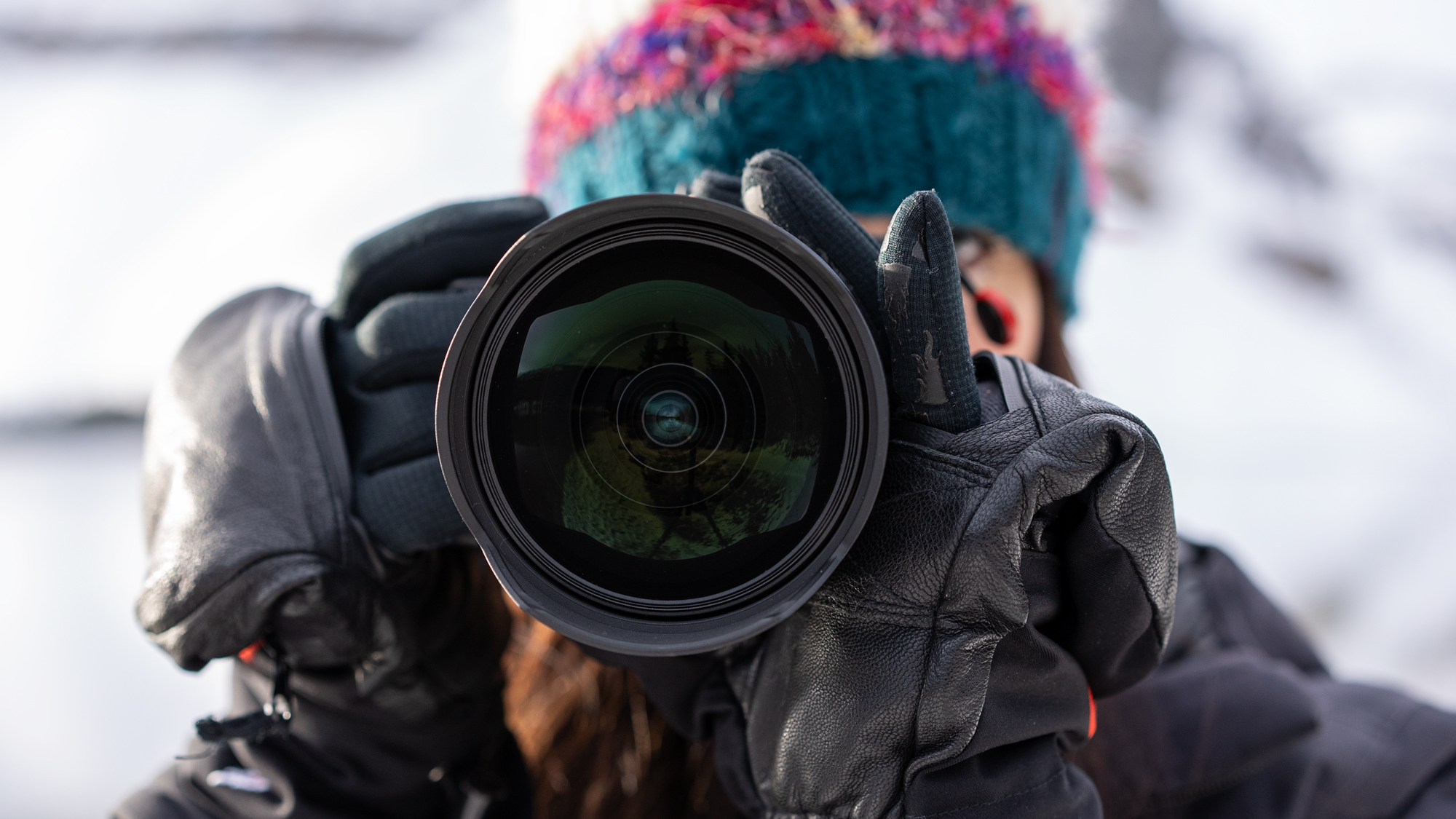 You've all heard stories about the weather in the Canadian Rockies; you might have even heard them from me! We certainly get our share of legendarily cold weather. But we also get as many days which are anomalously warm!
Average Temperatures in Banff National Park
| | | | |
| --- | --- | --- | --- |
| | Highs °C | Lows °C | Snow |
| November | 1° | -8° | 9 days |
| December | -5° | -14° | 11 days |
| January | -4° | -14° | 11 days |
| February | 0° | -12° | 9 days |
| March | 4° | -8° | 9 days |
Although average temperatures are very moderate, we can get "cold snaps" when temperatures dip down below -20°C. For photography, colder temperatures result in beautiful features like "frost flowers' that bloom along open bodies of water.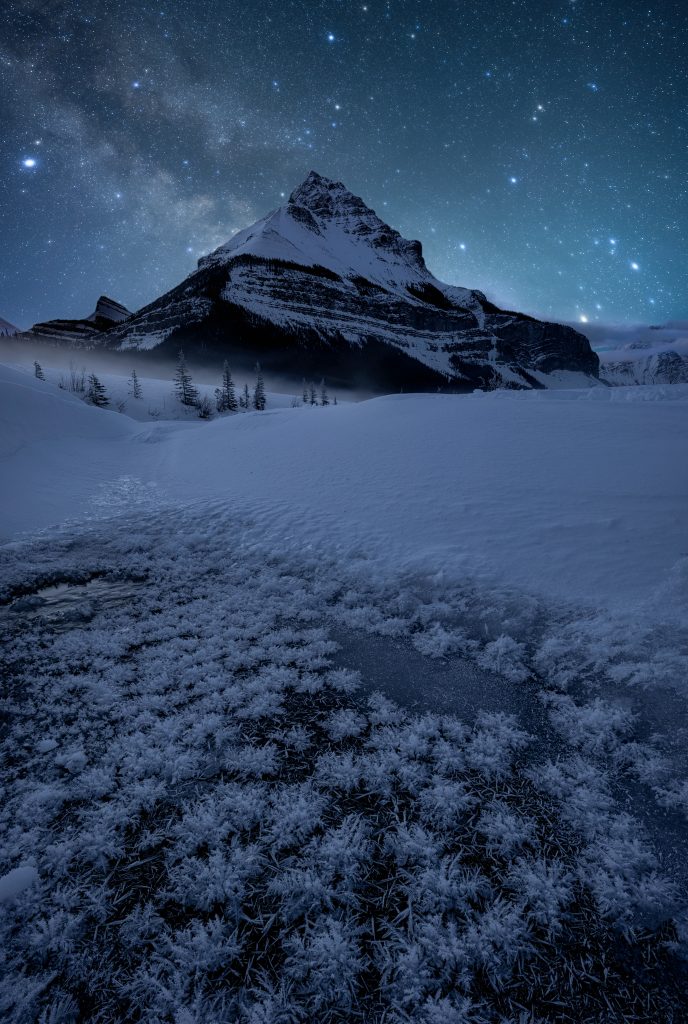 The Rockies also get "chinook" weather. A chinook is a warm, dry wind that blows down the leeward side of a mountain. When this happens, temperatures shift dramatically in a matter of hours. The wind is so warm that snow sublimates! Sometimes chinook winds will completely clear snow off the frozen lakes, and temperatures can reach +20°C.
For photographers, the best thing about chinook weather is not the ability to walk outside in a t-shirt. Rather, it is the arch of clouds along the edge of the mountains, referred to as a "chinook arch." This arch is a long line of lenticular clouds. On average, this area sees 30-35 chinook days each year.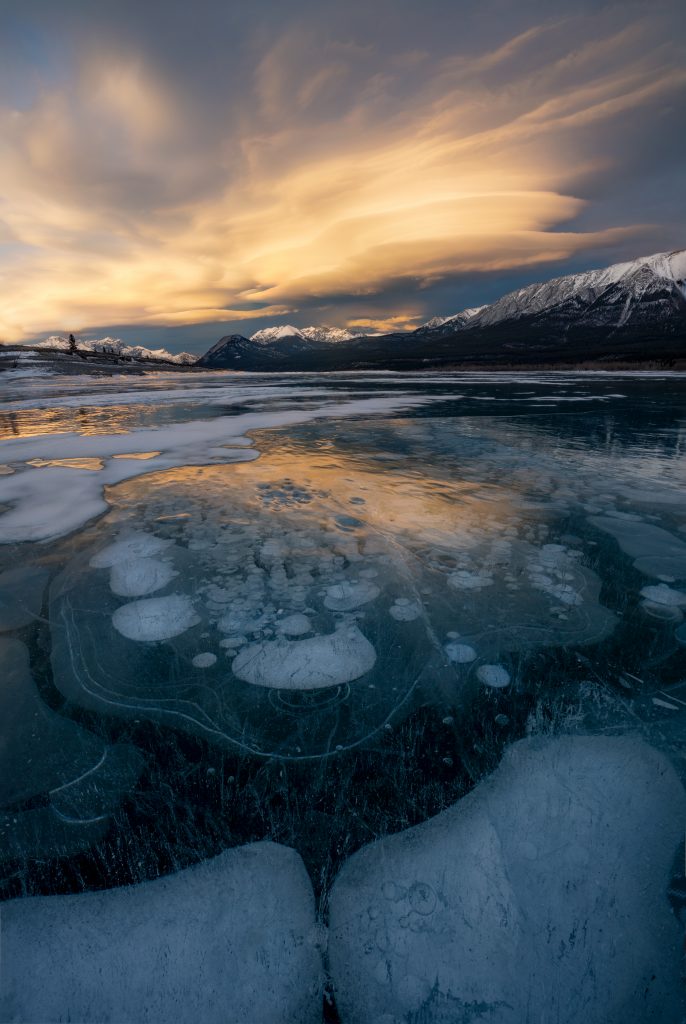 Winter in the Rockies is a dry kind of cold. The key to staying toasty warm is to dress in layers. Avoid tight fitting clothing as it is the air in between the layers that insulates you from the cold.
Basic Layers for Keeping Warm
Neck Warmer (I don't recommend scarves as they are bulky and blow in the wind).
Warm toque (beanie)
Merino Wool Base Layers
Wool Socks
Fleece Mid Layers
Puffy Jacket
Wind Proof Outer Layer (a ski jacket is a good outer layer. However, it is designed for people who are physically active on the hill. If you are standing around, waiting for the light, you will want to use a puffy layer underneath the ski jacket).
Warm gloves that you can operate your camera without exposing your fingers to the cold. Big gloves are not good for getting to your camera functions. I use a touch screen liner glove inside of a wind proof mitten. This mitten folds back to reveal the inner glove so you can operate your camera. Both the inner glove and the mitten have room for chemical hand warmers. I HIGHLY RECOMMEND these gloves. I have never had frostbite on my hands, and I have worked in temperatures below -40° Celsius.
Chemical warmers. Chemical warmers can be used in your gloves and boots for added protection on colder days. For the foot warmers, I prefer the insole style which covers the whole bottom of the boot, to the toe warmers which only cover the toe. Or use both styles to make a toasty warm toe sandwich!
Winter boots. Your boots should be rated for cold weather. Regular hiking boots do not provide adequate protection.
Micro spikes. You will need micro spikes that slip on over your boots for getting around on the ice. Please be sure to try them on with your boots before arriving. Also note, the diamond style grips are not sufficient on sloped terrain.
Camera Gear
*STURDY TRIPOD* You need a tripod that isn't at risk of blowing over when you mount your camera and lens on it. You will want it to get low (within a few inches of the ice). Mefoto and the ManFrotto BeFree tripods are not recommended.
I use a Slik USA carbon fibre 734 with an SBH 200 DQ Ball Head. It is lightweight but sturdy and it gets low. This tripod has been all over the world with me and has worked reliably at every shooting location. SLIK has graciously extended a 15% discount to workshop attendees if you need to upgrade your current gear. Use the code RJR15.
Wide-Angle Lens. The Rocky Mountains are imposing peaks that fill the frame of a wide-angle lens. I use a Sony 12-24 mm f/2.8 GMaster and a 14 mm f/1.8 GMaster. If you don't currently own a wide-angle lens, you will need to rent one for the trip.
Gear Checklist
BATTERIES and battery chargers!
Memory cards
Headlamp or flashlight for night shooting (please avoid anything with a red-light function)
Shutter release cable (recommended but not essential)
Cloth grocery bag or super lightweight duffel bag to hold your warm gear and snacks.
Laptop for post-processing
A note about camera straps. Camera straps blow and flap in the wind. Using camera straps on a tripod is a bit like attaching a parachute to your camera. I recommend removing the ones that come with your camera. If you feel better about having a strap, I recommend getting a peak design style that quickly and easily detaches from your camera before you put it on a tripod.
Rain sleeve for your camera. The disposable sleeves are fine. I don't expect it to rain during your stay, but it could snow. The rain sleeve will protect your camera from moisture.
Still have questions?
You can read more about my approach to cold weather photography on Sony Alpha Universe. If you have any questions at all, please don't hesitate to contact me!