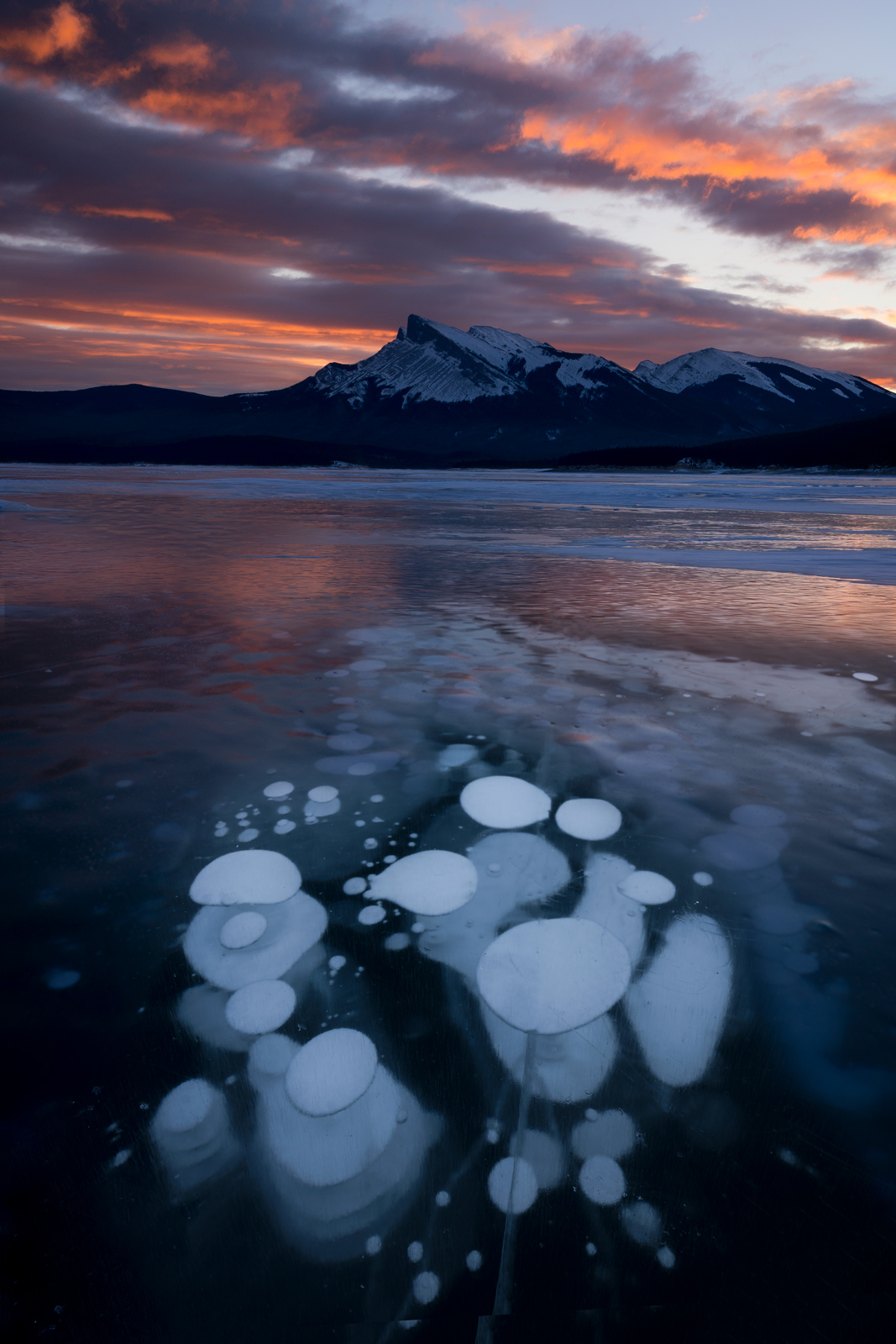 Abraham Lake in the winter truly looks like stuff of science fiction. Trapped methane gas slowly makes its way to the surface of the ice but freezes, making the entire lake look like a frozen sea of bubbles. In this article I offer a location and shooting guide to help you get the most out of your adventure.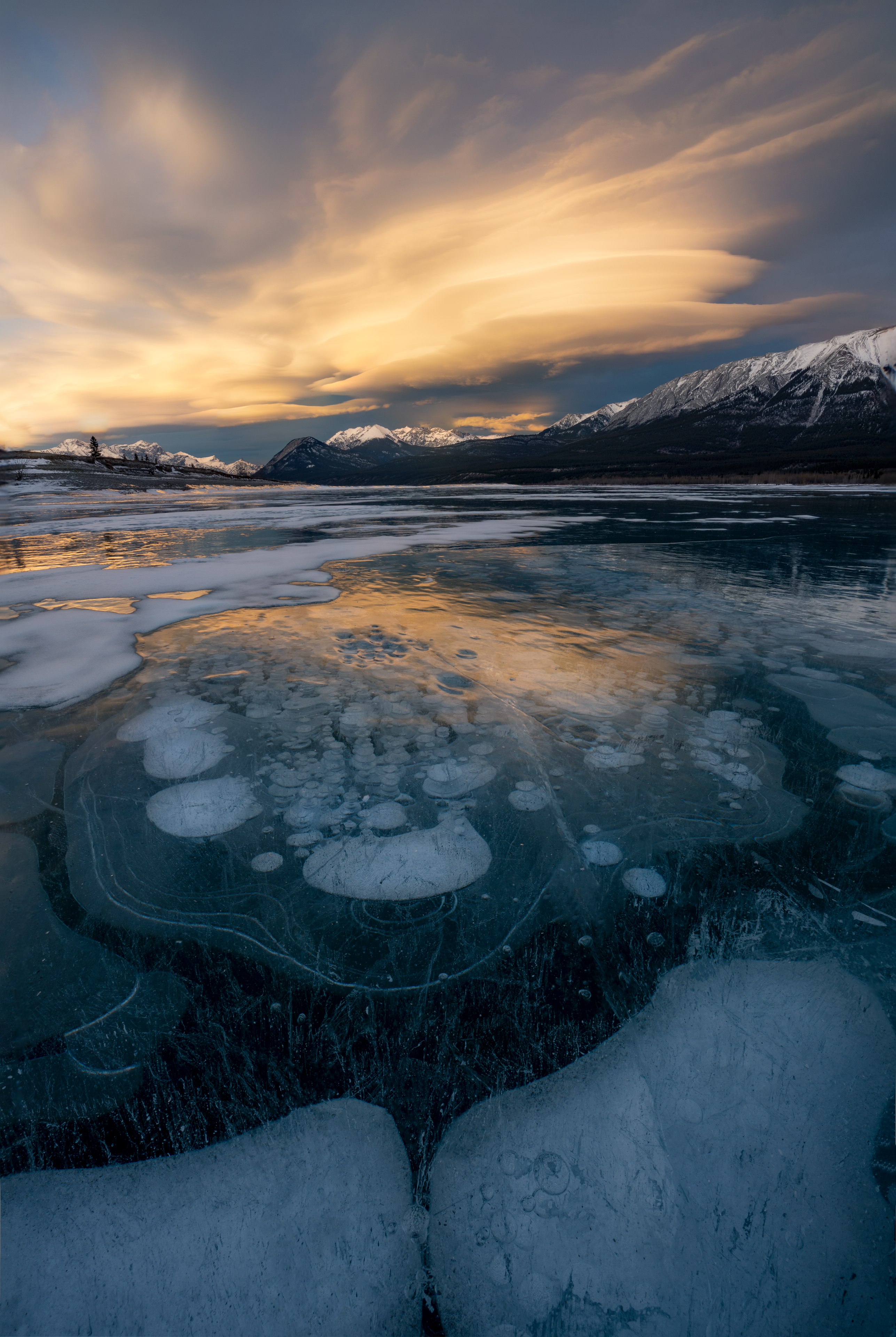 Where to Find the Bubbles
Abraham Lake is located along the David Thompson Highway (hwy 11). There are two ways to access Abraham Lake. From the west, you would exit the Icefields Parkway in Banff National Park at The Saskatchewan River Crossing where Highway 11 and the Icefields Parkway intersect (about 80 kilometers north of Lake Louise). Or, if you are driving from the east, it is about a one-hour drive from the town of Rocky Mountain House.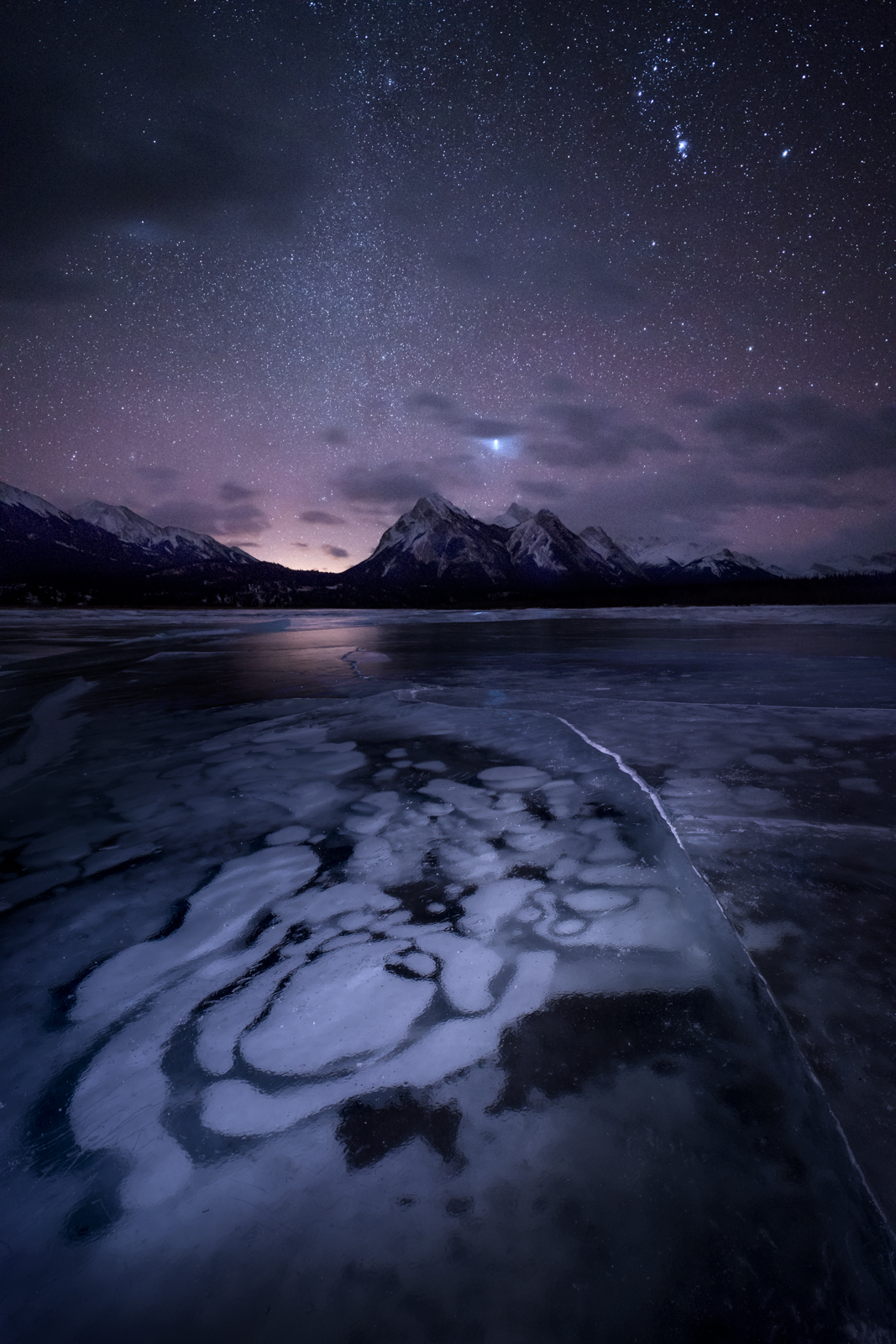 The bubbles can be found all along the lake. That said, some years are better than others, and some locations are also better than others. The two best known locations are Preachers Point (located 32 km from Saskatchewan River Crossing), and Windy Point (about 20 km further down the lake).
When to Visit
The biggest factor in determining when to visit is the safety of the ice; the North Saskatchewan River flows through Abraham Lake and the current can be strong in places. Ice must be 4 inches thick to support the weight of a person. You need to be sure you can tell how thick the ice is before you go out exploring. Avoid walking on ice that is snow covered or opaque unless you are certain that it is thick enough to support your body weight.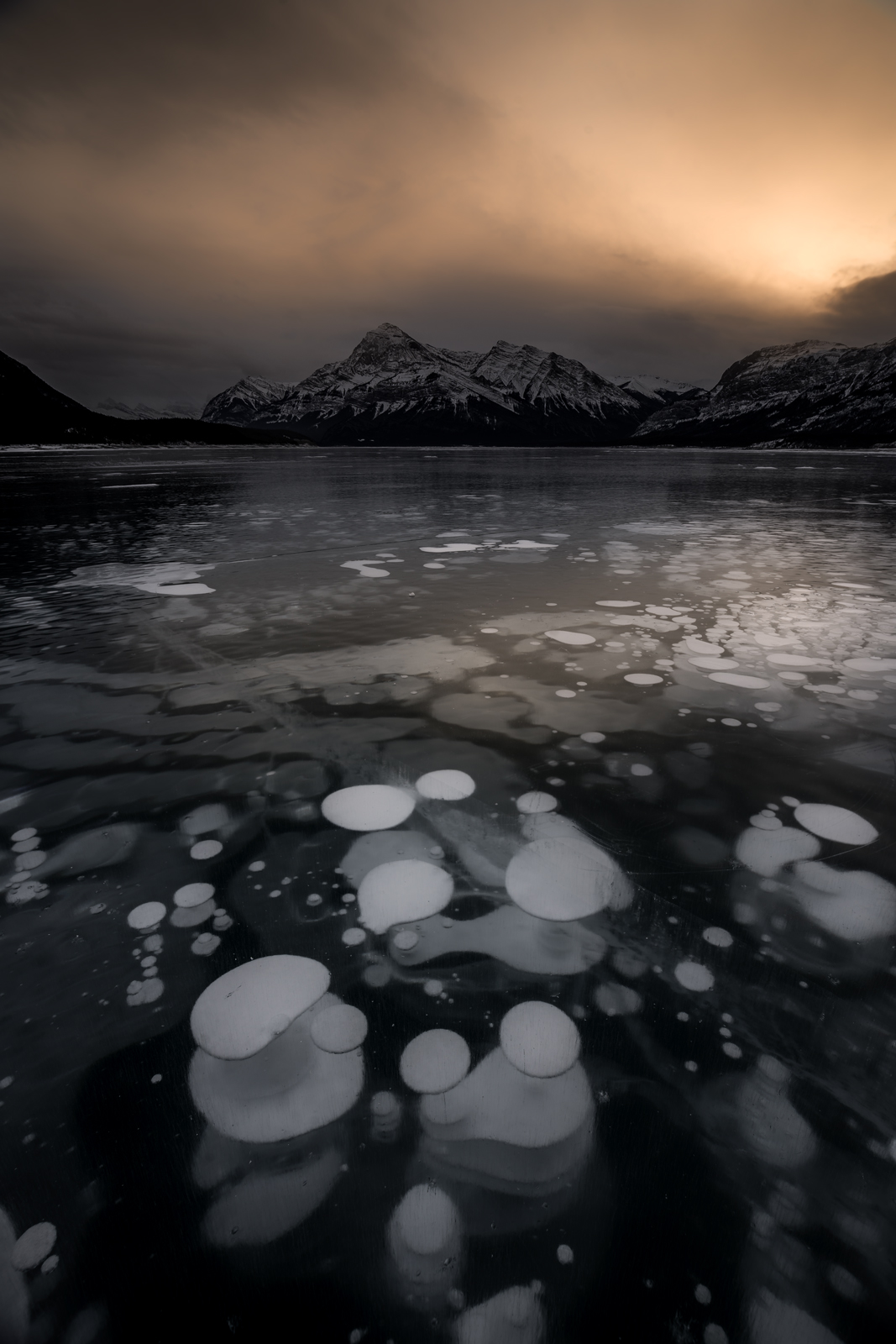 Preachers Point is shallow and is the first to freeze. The bubbles may be seen there as early as November if the temperatures are cold enough. However, it's important to note that temperatures fluctuate greatly in November. Alternating freezing and thawing conditions might make the ice unstable.
Windy Point is located 20 km further down the lake from Preacher's Point, and because it is deeper, it typically doesn't freeze until later in the winter (late December or early January). Ideally, you want to go early in the season, before the snow has a chance to settle on the lake, and before it starts to freeze and thaw. When the temperatures warm up in mid to late February, the ice will start to look opaque. The best window is roughly mid December to mid to late January.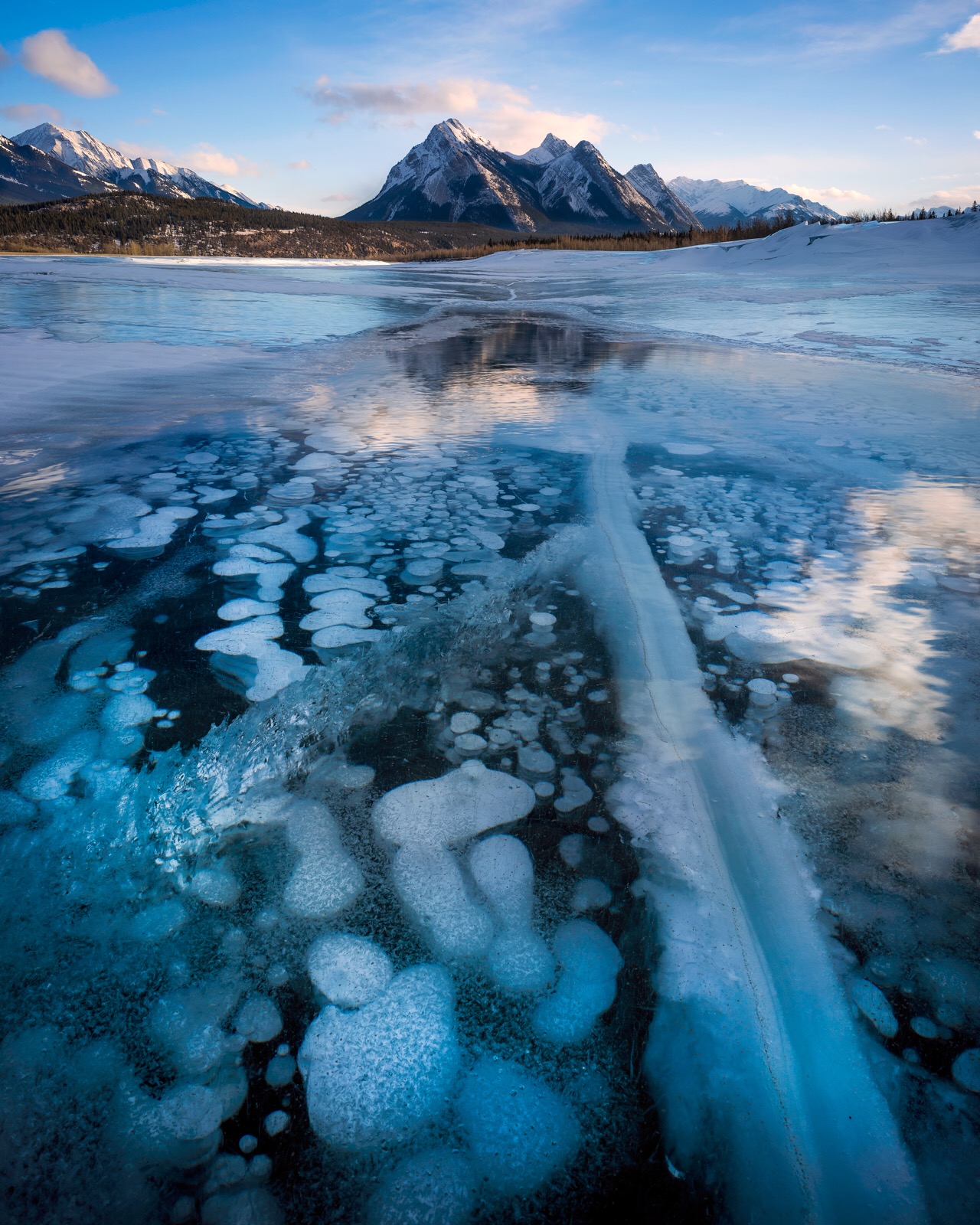 What to Expect
This lake is absolutely captivating in the winter. It is also one of the harshest environments I've ever worked in. It can be very cold with temperatures dropping as low as minus 30 Celsius. It can also be extremely windy, and the ice groans and shifts, which adds a whole other level of difficulty in trying to photograph the bubbles.
How to Prepare
To be comfortable in the harsh conditions you will need:
Chemical hand warmers. I like to put hand warmers in my gloves, and in my pockets. This helps to keep your fingers from freezing, and if you put your batteries in your pockets with your hand warmers it will extend the life of your batteries, as well.
Chemical foot warmers. There are two types of foot warmers you can buy. The ones that sit in the toe of your boot, and an insole style. I prefer the insole style because they don't pinch my toes and they keep my whole foot warm.
Face mask. I've had frost bite and it never really goes away. Protect your skin by wearing a balaclava.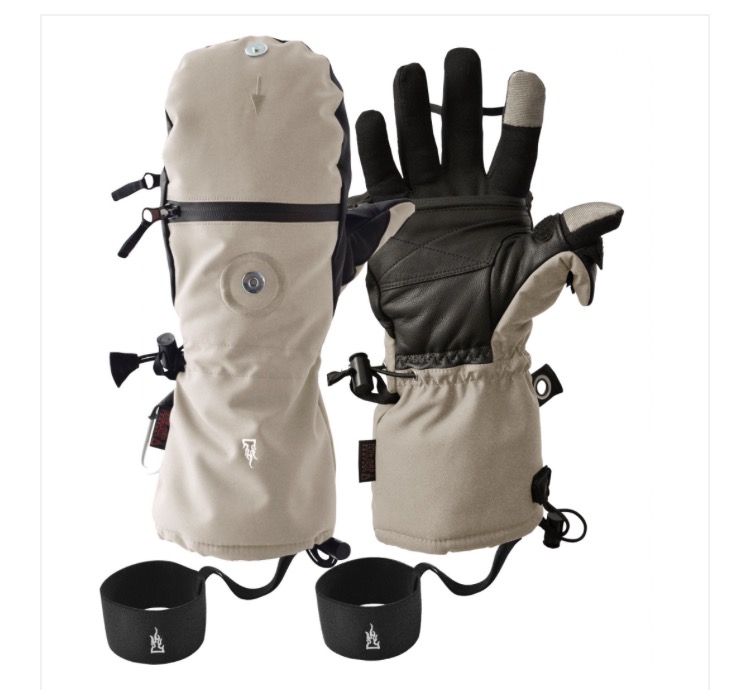 Good gloves. My favourite gloves are made by The Heat Company. I consider these gloves ESSENTIAL gear in the Canadian Rockies. There is room for hand warmers inside the outer mitten, and you can wear touch screen liner gloves inside to keep your fingers from being exposed to the elements. They are also great because they have a strap that keeps them tied to your wrist so if you are crazy enough to take them off for a minute, the wind won't blow them away.
Micro spikes. You can buy micro spikes that slide on over your boot. I don't recommend the 'diamond grip' style, as they don't give you as much traction.
Battery chargers. You will want extra batteries for your camera, but I also recommend having a USB power bank that can charge your devices.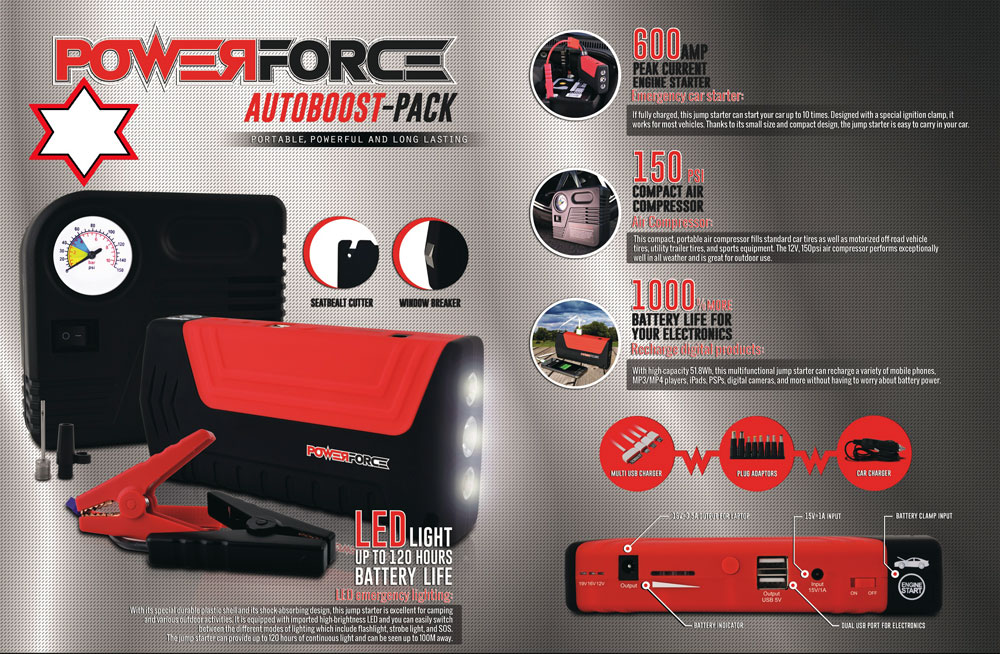 Roadside safety equipment. Remember that you are a long way from services if you break down. I have been stuck and stranded out at Abraham Lake. Since then, I always have a small avalanche shovel in my car, as well as a really handy emergency kit. I have also have a  PowerForce autoboost pack in my car. It has a battery for charging devices, booster cables, and an air compressor in the event of a flat tire.
AWD (or 4×4) vehicle with winter tires. You would think that winter tires are an automatic inclusion when you rent a vehicle in the Rockies but you would be wrong. When you call the rental company make sure to specify that you want winter tires.

Where to Stay
Lodging options are limited in this area. The closest accommodations are located right on the lake at a place called Aurum Lodge, which is open year-round.  Aside from that, there is a motel, restaurant and gas station located in Nordegg, the nearest town to the lake (about 40 km away).
If you are only looking for a place to lay your head, there is also a wilderness hostel called Rampart Creek – about 60 km from the lake along the Icefields Parkway. Note that there is no electricity there for charging batteries so you would need to make sure you have enough charged batteries with you!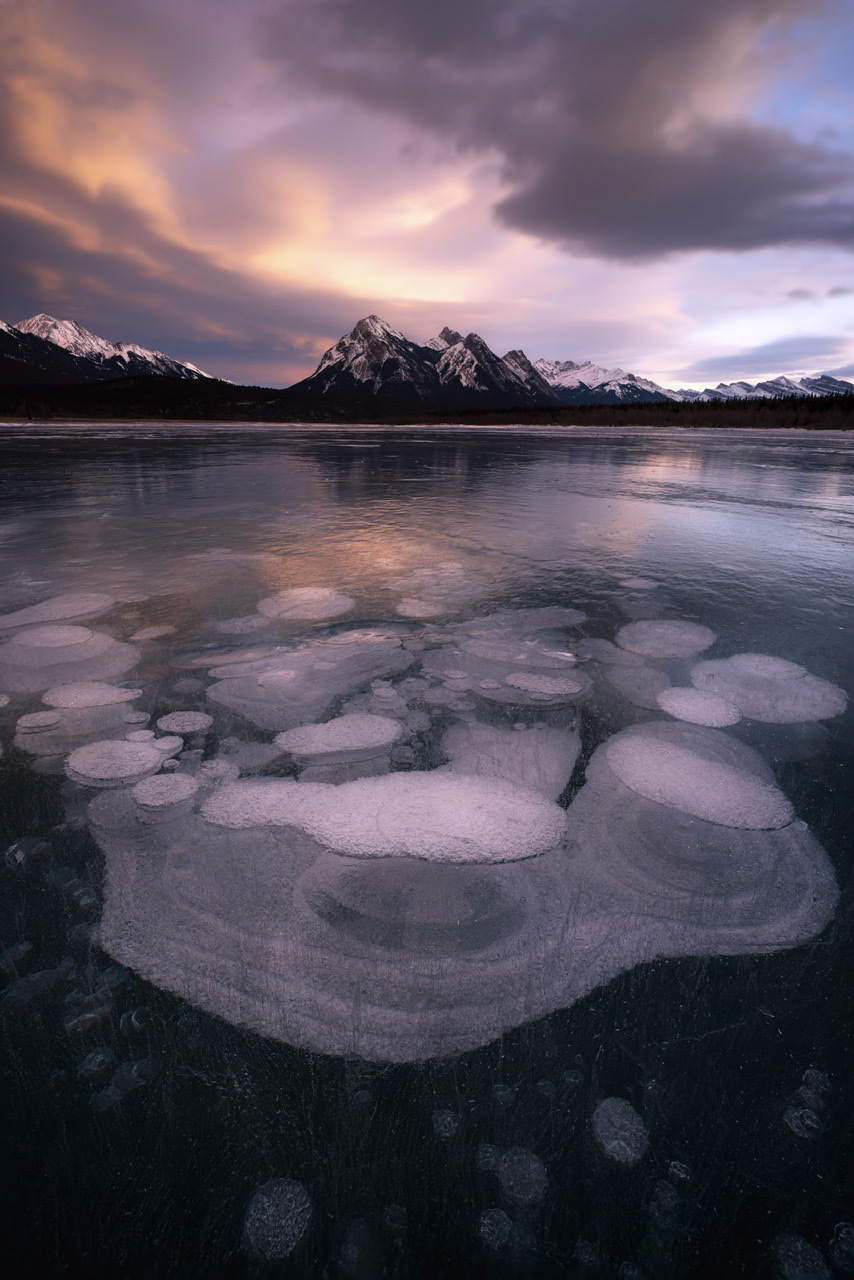 Nearby Amenities
Cellular service. There is only one place on the lake with reliable cellular service. There is a small pullout at the rock cut-out near Windy Point where you can get a good signal.
Restrooms. There is a wilderness toilet located south of Preacher's Point, just past Township Road 355.
Still Have Questions?
I hope you found this article helpful in planning your Abraham Lake adventure!
Don't let the cold and wind scare you away. Just like any place in the mountains, the weather can be great too, but you always need to be prepared for the worst case scenario. If you have the right gear, you will find that it is very rewarding to shoot at Abraham Lake. The compositions are literally endless, and you can shoot in many different directions. The light is good at sunrise, and sunset, and you can shoot more abstract images and video during the day when the sun is bright.
For more info on planning your adventure, you can also check out my article on tips for creative imagery on Sony Alpha Universe.
If you would rather go with a guide than worry about navigating this lake on your own, I offer private tours as well as photography workshops.
If you still have questions, leave a comment, or message me using the contact form and I will be happy to answer them!
See you on the lake!