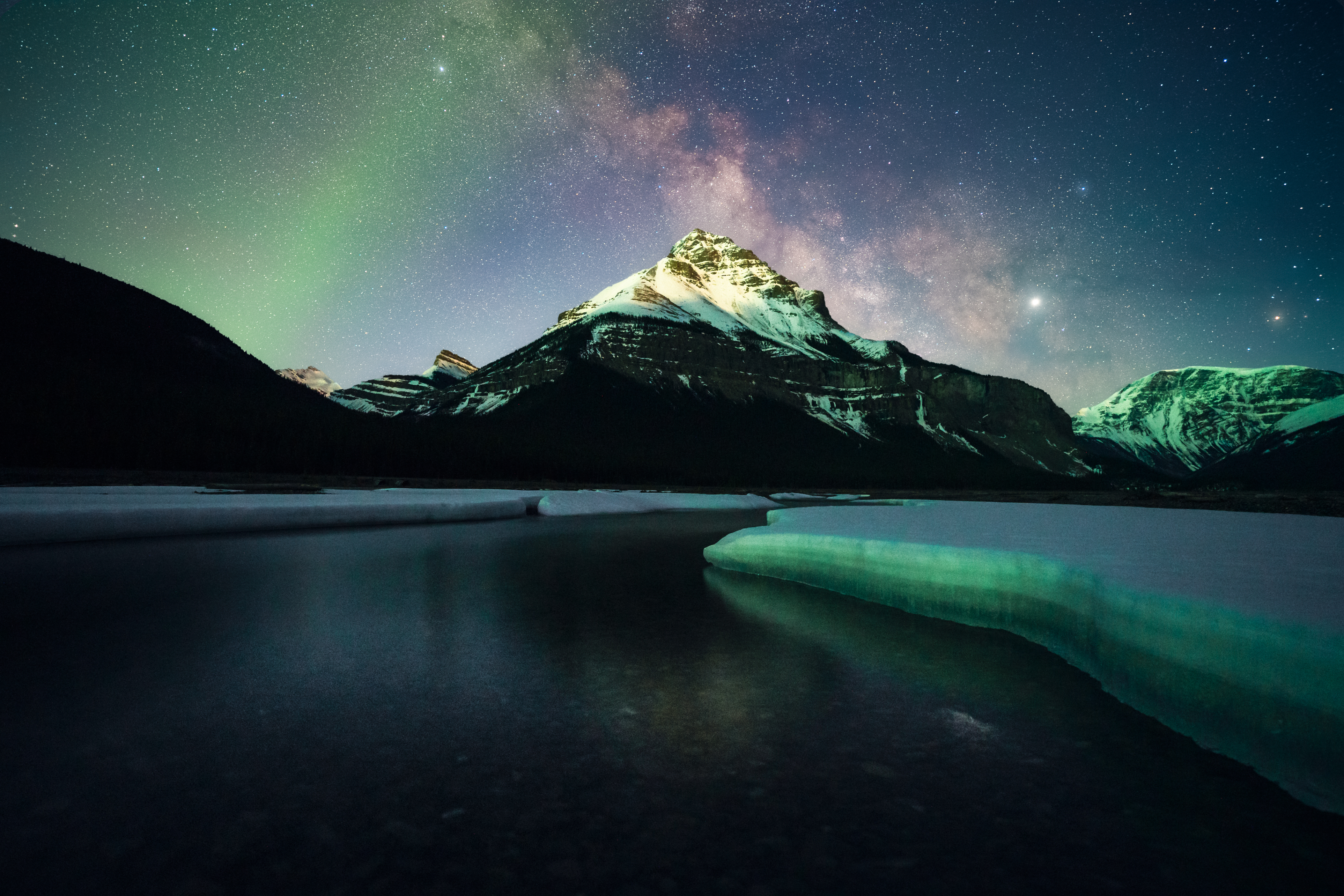 On the evening of December 31st, I set out on a personal project to spend 100 nights under the stars over the course of 2019. It has been a crazy whirlwind of adventures to say the least. I'm a little more than halfway through the year now. In celebration of world photography day, I thought I'd share a little bit about my journey and the people who have accompanied me along the way.

100 Nights
I still remember vividly, the first time I ever photographed the Milky Way. It was on a crop sensor camera with a kit lens, in the middle of winter. I had no composition to speak of, and the galactic core of the Milky Way was not visible at that time of year.
Somehow none of that mattered: I was completely mesmerized. Seeing the cluster of stars on the back of the screen felt as if someone had pulled back a grand cosmic curtain and allowed me to peer into the universe. From that moment forward, I was completely hooked on photographing the night sky, and I bought my first full frame camera the next day.
I have spent countless nights under the stars since that first night. So much so, that last year I thought It would be a great personal challenge to spend 100 nights under the stars.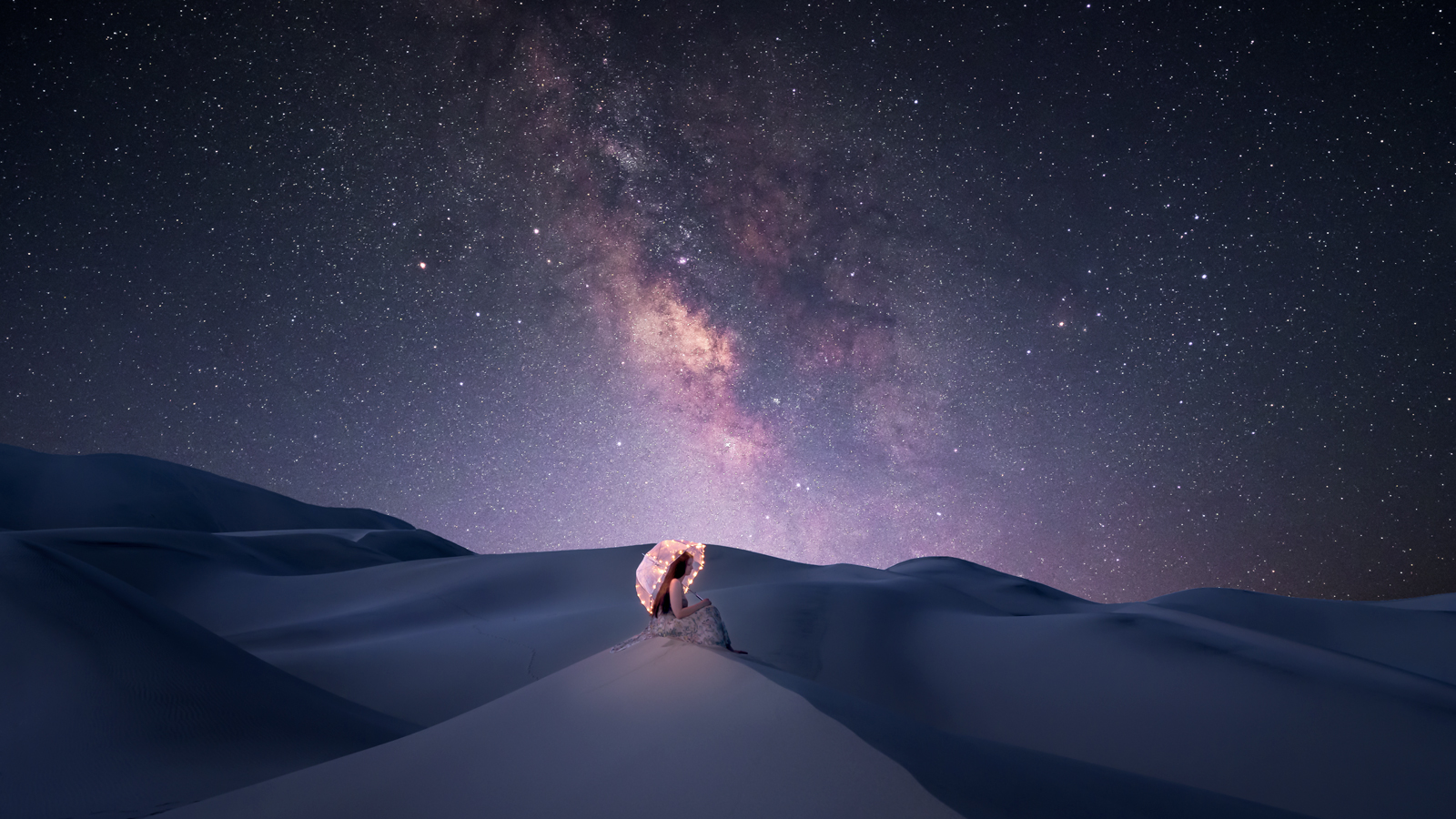 It sounds so romantic doesn't it? Yeah, that's what I thought too when I was conceptualizing the project… I had daydreams of sitting in the grass on a warm summer night, watching the stars float by as my camera clicked away quietly in the background.
And I have had nights like that. But as the project progressed, I quickly learned that I could have just as easily called it one hundred nights of no sleep…
100 Nights of No Sleep
This is a regular thing when I'm shooting night skies, but there's no better example than the week I had intended to shoot astro in Death Valley with one of my favourite partners in crime – Jessica Santos – who just happens to live in Las Vegas.
I had been talking with Jess about my project and telling her how difficult it was to find even clearish skies in the dead of winter in the Rockies. So, Jess said, and I quote, "you should come and shoot in Death Valley. We won't have to deal with clouds like you do in the Rockies; it hardly ever rains in the desert…"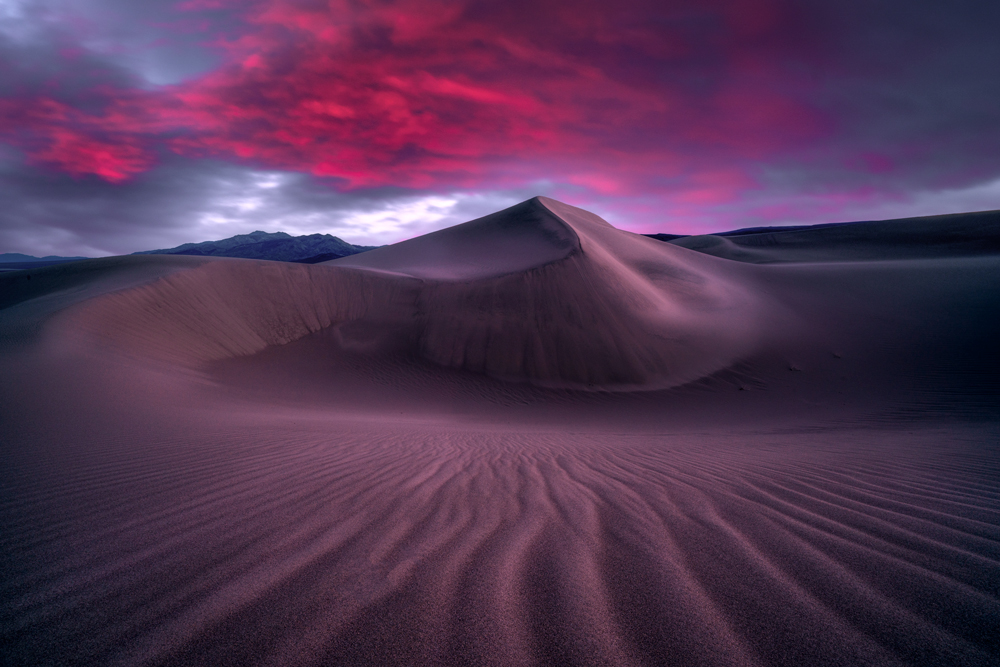 Well, not only did it rain, it poured until it flooded. There was water in Badwater Basin, which, and I quote "never happens" according to Jess. The flooding was so bad, in fact, that most of the roads were closed, which also "never happens." So, determined to shoot, we drove back and forth between the only dunes in the valley with occasionally clear skies, and Alabama hills which were about 3 and half hours apart over some very rough, bumpy, dirt roads.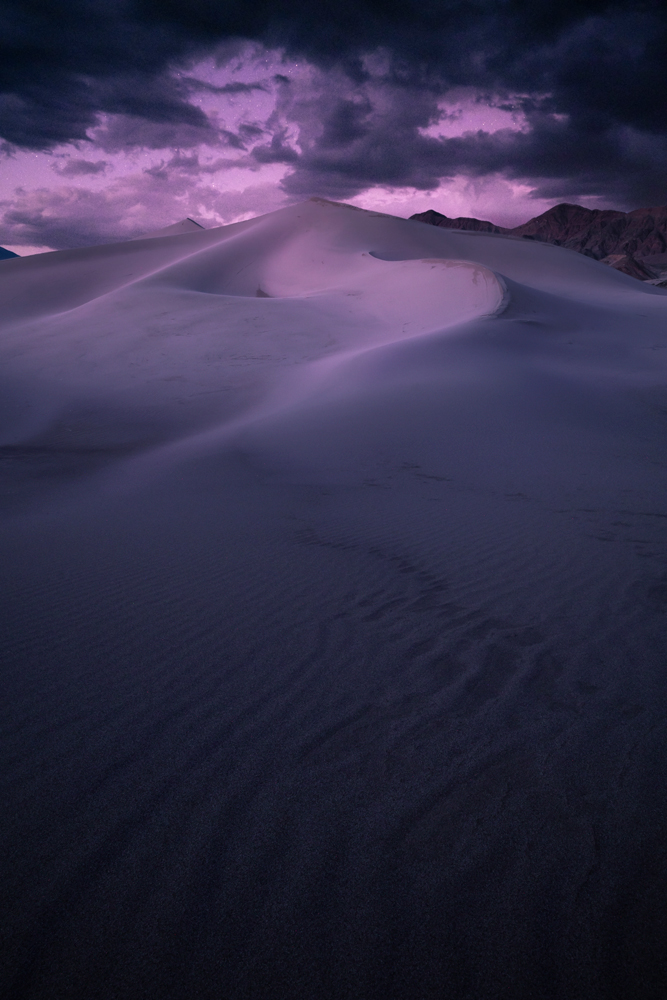 The 7-hour round trip drive wouldn't have been so bad, but we still had to scout for compositions, eat, shoot, and nap occasionally. On average I think we slept 2-3 hours each morning in the front seat of the Jeep because we were too tired to set up the tent. We basically lived off 5-hour energy drinks. We would open the door to the Jeep and this sad little collection of empty 5-hour bottles would spill out.
It was that trip, however, when I realized that Jess and I would be lifelong friends. There were mornings that she chose to sleep a few extra hours instead of shoot, so that she could take the next shift of driving, and I could get one night closer to my project goals. Somehow, despite the fatigue, we not only found a way to shoot some beautiful night sky images, but we also managed to have fun, and laugh that kind of side-splitting laughter that makes you feel alive.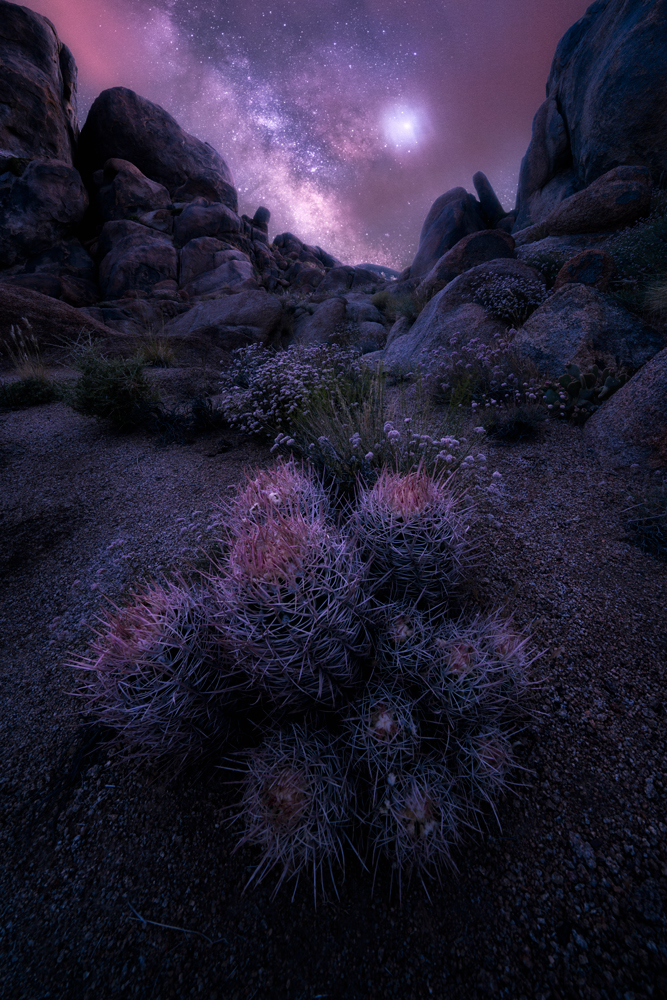 When I look at these images, I think of Jess, and the amazing community I have to support me. Oh, and this one night when she thought she'd take the "easier route" out of the dunes and ended up crawling out on her hands and knees under the weight of her pack.
The weather is the biggest challenge I have experienced in my project so far. So much so, that I could have called the project one hundred nights of bone chilling cold…
100 Nights of Bone Chilling Cold
Seriously, I keep finding new limits to the amount and duration of cold I can endure. I can't even tell you how many nights I've shot in temperatures below -30 Celsius in the Canadian Rockies. And somehow, I keep coming back for more! I joke that the batteries in my camera last longer than I do, as I leave my cameras running while I sit in the car trying to get warm.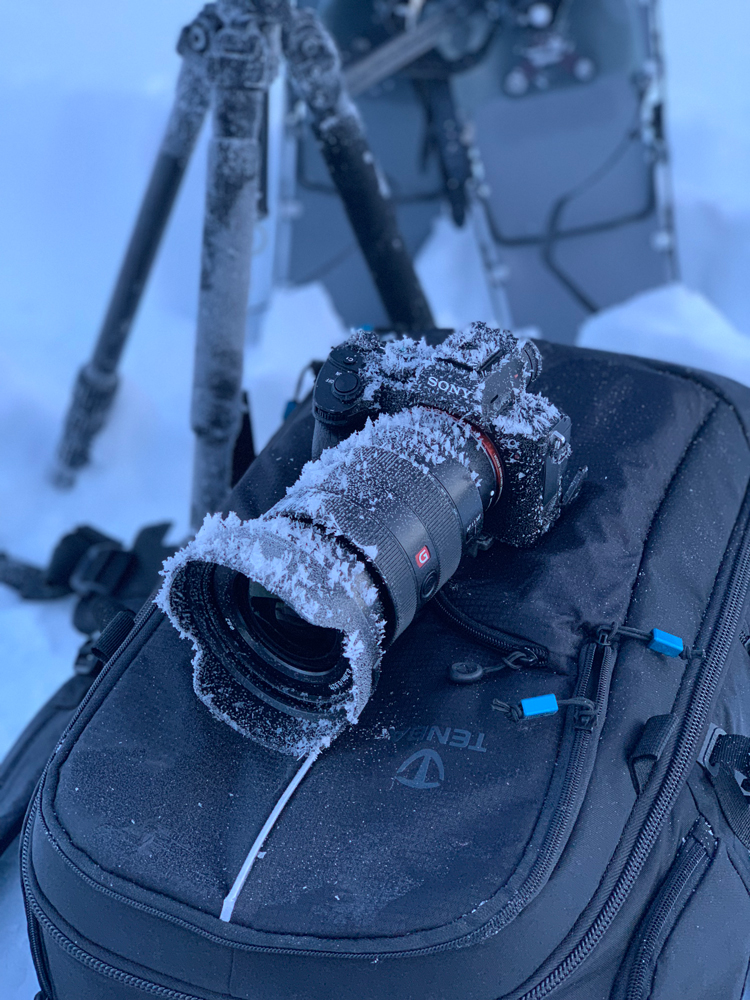 There is a beauty in these extremely cold temperatures that you don't often get to see when the weather is warmer. Frost flowers form, creating beautiful foreground elements in the frozen landscape, and fog hugs open water, as the air temperature dips below the not quite frozen temperature of the open water.
You'd think that given my experience in the frozen Canadian North that I'd be used to cold conditions. But I was back in the desert only a few weeks ago with Jess and it snowed "which never happens" and somehow being naively Canadian, I didn't think I had to bring my snow pants and parka to the desert…
It has become a bit of a joke between Jess and I that every time I visit, it rains in the desert. And with rain comes clouds…
100 Nights Under the Clouds
It should be no surprise that I would get clouded out from time to time. And sometimes a few clouds are really pretty.
But I think I have already spent one hundred nights under the clouds, and sixteen of them were on a 3-week-long photography expedition to the Southern-most reaches of the Chilean Fjords in Patagonia.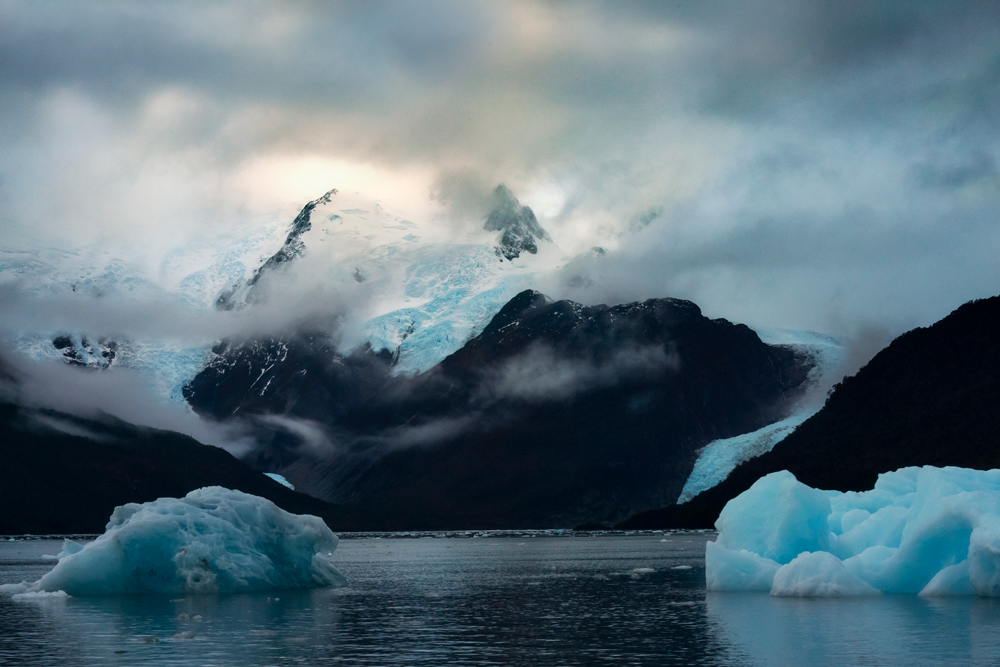 This was the first expedition I have ever been on. Some of these places were so remote that less than 25 people have ever even seen them, and the peaks there have yet to be named. For perspective, more people have been to Antarctica than have been here. It was amazing, challenging, inspiring, frustrating, isolating, and exhilarating. It rained for most of the trip; wet boots and socks with freezing cold feet were the norm every day. I was cold in ways that I have never been in Canada. ⠀⠀⠀⠀⠀⠀⠀⠀⠀
This particular morning was the first time during our exploration of the fjords that the sky opened to reveal the peaks. Seeing the fall colours of the rainforest juxtaposed against the icy blue of the glacier was something I will remember for the rest of my life.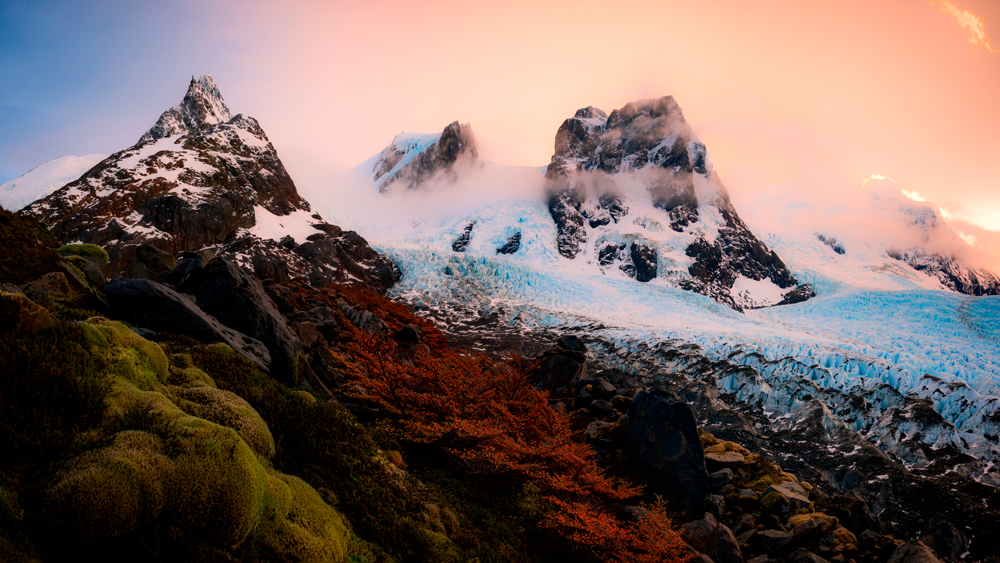 This moment came after hiking 3000 vertical feet the day before, from the base of this glacier at sea level, to a view overlooking the glacier. There was no trail, and much of the hike was a bushwhack. One hour into the 4-hour trek, I fell ill and hiked the rest of the trail with terrible stomach pains and wishing I hadn't left my antibiotics at base camp.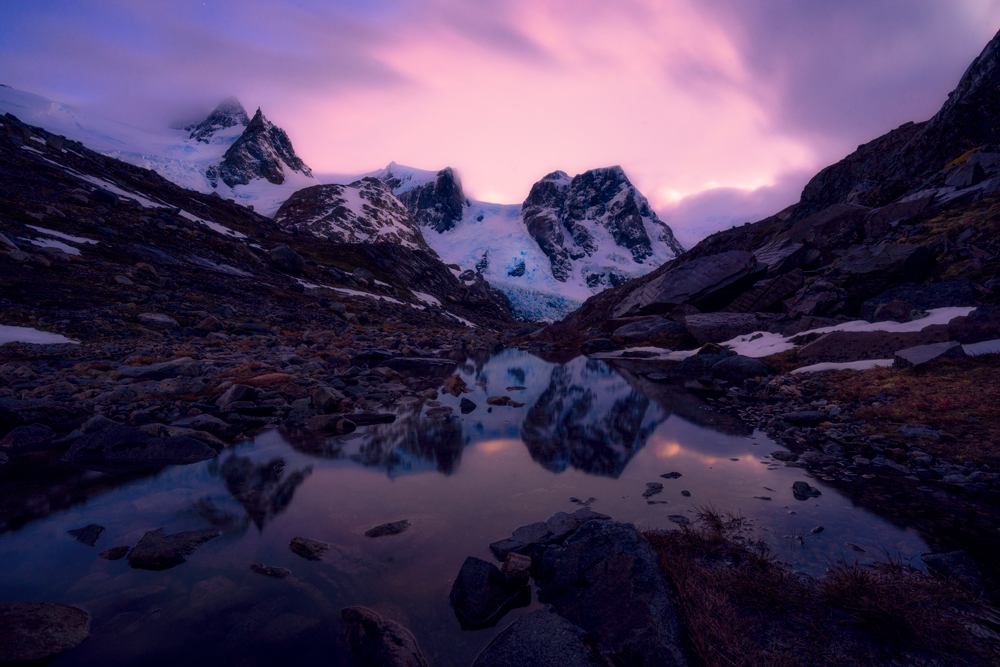 When the clouds finally parted the next morning, and the dawn light was illuminating the peaks, I felt too weak to get up for a sunrise hike. But my travel companion Matt Lum, packed my camera gear and tripod in his bag, and said "you didn't come all this way, and wait so long for good conditions to miss this. You can do it." So I did. And that morning would turn out to be the only morning we would see these un-named peaks.
This project has been all those things so far. But it could also be described as one hundred nights of learning.
100 Nights of Learning
I learn something new every time I head out for a shoot. Timelapsing is a whole new photographic art form that I have been exploring. I can't use techniques like focus stacking and exposure blending in the same ways that I can while shooting still images, so I've had to learn how to get the most out of a single image, or 600 single images all stitched together.
I've also learned a lot about the uniqueness of the light at night. I used to think about night shooting as primarily about chasing new moon, and dark, star-filled skies. But I've come to appreciate the moonlight, especially the way it casts long deep shadows across the snow in the winter. And thanks to Jess I have a new appreciation for blue hour, and the kinds of images I can create in the pale blue light. Thanks to my mentor, Marc Adamus, I also notice the uniqueness of the light 40 minutes before sunrise and 40 minutes after sunset.
This project has also opened my eyes in other, unexpected ways.
100 Nights of Inspiration
Inspiration comes in many forms. Sometimes it's the environment that inspires me. On this particular night in Iceland last March, my friend David Wilder and I had been chasing clear skies to photograph the aurora. David and I started our aurora chase at the famous Glacier Lagoon. We had scouted potential compositions in the daylight and we were able to get a few aurora shots before the crowds and the clouds (surprise, surprise) thwarted our plans.
We chased the aurora all the way to Vestrahorn because it looked like the only clear skies on the map happened to be in that area. When we got there, we found these giant frost flowers on a thin layer of ice over the black sand beach. Some of these frost flowers were the size of dinner plates. Of course, we were giddy with the options for compositions, and with the soft green glow of the aurora dancing. We shot straight through the night and into the morning.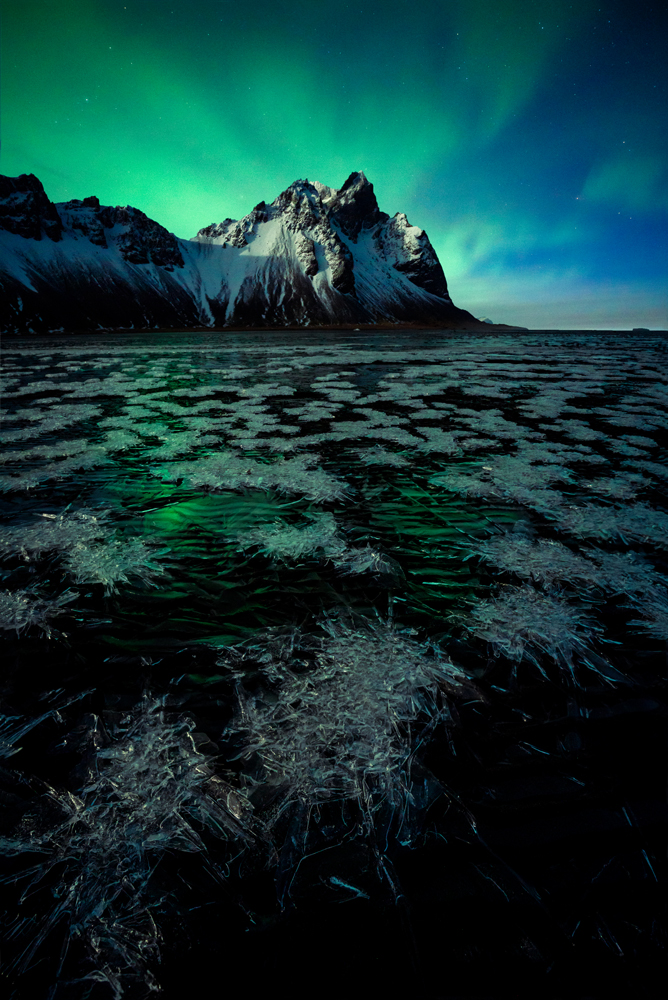 Now, my friend David is one of the most inspiring people I know. He is a professional photographer who is colour blind. He only knows what colours he is editing because he can move the HSL sliders around and he can tell by pulling them all the way down or up, which colour he is looking at. But to him, pinks, oranges, purples, and reds all look like shades of grey. For all the time he spent photographing sunrises, he had never seen one in its full glory, until that morning.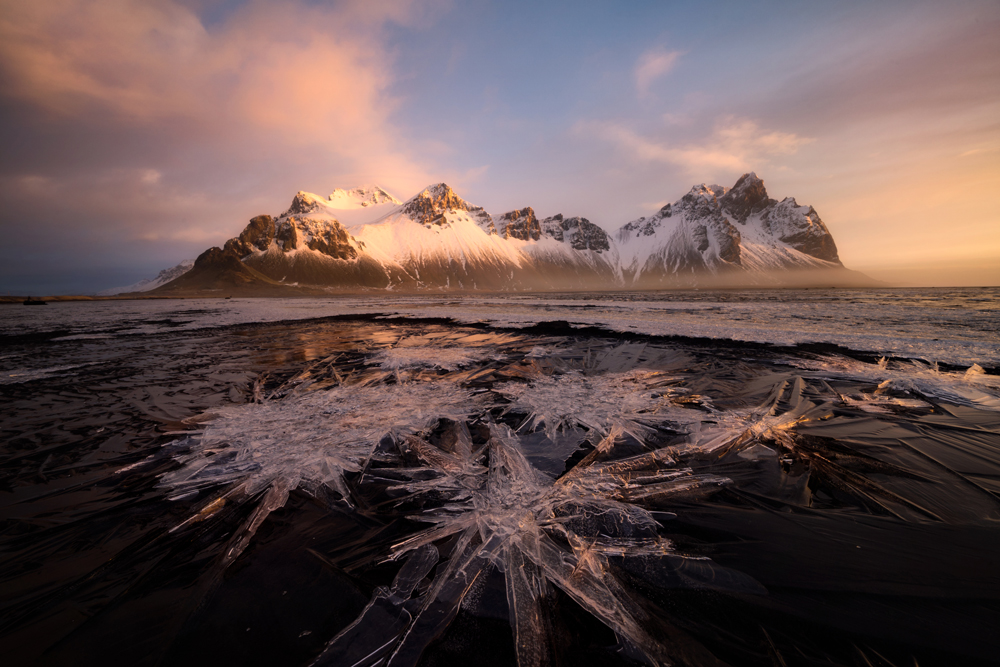 A company called Enchroma sent him a pair of glasses that stimulate the colour receptors in his eyes that perceive colour. He put them on for the first time to witness his first sunrise that day. I still get emotional thinking about it. I filmed him experiencing colour for the first time. You might want to have a tissue handy because what I'm going to show you next might make your eyes leak.
At this point, I had to stop filming. I had tears and snot streaming down my cheeks, and we were in Iceland, so it was starting to freeze to my face. Watching David witness colour for the first time, and knowing what an amazing photographer he is, made me think really hard about what it means to overcome challenges.
When I think about this project as a whole, I have most certainly experienced some of the romance and allure of the night sky that I imagined it would be in the beginning.  But those moments are a much smaller part of the picture than I once thought they might be.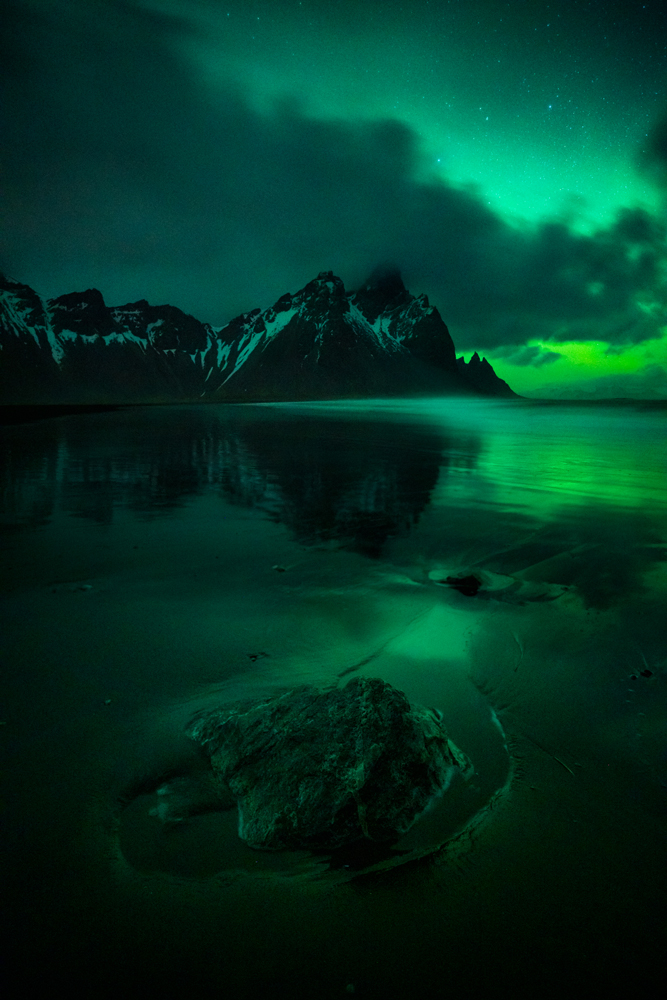 It's those other moments, when I've been sleep deprived, cold, and physically exhausted when I really experienced the beauty of this project. Not because I had had reached my physical limits, but because I found myself supported by this amazing community of people who have pushed me to grow, mentored me, inspired me to overcome challenges, and to lead with my heart, showed me how much I was really capable of, and who have patiently stood by me when I struggled.
I am not sure how many nights I have spent under the stars, but I can tell you that so far, I have already experienced one hundred nights of community, learning, Inspiration, and personal growth. I can't wait to see what the next half of my project brings!
Gratitude
I would never have made it this far into my project without the unending support of Sony Alpha, and B&H Photo. From gear loans to chasing night skies all over the globe, their assistance, encouragement and community have pushed me forward one step at a time.

You can read more about my ups and downs as a landscape and astro photographer at B&H Explora. If you are a gear nerd like me, you can read about the cameras I use, and my favourite lenses for astro photography on Sony Alpha Universe.
Finally, if you wish to join me under the stars, I offer several workshops that focus on Astro photography!
My Essential Gear
Sony a7R III.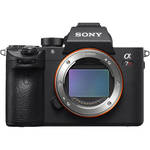 This camera has been my work horse; I use it for both timelapse and stills. I choose to use it over other Sony cameras for the beautiful resolution.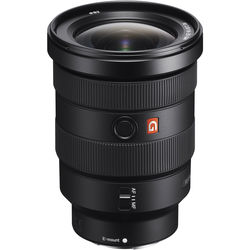 Sony 16-35 mm GMaster. If I could only choose  one lens for my #100NightsUndertheStars project it would be this one. It's just so versatile and sharp that I feel confident I can work with any landscape, even if it was the only lens in my bag.

Luxli Viola. This little light can be controlled from your phone, has 99 brightness settings, and can be set to any colour temperature. If you are into light painting, or using low-level light, this is an essential piece of gear. Read my review here.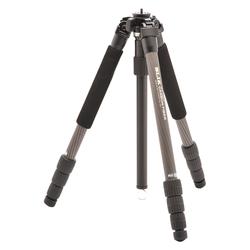 SLIK USA 724 CF. Astro photography isn't possible without a good tripod. This particular tripod has traveled the world with me. It's lightweight but sturdy. Use the code RJR15 at checkout to save 15%.