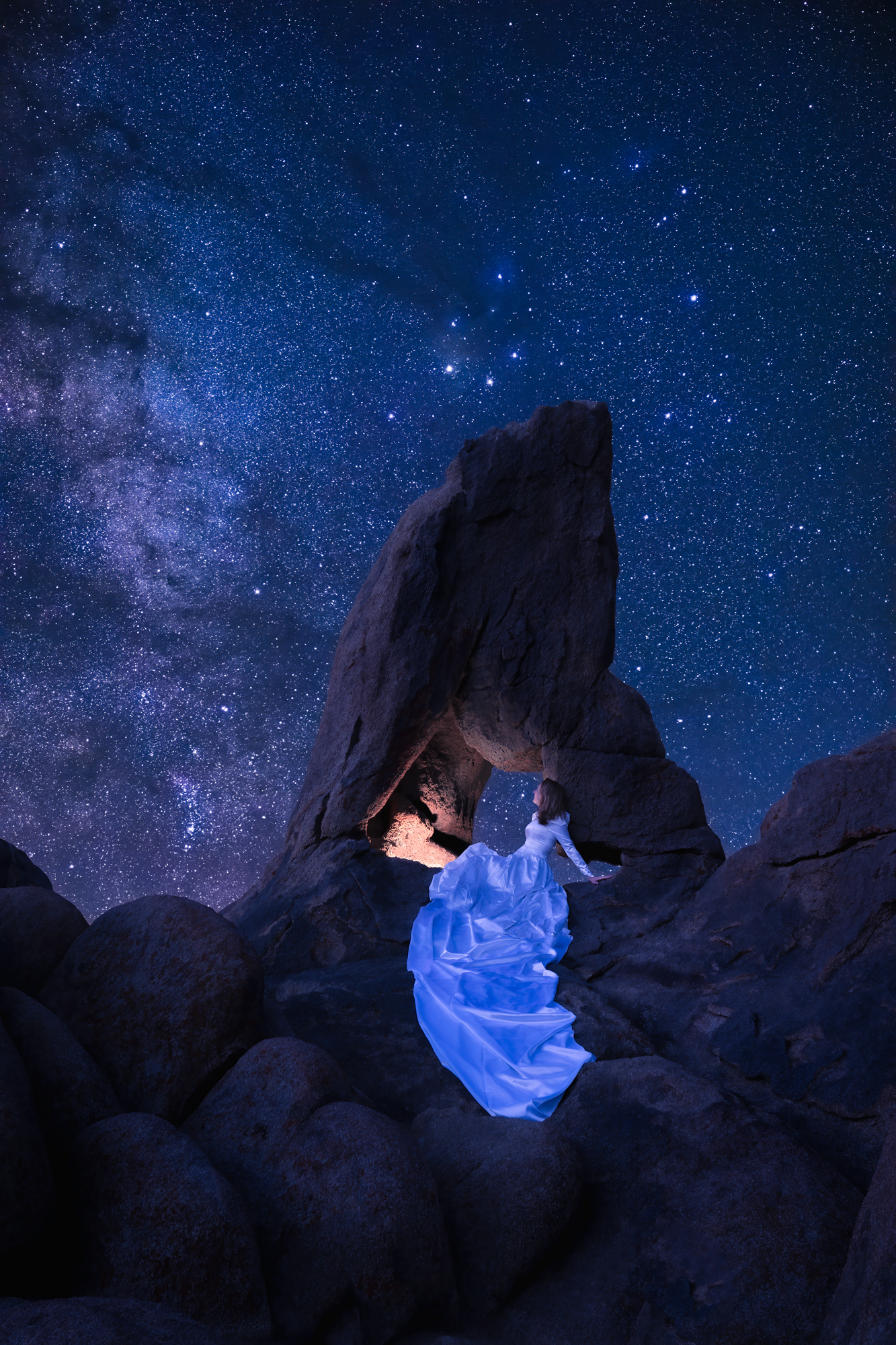 Join Rachel and Jess April 16th – 22nd, 2023 for 6 nights of the most fun you've ever had with your clothes on… and your camera! We will be adventuring out into the Wild West of California's desert landscapes to chase the twinkling glow of the Milky Way. 
To the untrained eye, the desert may seem like a barren place. However, with a little exploration, you will quickly learn that it is a place full of layers, textures, and lines that create endless opportunities for creative compositions. And, with a little luck, and some early season rains, the desert blooms with carpets of wildflowers in April.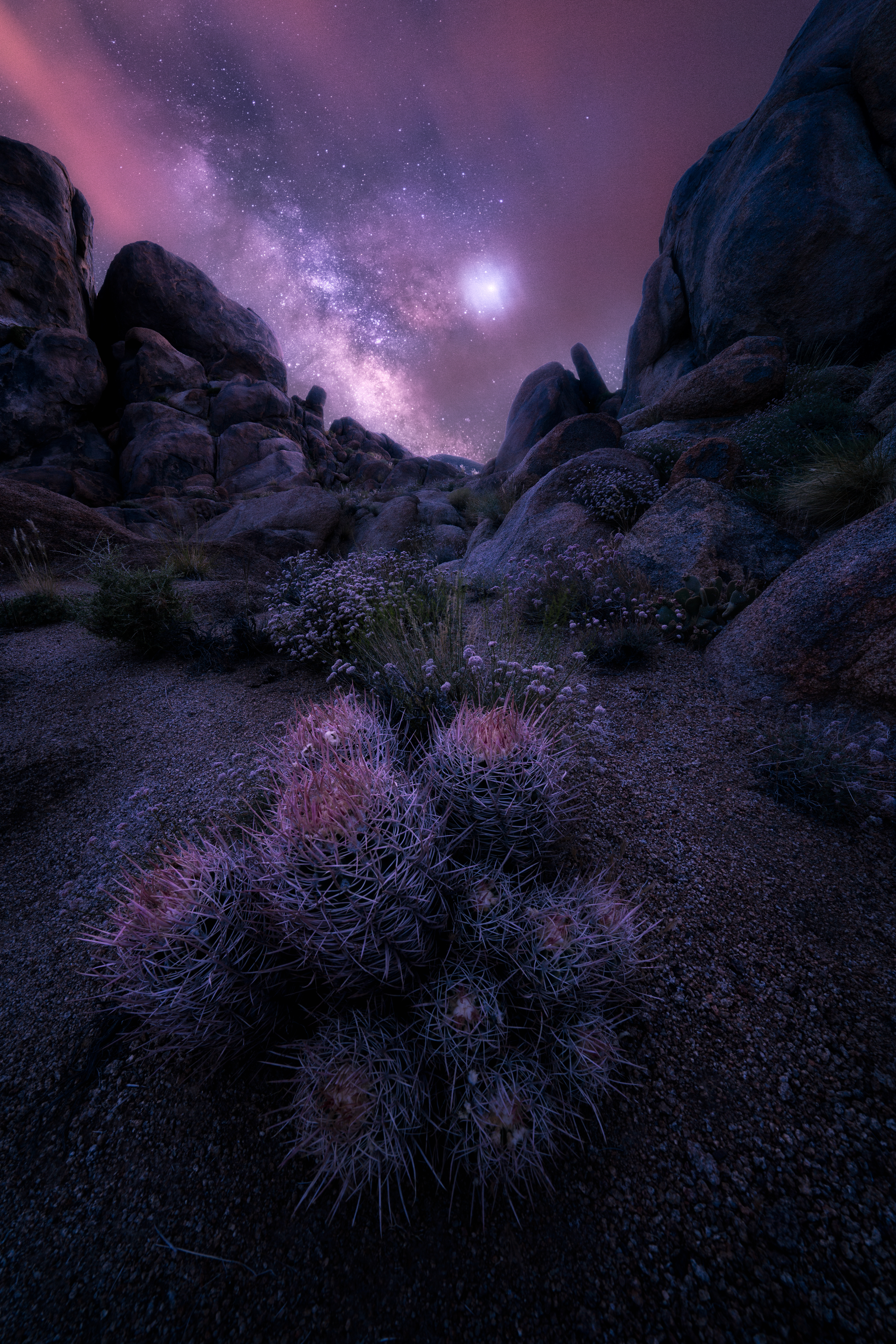 We have spent countless nights adventuring and exploring the desert's best kept secrets. On the Wildly Creative: Astro Under Desert Skies Photography Workshop you will see some iconic locations, but we will also take you more remote, off the beaten path places. If you have been following our adventures, you know we have combed the desert for comps so well that we've named all of the cacti! 🌵 🌵 🌵
New Addition! We will also be visiting the Ancient Bristlecone Pine Forest to spend a night under the starts with some of the oldest trees in the world.
Sponsored by Slik USA!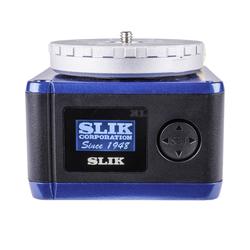 We are thrilled to announce that we will be partnering with Slik USA who will be providing star trackers for you to try out! Using star trackers allows us to shoot at longer exposures with lower ISOs, which captures more colour, depth, and detail in the stars. The Slik ECH 630 is the perfect tracker for astro landscapes because it is small, lightweight, and super easy to set up.
If you have your own tracker you are welcome to bring it!
What you will learn on the Wildly Creative: Astro Under Desert Skies Photography Workshop 
This workshop is designed to help you improve your skill and confidence with photography through developing your technical skills, and building your social media presence.
We have developed a classroom curriculum that includes:
1. Game Changing Features of Sony Cameras for Night Shooting 
2. How to Build Your Social Media Empire
3. Changing the Way You Think About Composition
4. How to: Focus Stack and Exposure Blend
5. How to: Blue Hour Blend & Stack Stars for Noise Reduction 
6. Choosing the Right Lens for the Job 
7. How to: Edit Blue Hour Blends 
8. Editing Tips and Tricks: How to Put it All Together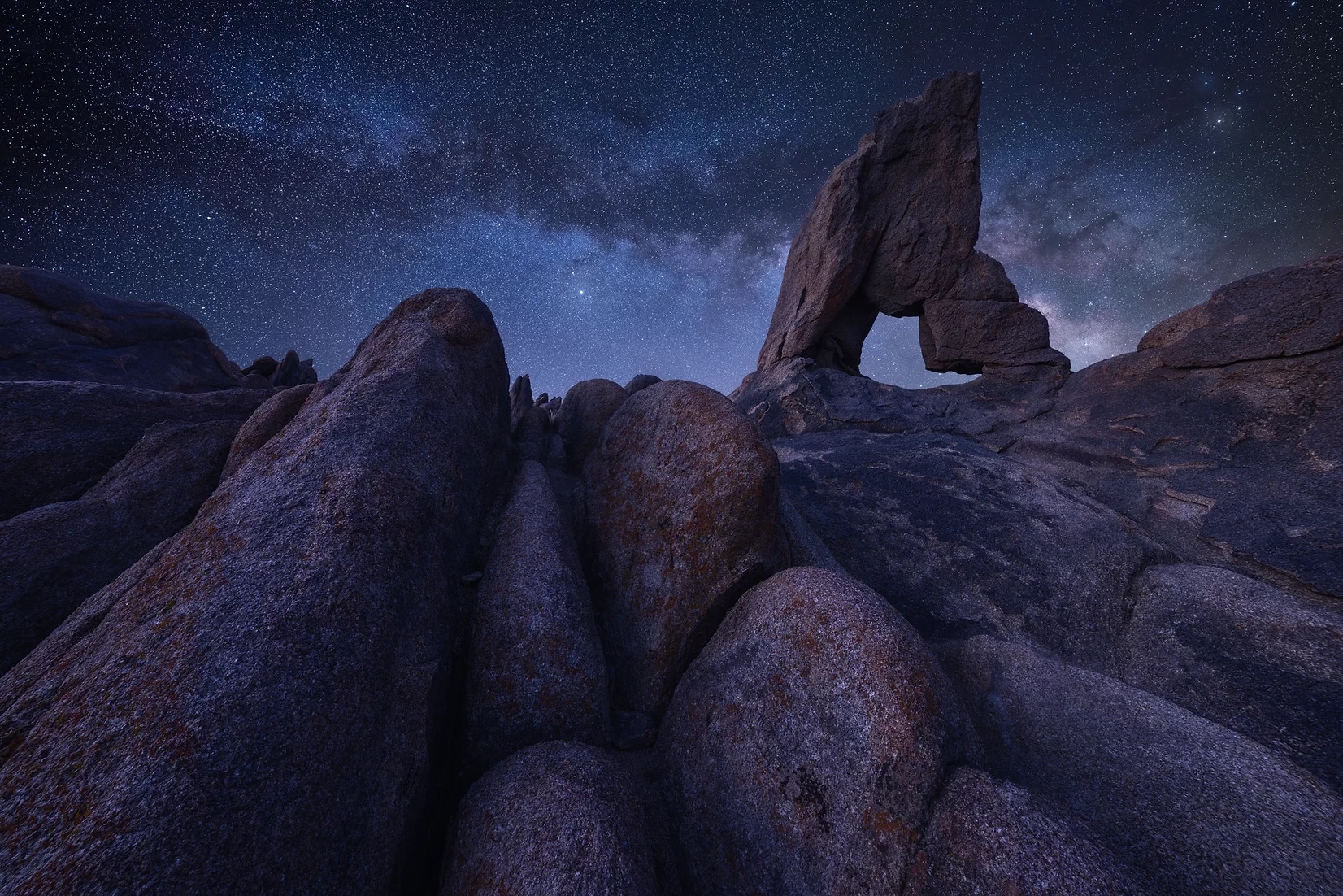 Our classroom curriculum will be applied on location. During our shoots, we will show you how to: 
Capture high dynamic range

Achieve Cactus-sharp images

🙃

Focus stacking

Exposure blending

Refining Compositions

Understanding depth of field

Focusing at night

Working creatively with light

Adding the human element to your night shots 

Shooting with a Plan for Editing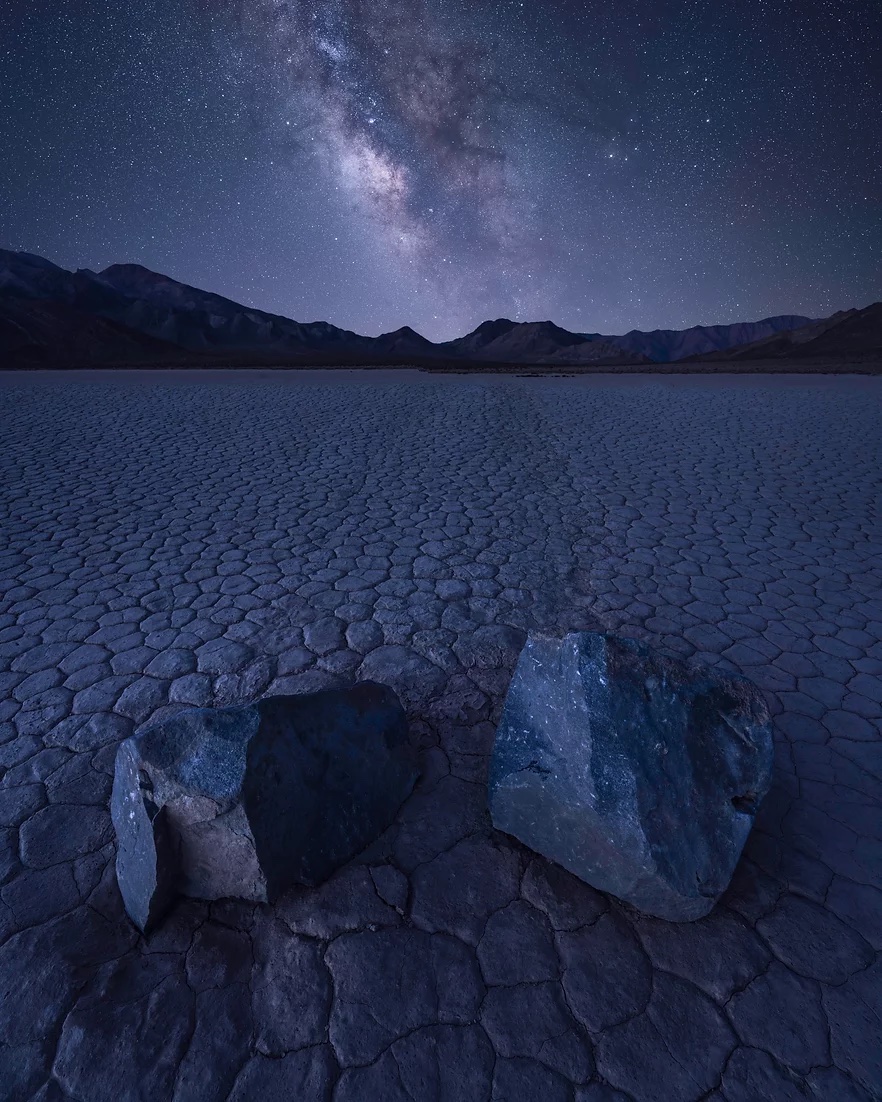 Building a Social Media Presence
Both Jess and I have worked hard at growing our brands on social media, and are fortunate to work with companies like Sony, Adobe, Epson, B&H Photo, Slik USA, Cokin, and Acura. As part of the Astro Under Desert Skies Photography Workshop we will cover:
How to find your tribe on social media

The latest changes to the algorithms, and what this means for your following

How to get maximum exposure of your content

How to approach brands that you would like to work with

What is Included
All lodging 

 National Park Fees 

Photography Instruction

Post Processing. Editing is how you breathe life, creativity, and personal style into an image. We will give you the tools to help you express your creative visions through your photography, using LightRoom and/or Adobe Camera Raw, and Photoshop 

Required/Essential Gear
Weather in the desert varies greatly in April. It gets very warm during the day (reaching highs of 90 F) but can get very cold at night (reaching lows of 40 F). With that in mind, you will need to dress in layers, and be sure to have a warm jacket. 
***STURDY TRIPOD*** I can't even tell you how many tripod issues I encounter on every workshop. You will be shooting in strong winds in the desert. You need a tripod that isn't at risk of blowing over when you mount your camera and lens on it. You will want it to get low (within a few inches of the foreground). Mefoto and the ManFrotto BeFree tripods are NOT acceptable. I use a

Slik USA carbon fibre 734

with an

SBH 200 DQ Ball Head

. It is lightweight but sturdy and it gets low. This tripod has been all over the world with me and has worked reliably at every shooting location. SLIK has graciously extended a 15% discount to workshop attendees if you need to upgrade your current gear. Use the code RJR15.

Rain sleeve.  #ItNeverRainsIntheDesert she says!

😂😂😂

But sometimes it snows. And if it's not raining or snowing, the wind hurls sand at your camera, which gets lodged in every crevice. A plastic rain sleeve is sufficient. 

Camera with interchangeable lens

Wide Angle Lens. I use a Sony 12-24 mm f/2.8 GM. If you don't currently own a wide angle lens, you will need to rent one for the trip.

A few other things to remember 
BATTERIES and battery chargers!

Memory cards

Headlamp or flashlight for night shooting (please avoid anything with a red light function… if you bring a red light we will feed you to the coyotes!) 

Shutter release cable (recommended but not required)

A note about camera straps. Camera straps blow and flap in the wind. Using camera straps on a tripod is a bit like attaching a parachute to your camera. We recommend removing the ones that come with your camera. If you feel better about having a strap, we recommend getting a

black rapid style

that quickly and easily detaches from your camera before you put it on a tripod

Laptop for post-processing
Itinerary
This workshop is all about chasing starlight. We will have a flexible itinerary that will allow us to find clear skies for night shooting. If it rains/snows (true story, we have experienced highs of 85 F, and snow on the same day!) we will spend our time in the classroom. 
About Me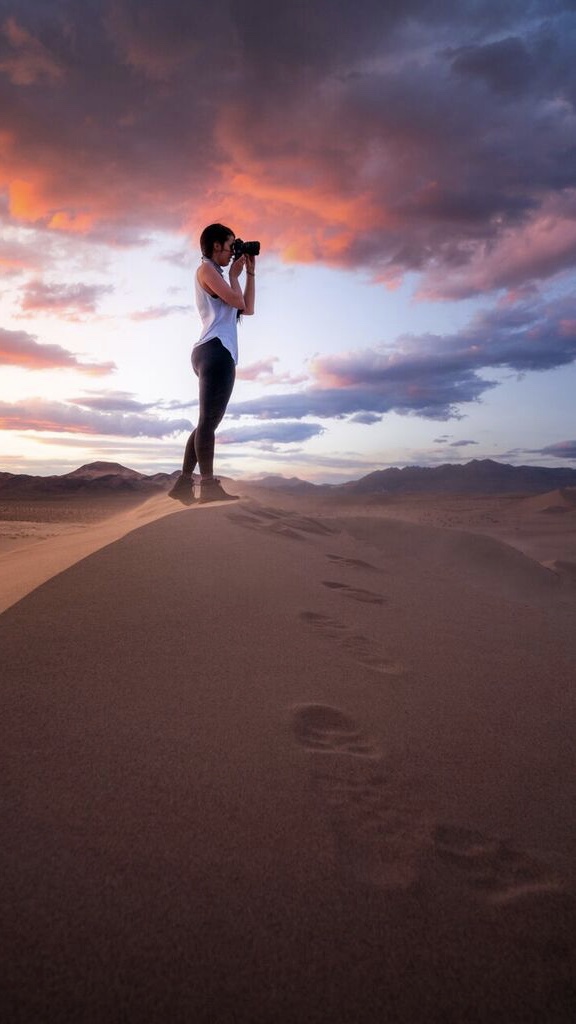 My name is Rachel Jones Ross. I am extremely lucky to call the Canadian Rockies home. I have been teaching for many years. My path to teaching started in university where I was instructing psychology, statistics, and communications classes, and photography part time. In 2018 I switched to teaching photography full time. It is so rewarding to give people the tools to capture their own creative visions!
I am a proud Sony ambassador, and fortunate to have the support of Sony and B&H Photo in my creative projects, as well as my workshops.
About Jess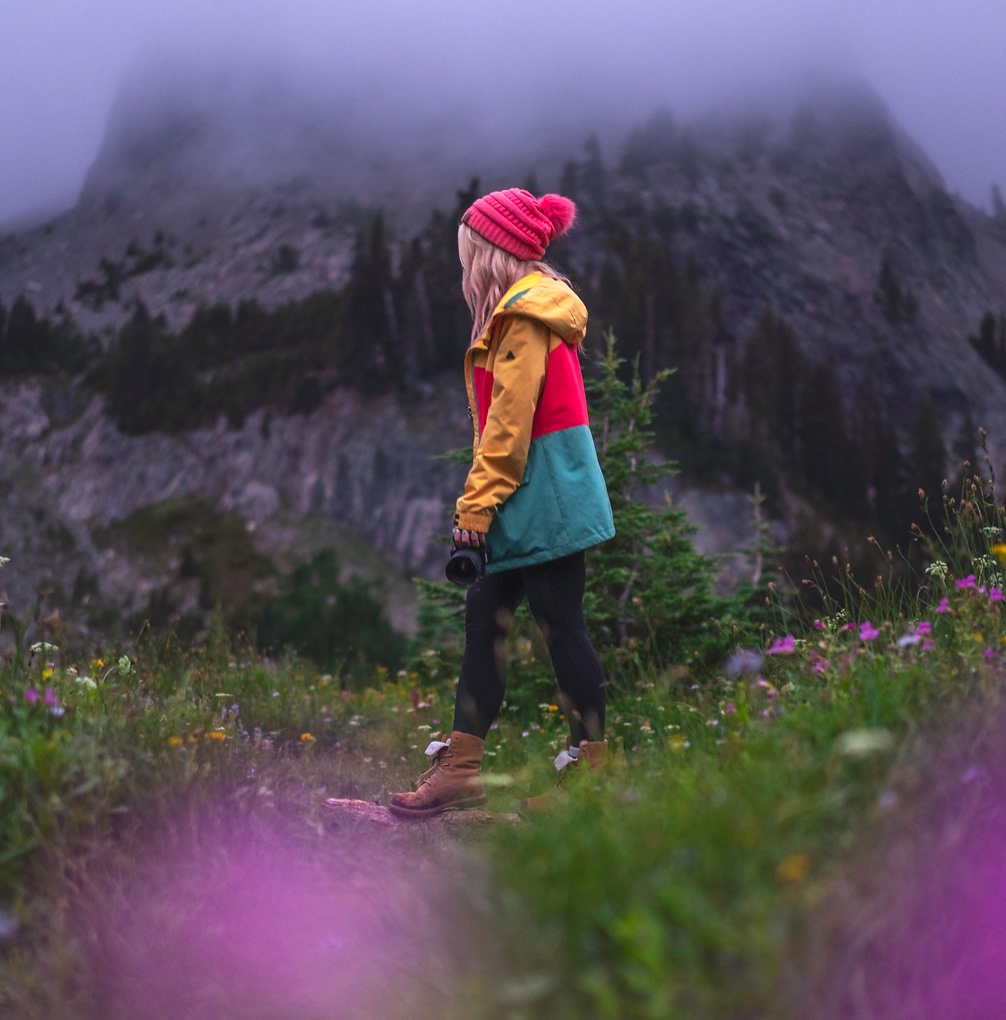 Jess Santos is a wanderer at heart, constantly on a road trip to anywhere. She spends most of the year adventuring in the Wild West chasing the vibrant colors of desert landscapes and the distant glow of the Milky Way. Although she calls Las Vegas home, she is always excited to explore and photograph new and different ecosystems, she is especially fascinated with life in extreme environments.
More Details
Accommodations are based on single occupancy. The total cost of the workshop is $3850 (USD). A deposit of $950 is required to hold your spot.
Changes Due to Covid
*Before Covid, deposits were non-refundable. However, we are trying to be as flexible as possible. In the event that you cannot attend, deposits can be credited toward another workshop at a later date. If for some reason you need to cancel within 60 days of the workshop, your deposit will be non-refundable and cannot be transferred to another workshop.

You will need a high clearance vehicle such as a Jeep or SUV. Small cars will not be sufficient on some of the back roads, but carpooling is an option.
Workshop Dates: 
April 16th – 22nd, 2023
Contact
Please don't hesitate to reach out if you have any questions. You can contact us using the form at the bottom of the page.
We look forward to working with you!