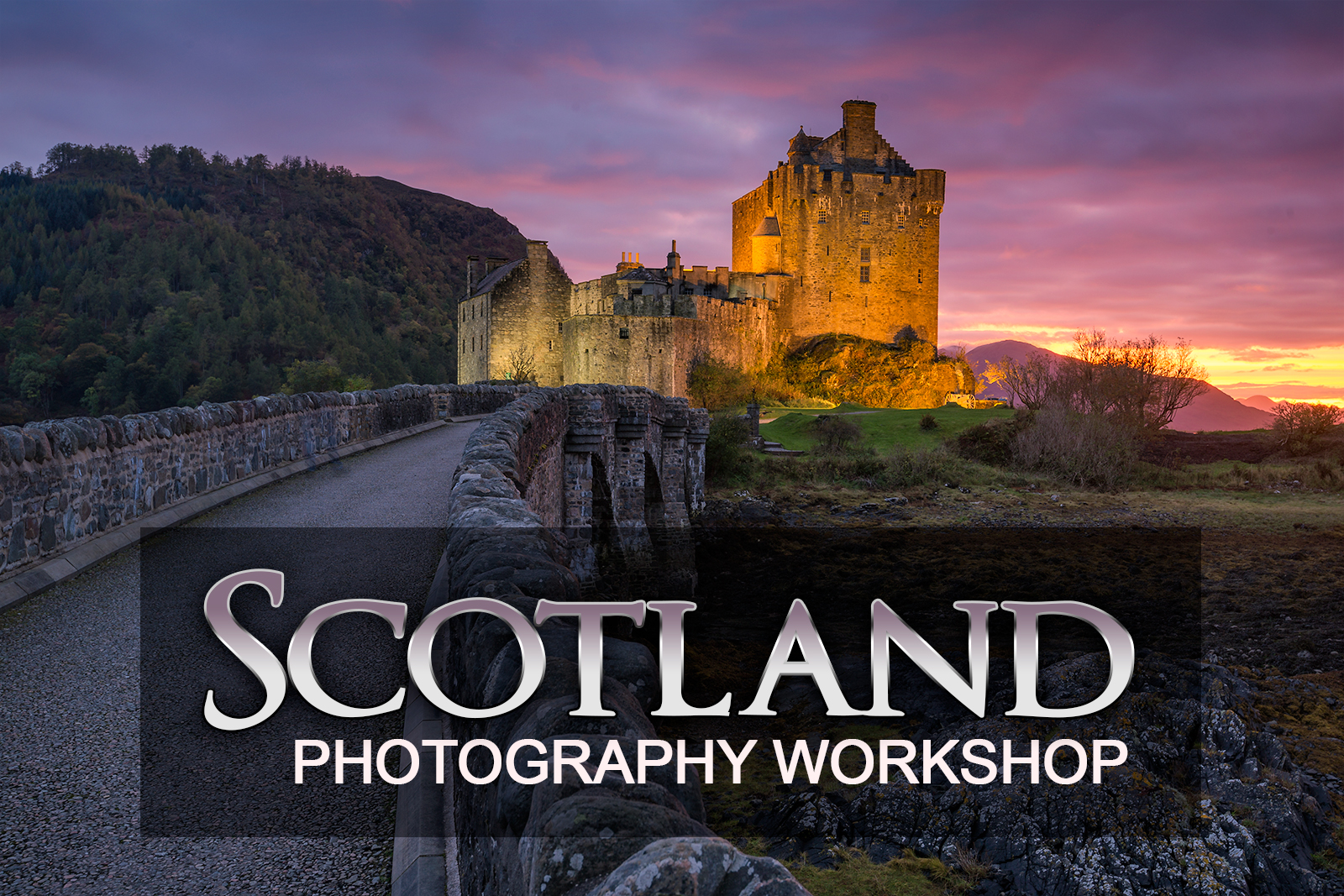 Scotland is one of those places that changes you. It's beautiful and rugged. It's full of history, legends, castles, and remnants of lives lived before our time; it's full of love stories, and life stories. Join me on my seven-day Scotland Photography Workshop and make this incredible place part of your story. I will show you how to capture the magic of Scotland while teaching you how to create fine-art quality images.
May 12th-18th, 2021 – Bluebells
October 14-20th, 2021 – Autumn
Location: Glasgow to Portree
Exclusive Class Size
This Scotland Photography Workshop has a maximum capacity of 4 participants. With limited registration, you will enjoy attentive one-on-one instruction each day.
Included in the Scotland Photography Workshop:
Transportation with pickup and return from Glasgow
Seven nights accommodations
Breakfast daily
Photography tuition
Post Processing lessons
Itinerary
Participants get themselves to Glasgow. I recommend arriving the day before (on May 11th) and spending the night at the airport. This will allow the workshop to start on time, even if flights are delayed, as well as give you time to adjust to the the time difference. I like the Holiday Inn Express at the Glasgow airport, as it is only a 3 minute walk from the terminal building, and it's comfortable. We can meet for drinks and a gear check on the evening of your arrival.  I will pick everyone up from the airport on the morning of the 12th to start our adventure!
Day 1: Glasgow
Shoot 1 – Bluebell Woods

Our first location is a hidden gem. These woods are not only full of amazing old trees, but are also carpeted with bluebells in the spring. This is one of my favourite places in Scotland; the compositions and opportunities for creativity are absolutely endless.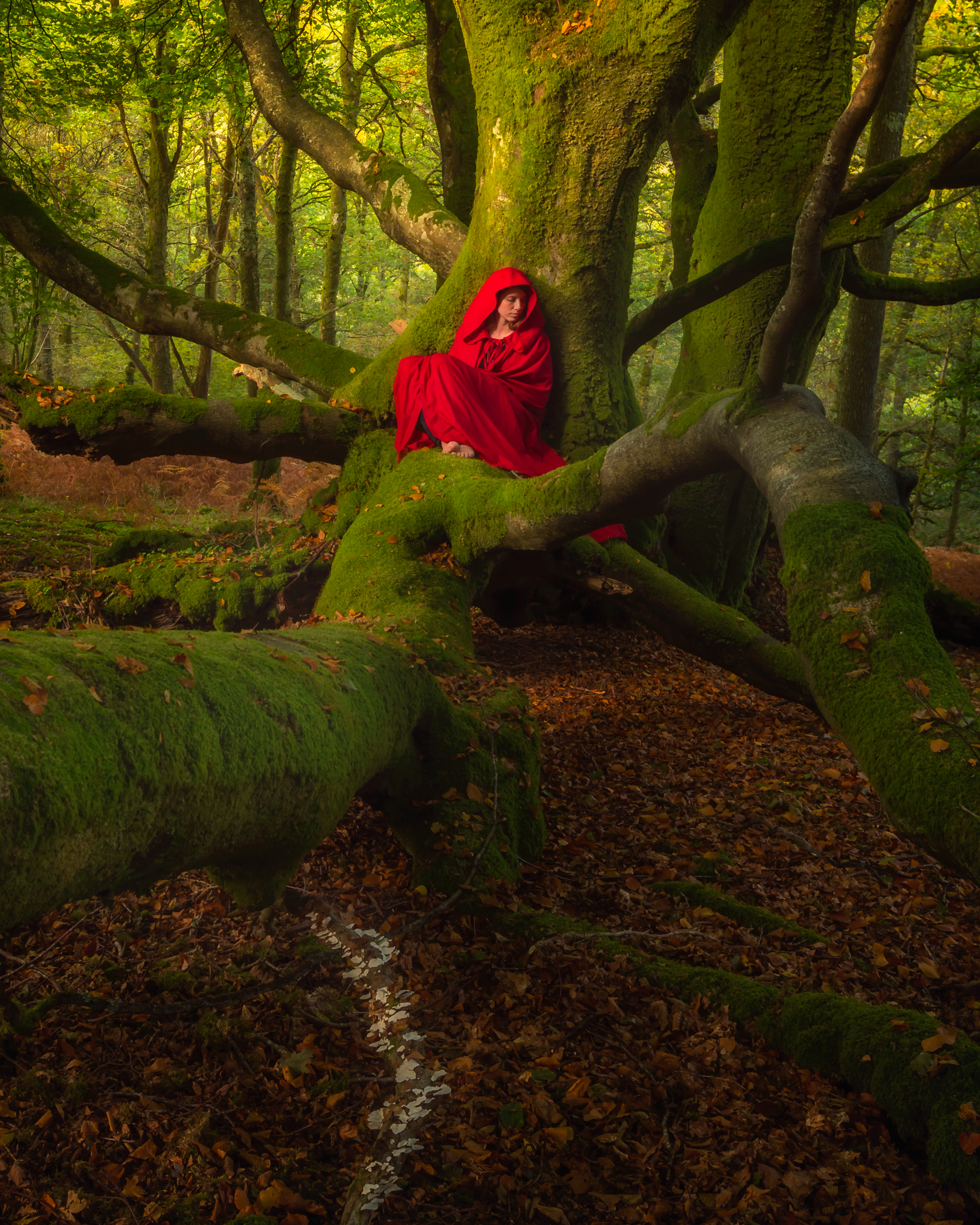 Shoot 2 – The Devil's Pulpit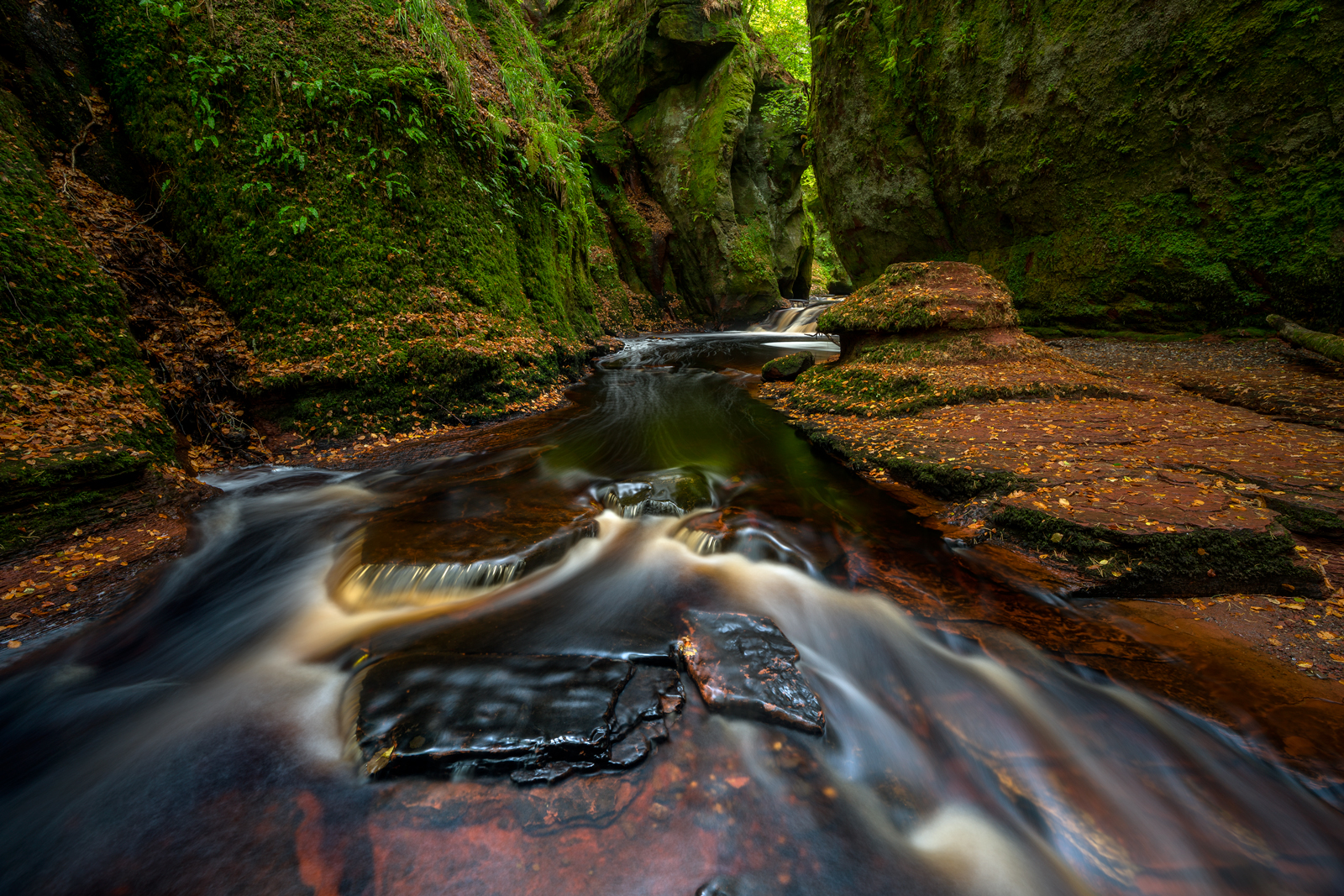 Our next stop on the Scotland Photography Workshop – at the Devil's Pulpit – will be sure to fill your first memory card. The walls of Finnich Glen glow green, the earth is red, and the water pours over the small falls like a fountain of white and milk chocolate. There are endless compositions to be found here, as the water swirls and pools throughout the glen, and the green walls reflect in the water
Day 2: Glasgow to Glencoe
Shoot 3 – Kilchurn Castle Sunrise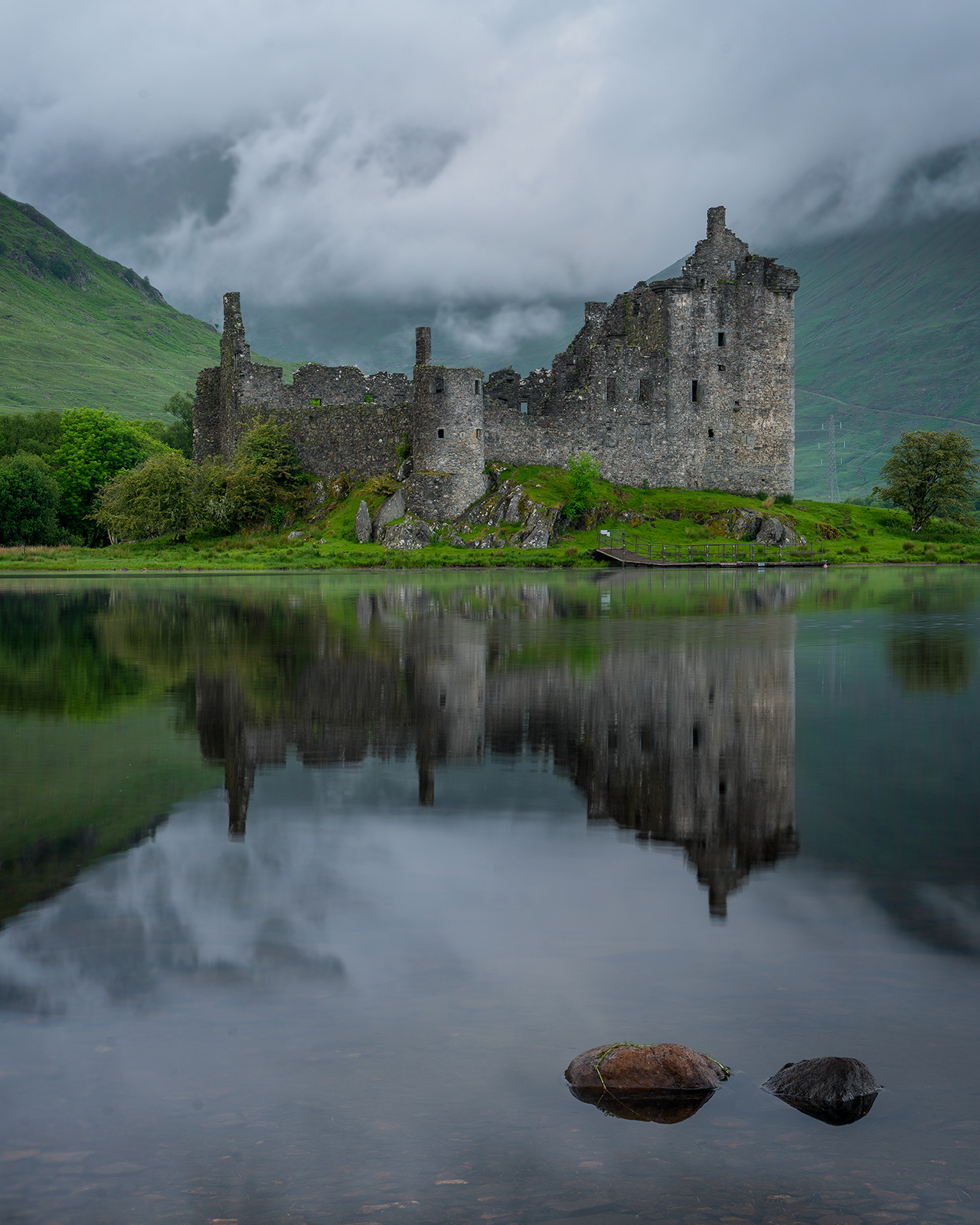 You will still be giddy after your day of shooting by the time we make our way to our first castle for sunrise. Kilchurn Castle, first constructed in the mid-15th century, stands like a sentinel on the shores of Loch Awe. You can't help but be transported back through time as you stand on the bank looking across the water. Chances are good for capturing some morning mist, and maybe even a rainbow (or two!). The water is often calmer in the morning, too, for some nice reflections.
Shoot 4  – All aboard The Hogwarts Express!
I have to admit that I'm a huge Potter geek, but even if you're not a Harry Potter fan, this old-fashioned steam train over the Glenfinnan Viaduct is truly inspiring. I will take you to the best vantage point for the light we get that day.
On our way to the viaduct we will have time to stop off at the historic Inverlochy Castle for high tea. This is a good opportunity to get a bite to eat, and explore 19th century Scotland.
Day 3: Glencoe to Skye
Shoot 5 – Sunrise at the Buachaille Etive Mor Waterfall in Glencoe
Glencoe is one of the most historically significant locations in Scotland. It's one of those places that feels like where ever you go, somebody, at some time in our history, was there before you. At the same time, it is remote, rugged, and untouched – like the tumbling falls under the shadow of Buachaille Etive Mor.
Shoot 6 – Eilean Donan Castle Sunset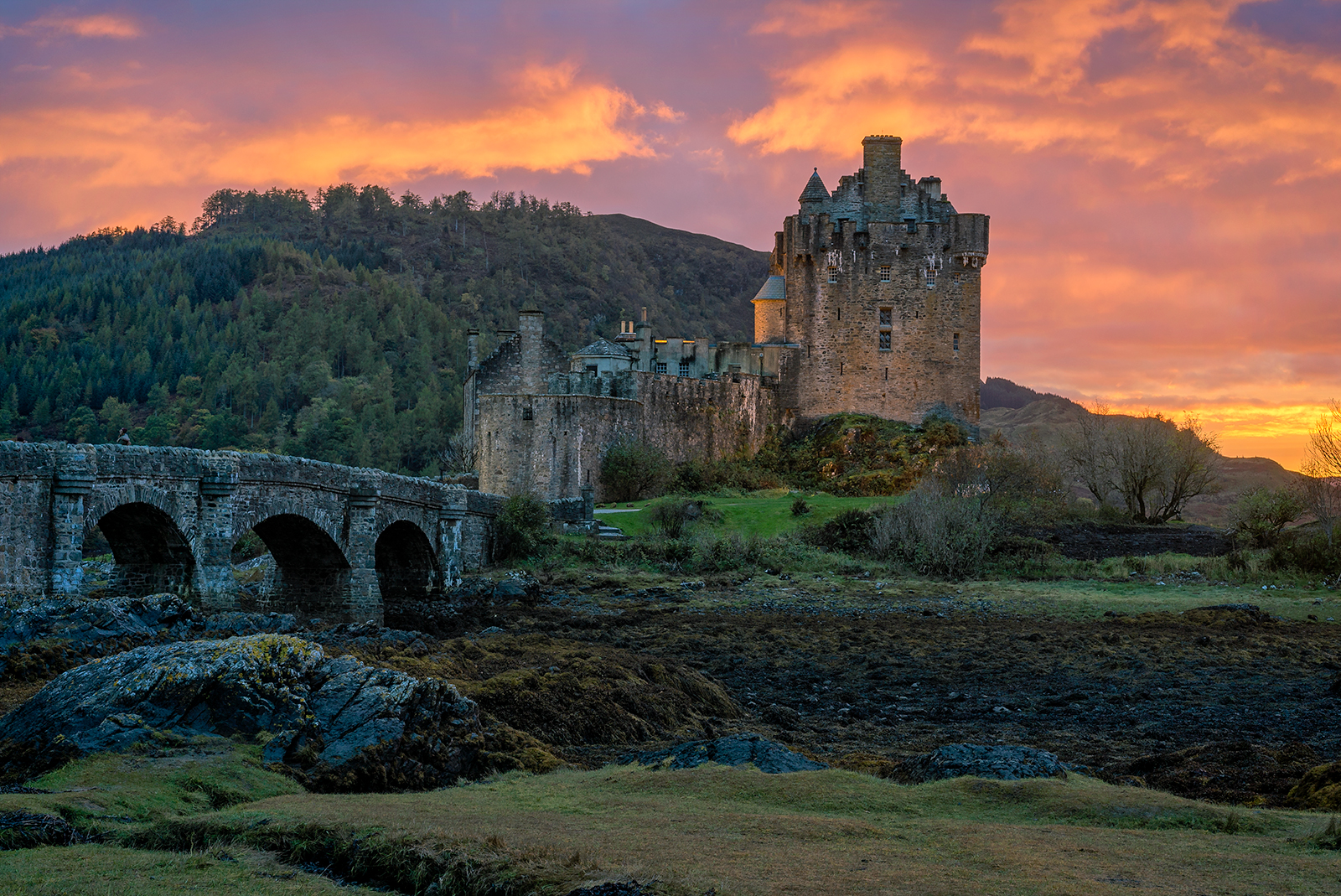 One of the most quintessential Scottish castles is undoubtedly the majestic Eilean Donan Castle. During my October, 2016 trip, I arrived just in time for one of the most spectacular sunsets I have ever seen. The sky was on fire, and the dazzling light continued for nearly an hour before the sun disappeared below the horizon. During blue hour, the exterior of the castle is lit with soft orange light that makes this quintessential castle pop against the deep blue of the fading light.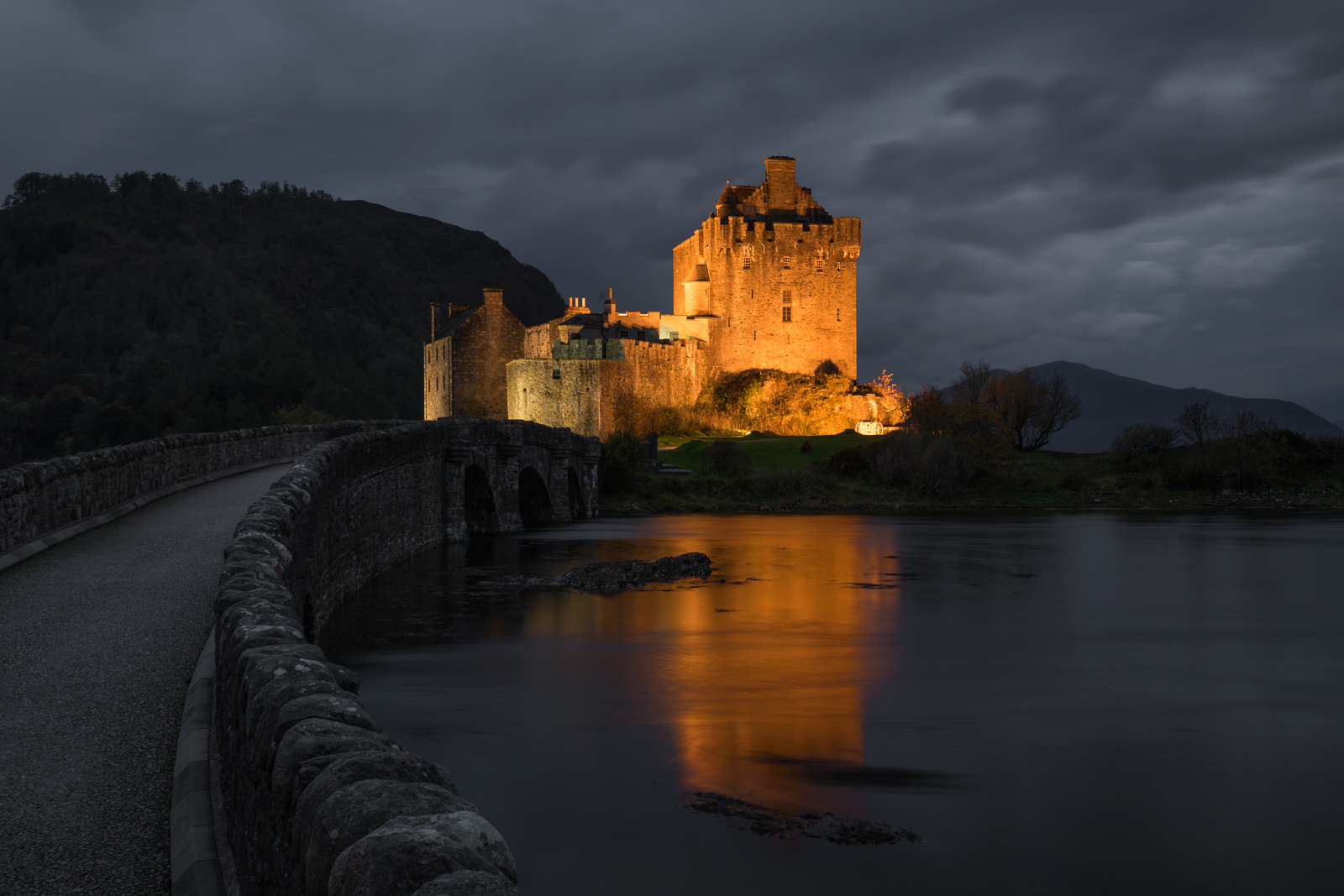 Day 4: Isle of Skye
Shoot 7 – The Old Man of Storr Sunrise
The Old Man of Storr will transport you to places you've seen only in your imagination. It has a Lord-of-the-Rings, middle-earth vibe to it. And, it's another one of those places with endless compositions. Make sure you have lots of space on your memory card and some extra batteries!
Shoot 8 – Neist Point Lighthouse Sunset
Neist Point offers a feast of dramatic cliff faces and crashing waves. With the lighthouse perched precariously on the edge of the cliffs and facing into the North Atlantic Ocean, it's sure to lure your imagination.
Day 5: Isle of Skye
Shoot 9 – Sunrise at The Quiraing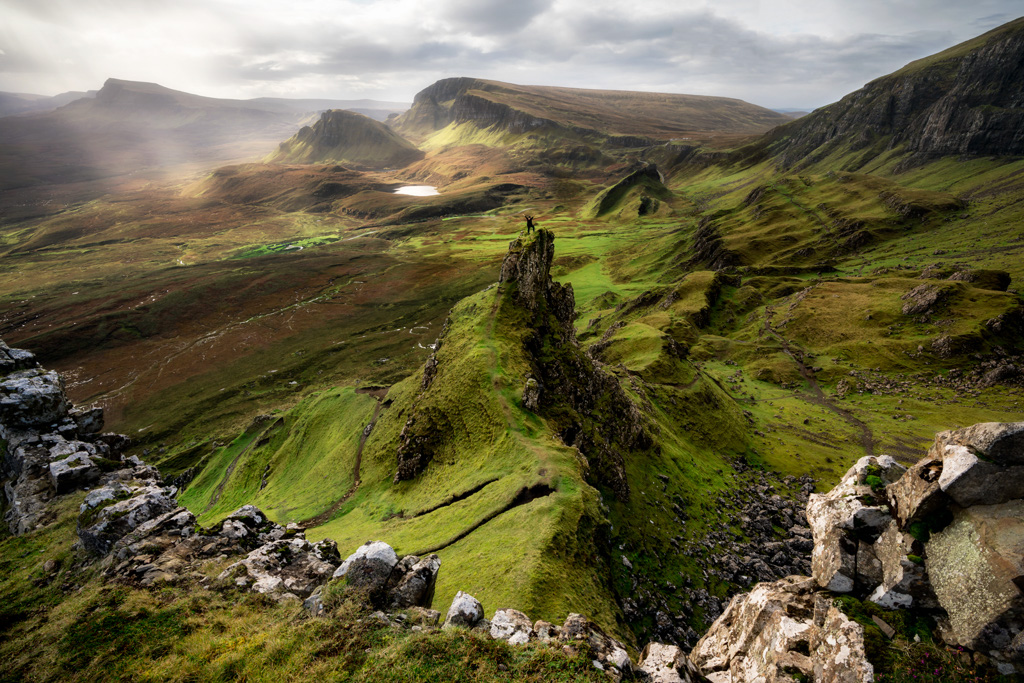 Much like the Old Man of Storr, visiting 'The Quiraing' is like stepping into another realm. Gnarly rock formations, and deep green meadows create an endlessly textured landscape. The morning sun reveals fascinating details and depth to this unique landscape.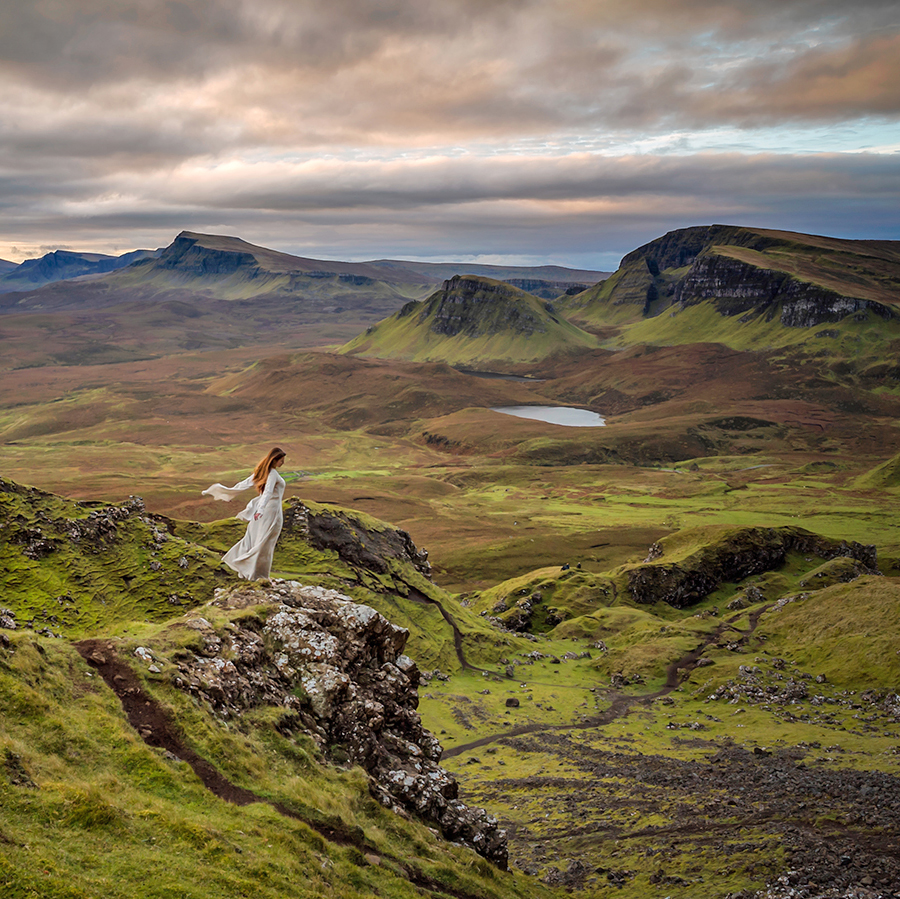 Shoot 10 – Afternoon Shoot at the Fairy Pools
Scotland isn't all jagged rocks and meadows. It also boasts some beautiful, waterfalls and the deep blue Fairy Pools. We will spend the afternoon exploring this enchanting set of falls.
Shoot 11 – The Fairy Glen Sunset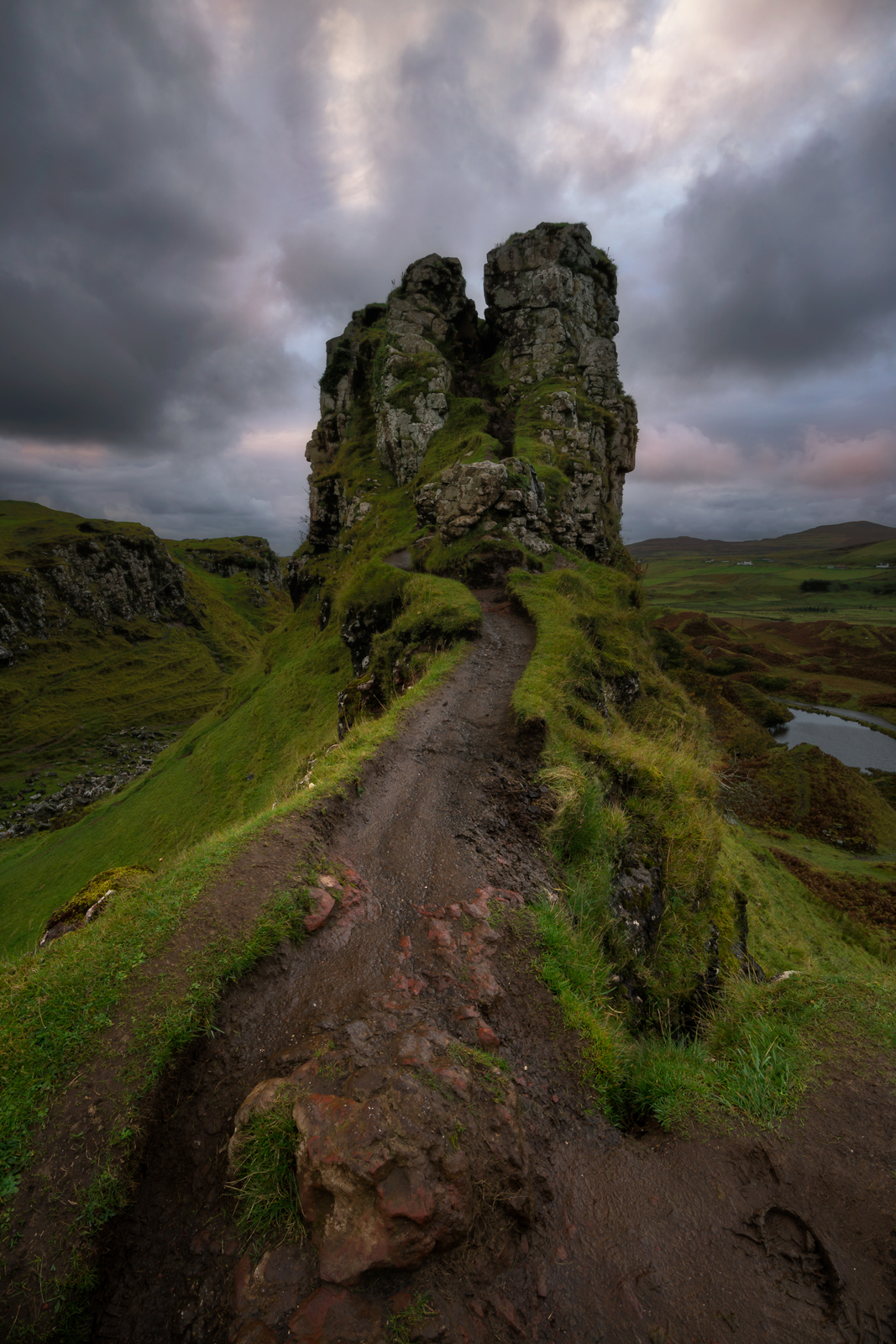 The Fairy Glen has an enchanted feel to it, with it's bizarre stone circles and rock structures. They say that if you stand very still and quietly in the vicinity of the glen, you may hear leaves rustling or feel a faint wisp of breeze – the work of the fairies!
Day 6: Skye to Glencoe
Shoot 12 – Sunrise at  Eilean Donan Castle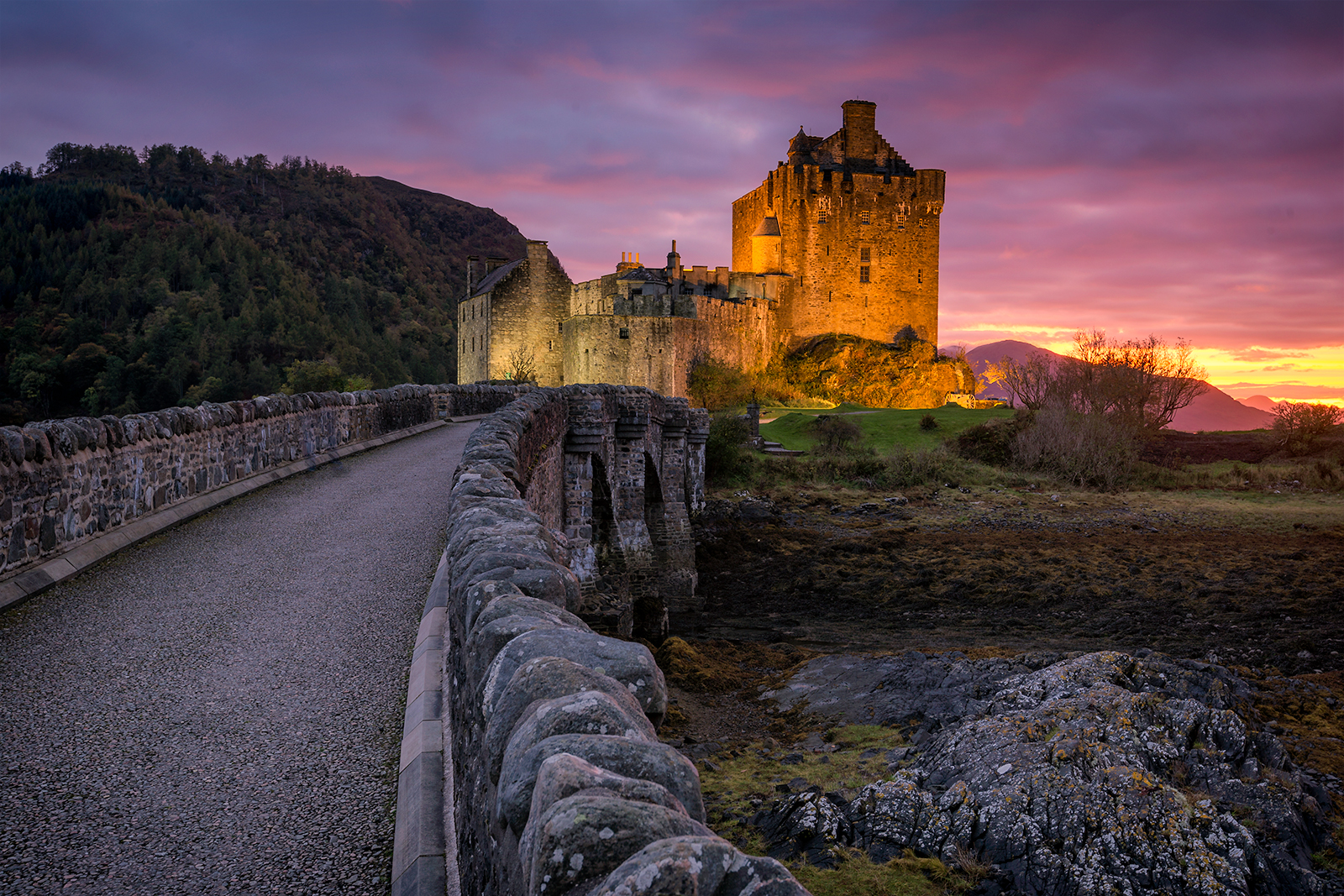 We say goodbye to the Isle of Skye this morning, but we get one more opportunity to shoot Eilean Donan Castle for sunrise.
Shoot 13 – 'The Fey Realm'
After sunrise we will step into what can only be described as a fairytale forest. I call this place the 'Fey Realm.' This forest is reminiscent of the storybooks you read as a child with ogres that live under bridges.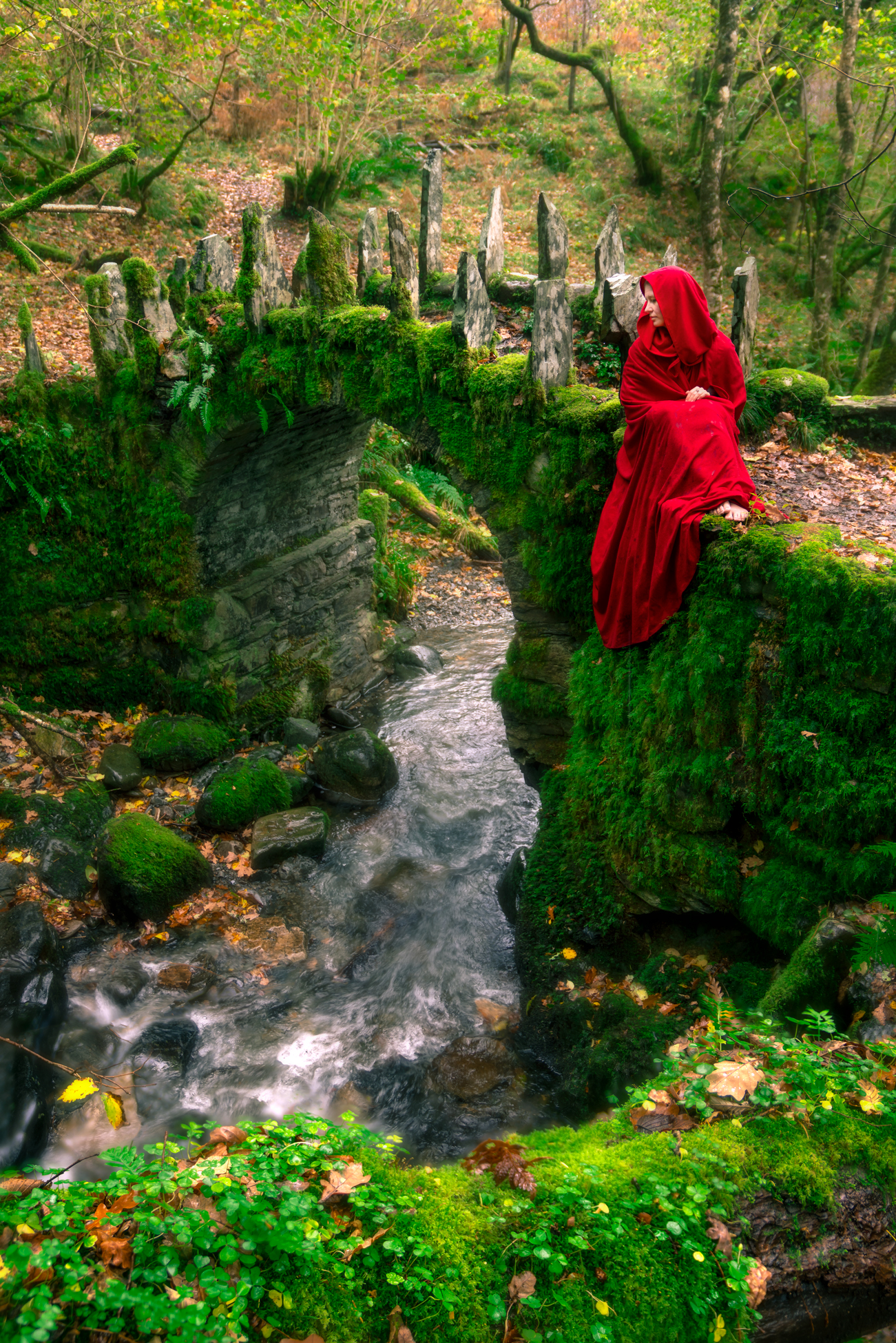 Day 7: Glencoe to Glasgow
Shoot 14 – Castle Stalker Sunrise
Sunrise is the perfect opportunity for calm waters around the towering Castle Stalker. Hopefully we get some of that magical Scottish mist, and gorgeous reflections in the loch.
Shoot 15 – Last Chance Shoot
As we make our way back to Glasgow we will have time for one last shoot. If we didn't get the desired conditions for a favourite location, we have time for a redemption shoot.
We will drive back to Glasgow after our last shoot for a farewell dinner, drinks, and laughs.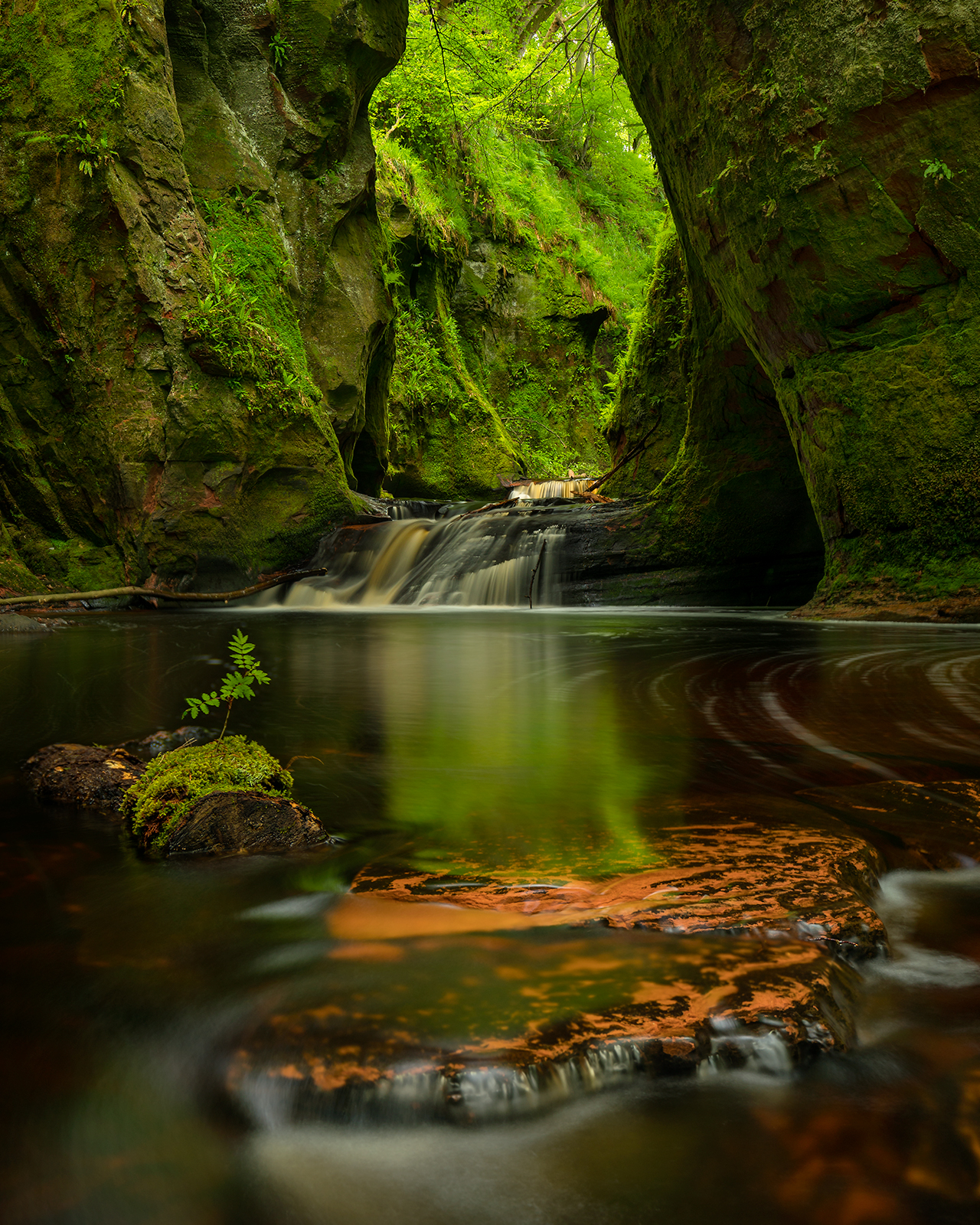 Recommended Equipment on the Scotland Photography Workshop

Camera with an interchangeable lens
A *sturdy* tripod with a ball head. We can't emphasize enough how important it is to have a solid tripod. Many people spend thousands of dollars on cameras and lenses, and mount their gear on a flimsy $60 tripod. If you invested money in a camera, don't risk damaging it by putting it on a tripod that won't stand up to wind and weather!
Shutter release (recommended but not essential)
Extra batteries (Essential)
A change of shoes if you get wet feet
Rain cover for your camera
*A circular polarizer – this is an essential piece of equipment when we photograph water
Lots of lens wipes and cloths
Wide angle, and mid-long range zoom
Comfortable hiking boots
Adapters for UK power outlets
A laptop for post-processing lessons
Bluebell Woods – May Edition
What's Not Included
Food (lunch, dinner, snacks)
Drinks
Flights to and from Glasgow
Insurance – It is MANDATORY for you to have travel insurance for yourself. I also highly recommend insuring your photography gear. Tour leaders will not be responsible in the event of any personal injuries or damage to photography equipment as a result of an accident during the workshop.
Fitness Requirements
Most of the shooting locations on the Scotland Photography Workshop are close to car parks and require very little hiking. The exception is the optional hike to the 'Old Man of Storr' which takes about 1 hr up a steep hill. If you aren't up for this hike, you can still capture great shots at the start of the trail. All other locations are short walks from the car, ranging from 20 – 45 minutes over gradual terrain.
Post-Processing Lessons
There will be some down-time between shoots, as well as in the evenings to process the images from our trip. Make sure you bring a laptop that has Photoshop, Adobe Bridge, and Lightroom or ACR installed. I also like Nik (a free software from Google). Trying to install programs while on the trip may prove very difficult with limited internet services. Come prepared to get the most out of our post-processing sessions!
Don't hesitate to use the contact form on the top of the home page if you have any questions, or to ask us about the payment plan options I have available.
I look forward to working with you on the Scotland Photography Workshop!