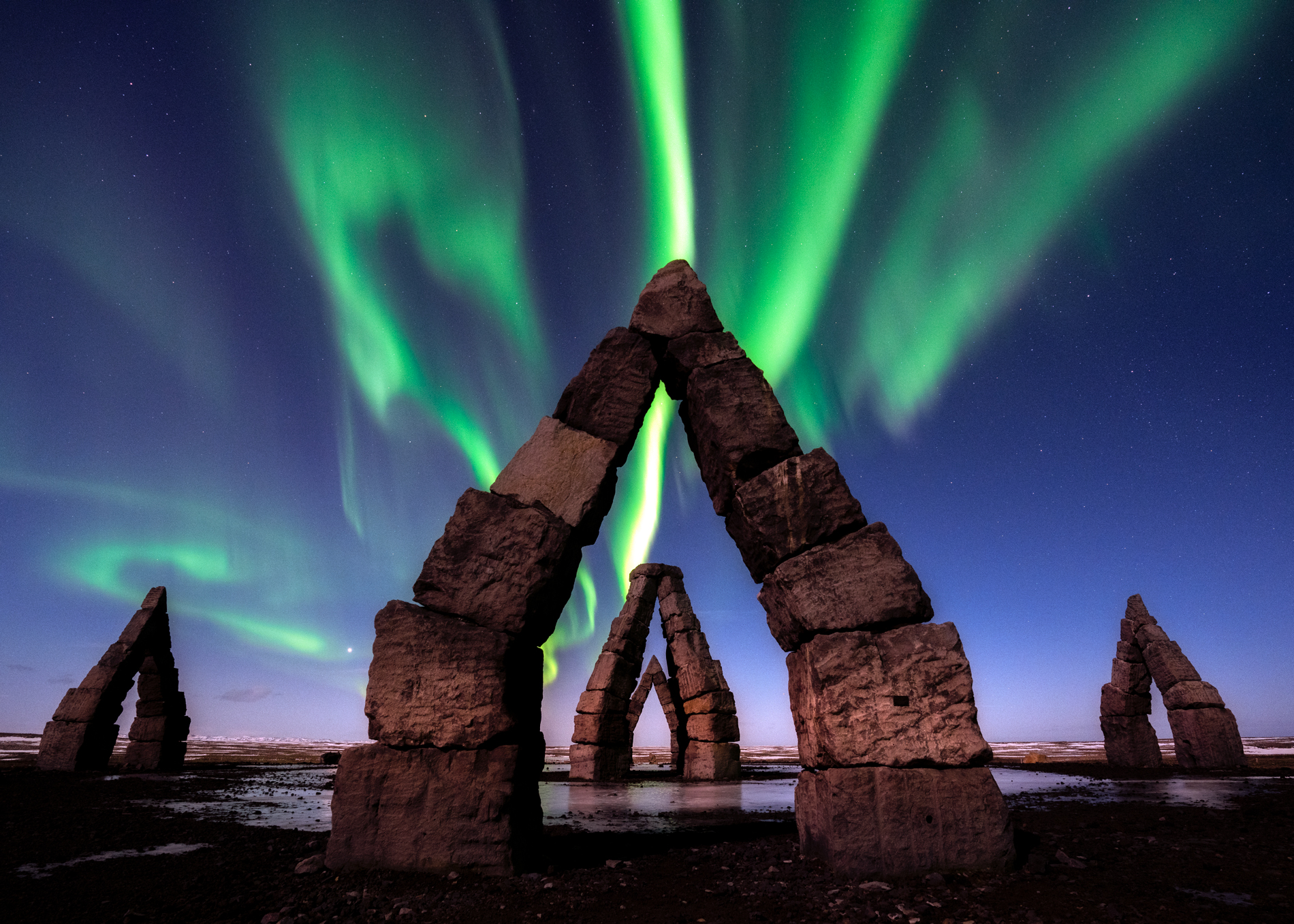 Winter is coming! And I'm already daydreaming about frost flowers, ice caves, and blankets of pillowy snow. It is no secret that I love winter. As a photographer, I'm drawn to the intricate details of the frozen landscape. I love winter so much that I seldom leave my home in the Canadian Rockies during the winter months, but I make an exception for Iceland! I have witnessed some of the most intense skies (both day and night), and most unique winter scenes in Iceland.
This year I have teamed up with Helen Maria Bjornsdottir, owner of Iceland's Local Guide, to give you the best opportunity for amazing photos regardless of the weather! Helen has been guiding ice cave and glacier tours for 7 years. She knows every inch of the glaciers, as well as winter access to more remote locations. With Helen's local knowledge, we can spend our time exploring the ice caves and glaciers when the clouds roll in and we can chase the light and aurora when conditions are more favourable.
This workshop is designed to be as flexible as possible. You will have multiple opportunities to shoot the glaciers and ice caves, as well as chase clear skies for aurora and the best conditions for sunrise and sunset.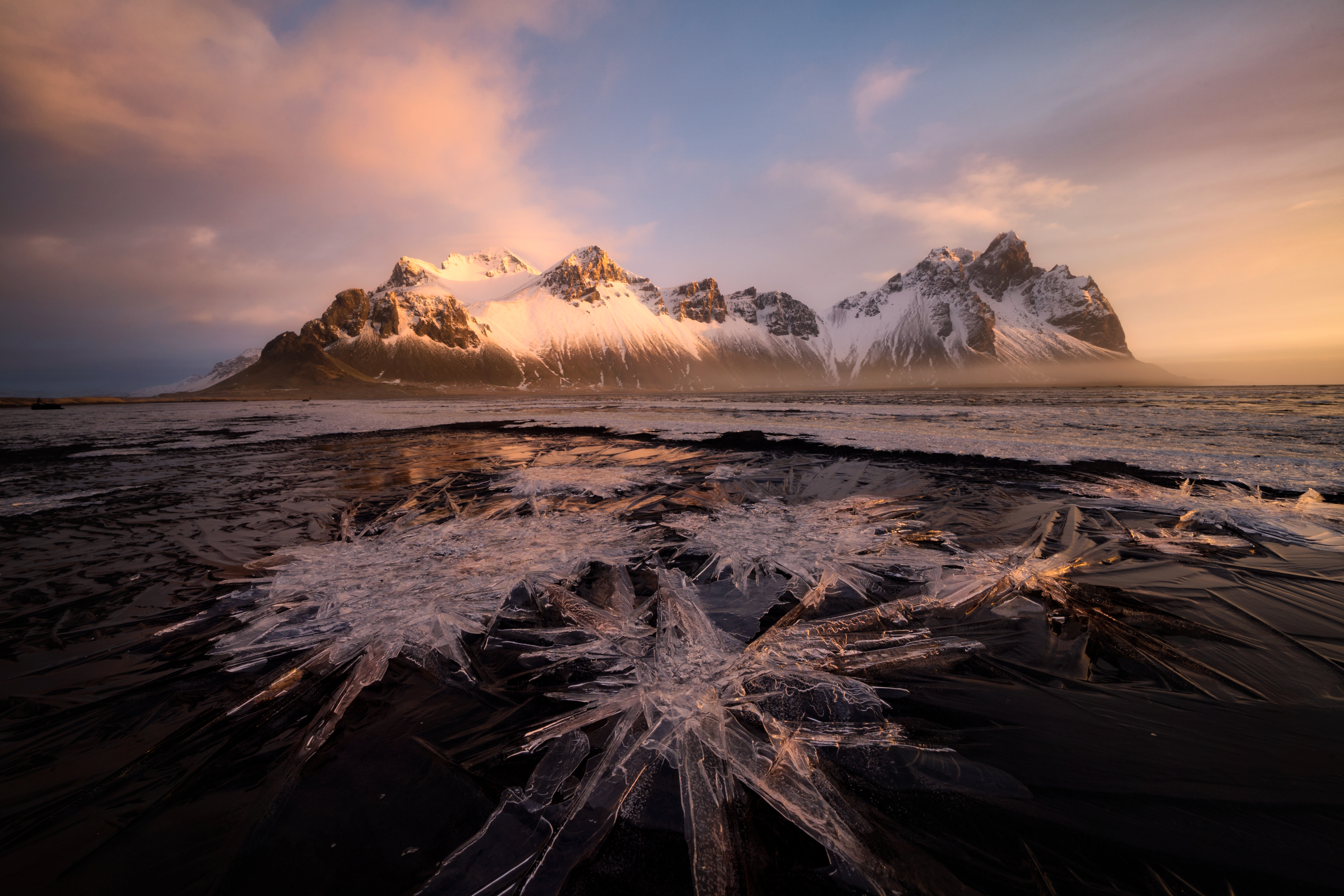 Chasing Light
We will be staying in a location that is fairly central to some of the most photogenic locations on the island. Winter weather can be a challenge if you try to stick to a rigid itinerary. Having a central home base gives us the flexibility to chase clear skies for aurora, and clouds for sunrise and sunset. Our accommodations are also located near the ice caves so we can get an early start for the day. We will visit impressive mountain peaks, as well as black sand beaches.  Should the weather be on our side, we will get to experience and capture the beauty of the northern lights!

Glacier and Ice Cave Tours
We will be working hand-in-hand with Local Guide to get you out on the largest glacier in Europe, and exploring the seasons newest ice caves. Our partnership with Local Guide will provide us with unique opportunities such as photographing the aurora from the ice caves if the opportunity arises, as well as having climbers on hand to take our photography to a more creative level!

Remote Locations
Iceland has a reputation for being both the most photogenic location in the world, as well as the most crowded. This tour is designed to see those iconic spots that got you dreaming about visiting Iceland but Helen and I have also scouted more remote, equally stunning locations where we can enjoy the beauty and wonder of Iceland in solitude.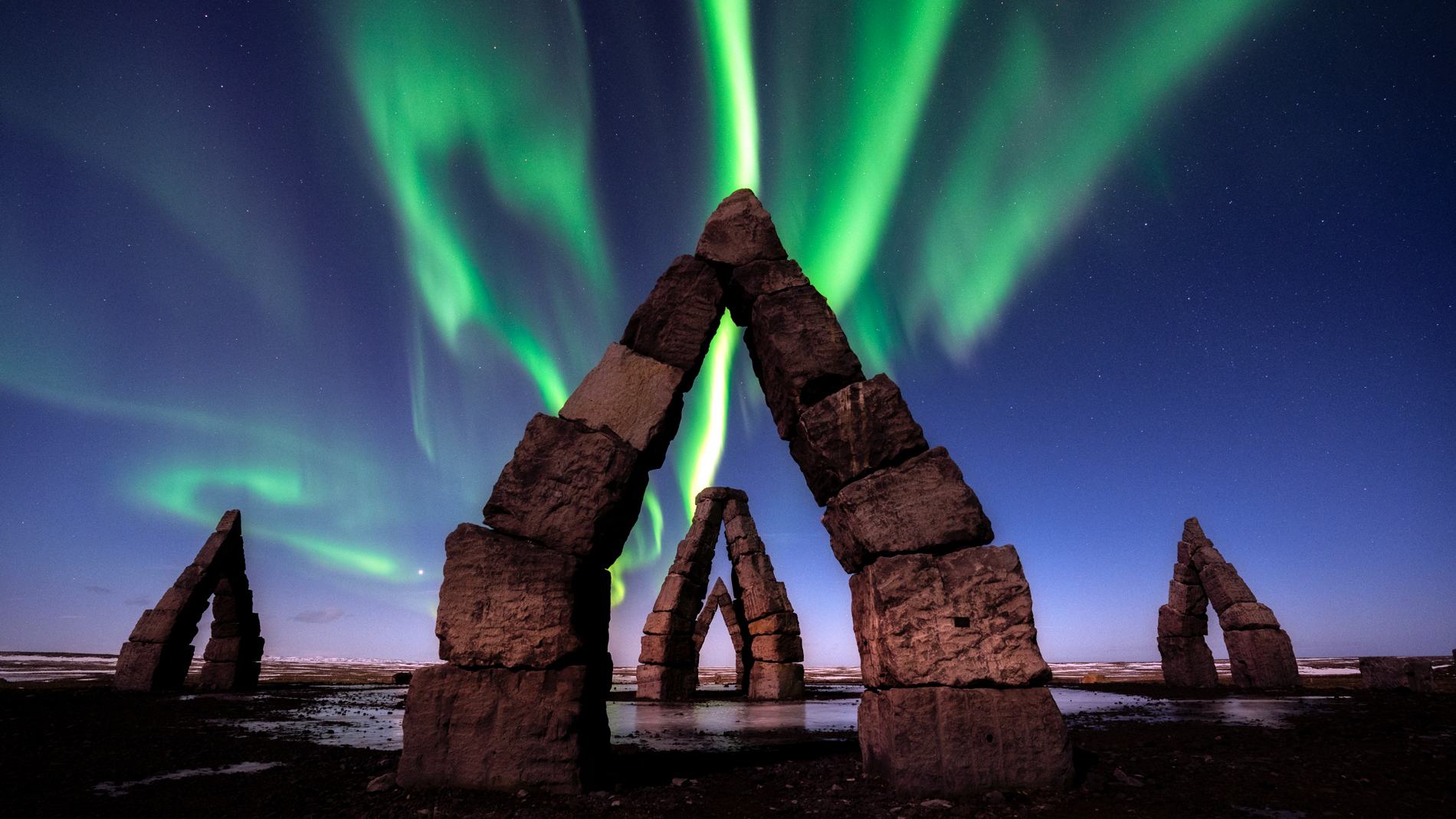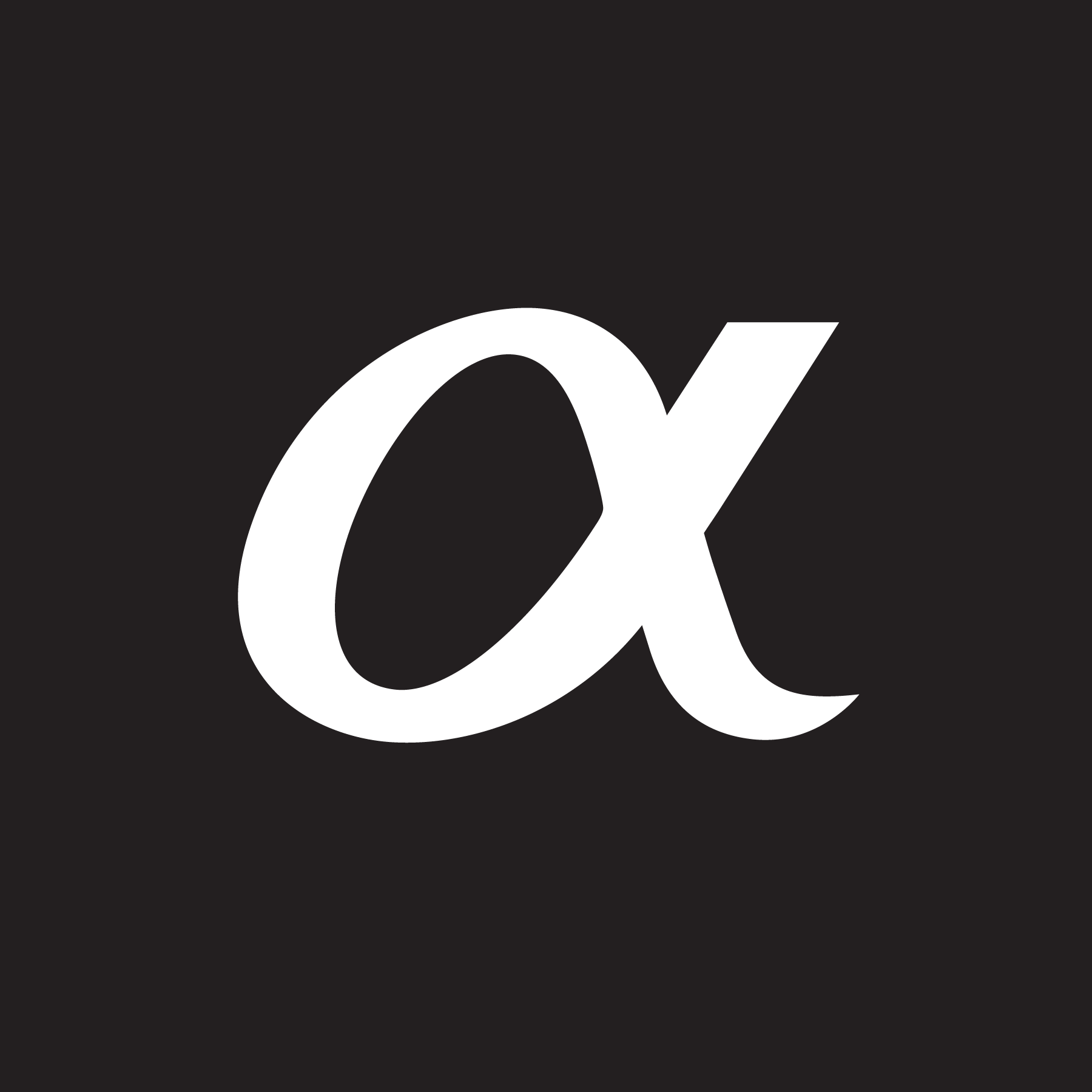 We are very fortunate to have the support of Sony on this workshop. Sony will have a wide range of cameras and lenses available for you to try out; this is an incredible opportunity to try a full frame camera if you have never used one, or take a news lens for a test drive!
What you will learn on the Iceland Photography 

Workshop

This workshop is designed to help you improve your skill and confidence with photography through developing your technical skills and building your social media presence. I have developed a classroom curriculum that includes: 1) how to photograph the aurora, 2) how to build your social media empire, 3) how to create compelling compositions, 4) how to focus stack and exposure blend, 5) how to blue hour blend and stack stars for noise reduction, 6) choosing the right lens for the shoot, 7)  how to edit blue hour blends, 8) editing tips and tricks for putting it all together.

We will apply the classroom lessons on location to provide you with multiple modalities to learn the techniques.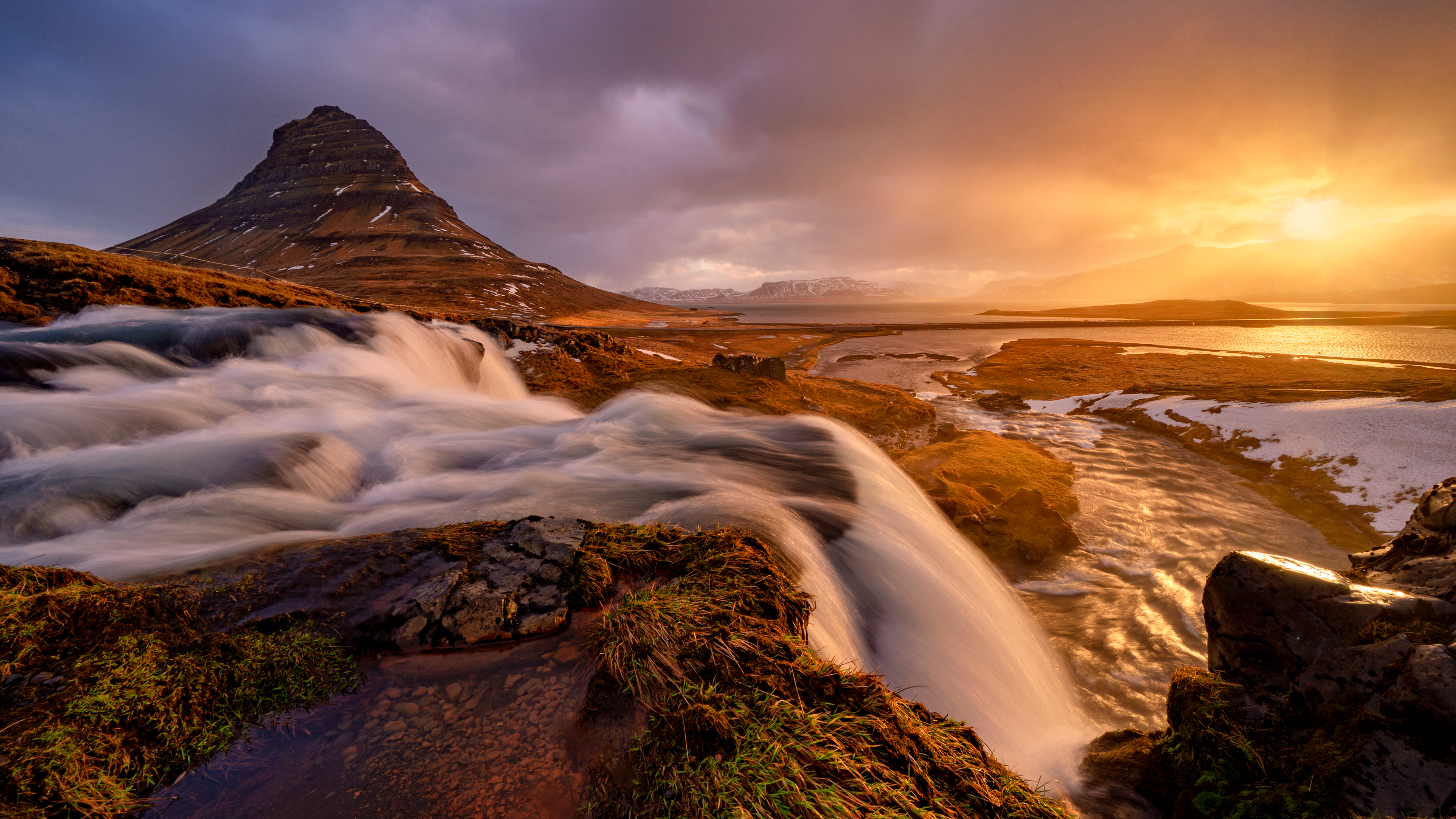 What is Included
All lodging

Transportation from Reykjavic airport to all shooting locations

Multiple glacier and ice cave tours

Photography Instruction

Post Processing. Editing is how you breathe life, creativity, and personal style into an image. We will give you the tools to help you express your creative visions through your photography, using LightRoom and/or Adobe Camera Raw, and Photoshop 
About Iceland
Iceland is a Nordic country with a population of 335 000. The majority of the people live in the capital Reykjavik. The country is famous for its volcanoes, glaciers and hot springs. It is no surprise that one of the major industries is geothermal power. In addition to the geothermal power industry, Iceland also thrives on tourism and fish processing. Did you know that the landscape in Iceland has attracted Hollywood as well? Movies like Batman Begins, Star Wars: The Force Awakens, Interstellar, and Prometheus have been partially recorded in Iceland. And it is also worth mentioning that some scenes of Game of Thrones also is filmed here!
Required/Essential Gear
We will be visiting Iceland in Winter and the weather is quite unpredictable. With that in mind, you will need warm layers, including:
A warm hat and a face mask (balaclava) that covers your face.
Warm gloves that you can operate your camera without exposing your fingers to the cold. Big gloves are not good for getting to your camera functions. I use a touch screen liner glove inside of a wind proof mitten. This mitten folds back to reveal the inner glove so you can operate your camera. Both the inner glove and the mitten have room for chemical hand warmers. I HIGHLY RECOMMEND  getting a pair of these mittens and liners. I have never had frostbite on my hands and I have worked in temperatures near – 40 Celsius!  You can get them at B&H Photo through the hyper link. They will arrive in two days (even to Canada).
Warm layers

I recommend three layers to keep you toasty warm during our adventures. First, a thermal layer, such as Merino wool. This type of fabric keeps you warm and dries quickly. Second, a fleece layer. Fleece is very insulating. Finally, outer wear that blocks wind. A winter jacket (down insulated) and ski pants will be perfect.

Chemical warmers. Get chemical warmers for your mittens and boots. For foot warmers, I prefer the insole style to the toe warmers.
Hiking boots

Micro spikes. You will need micro spikes that slip on over your boots for getting around on the ice. Please be sure to try them on with your boots before arriving.
Rain sleeve for your camera. The disposable sleeves work really well.
***STURDY TRIPOD*** You need a tripod that isn't at risk of blowing over when you mount your camera and lens on it. You will want it to get low (within a few inches of the ice). I use a Slik USA carbon fibre 734 with an SBH 200 DQ Ball Head. It is lightweight but sturdy and it gets low. This tripod has been all over the world with me and has worked reliably at every shooting location. SLIK has graciously extended a 15% discount to workshop attendees if you need to upgrade your current gear. Use the code RJR15.
Camera with interchangeable lens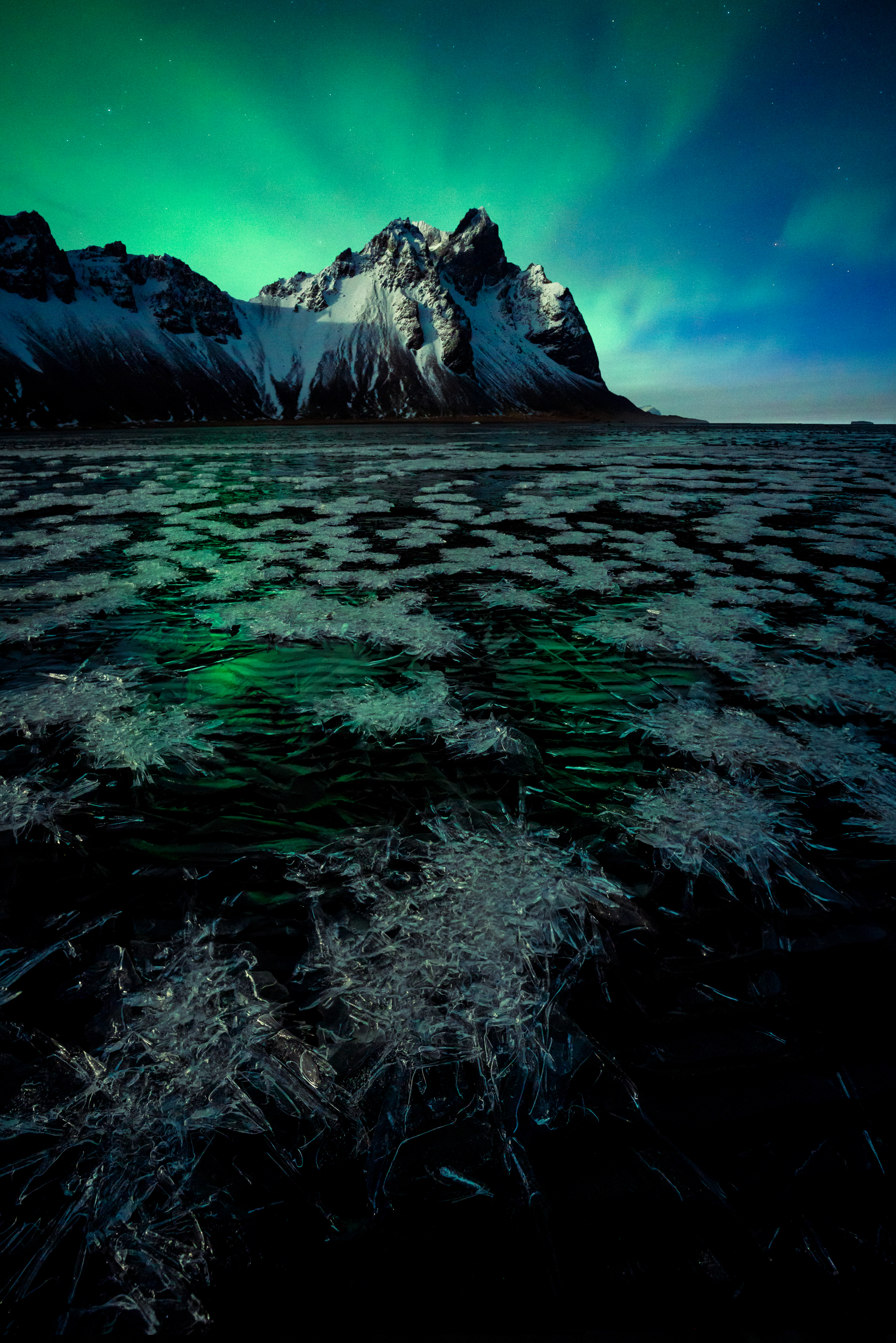 A few other things to remember 
BATTERIES and battery chargers!

Memory cards

Headlamp or flashlight for night shooting (please avoid anything with a red light function… if you bring a red light we will feed you to the coyotes!) 

Shutter release cable (recommended but not required)

A note about camera straps. Camera straps blow and flap in the wind. Using camera straps on a tripod is a bit like attaching a parachute to your camera. We recommend removing the ones that come with your camera. If you feel better about having a strap, we recommend getting a

black rapid style

that quickly and easily detaches from your camera before you put it on a tripod

Laptop for post-processing
About Me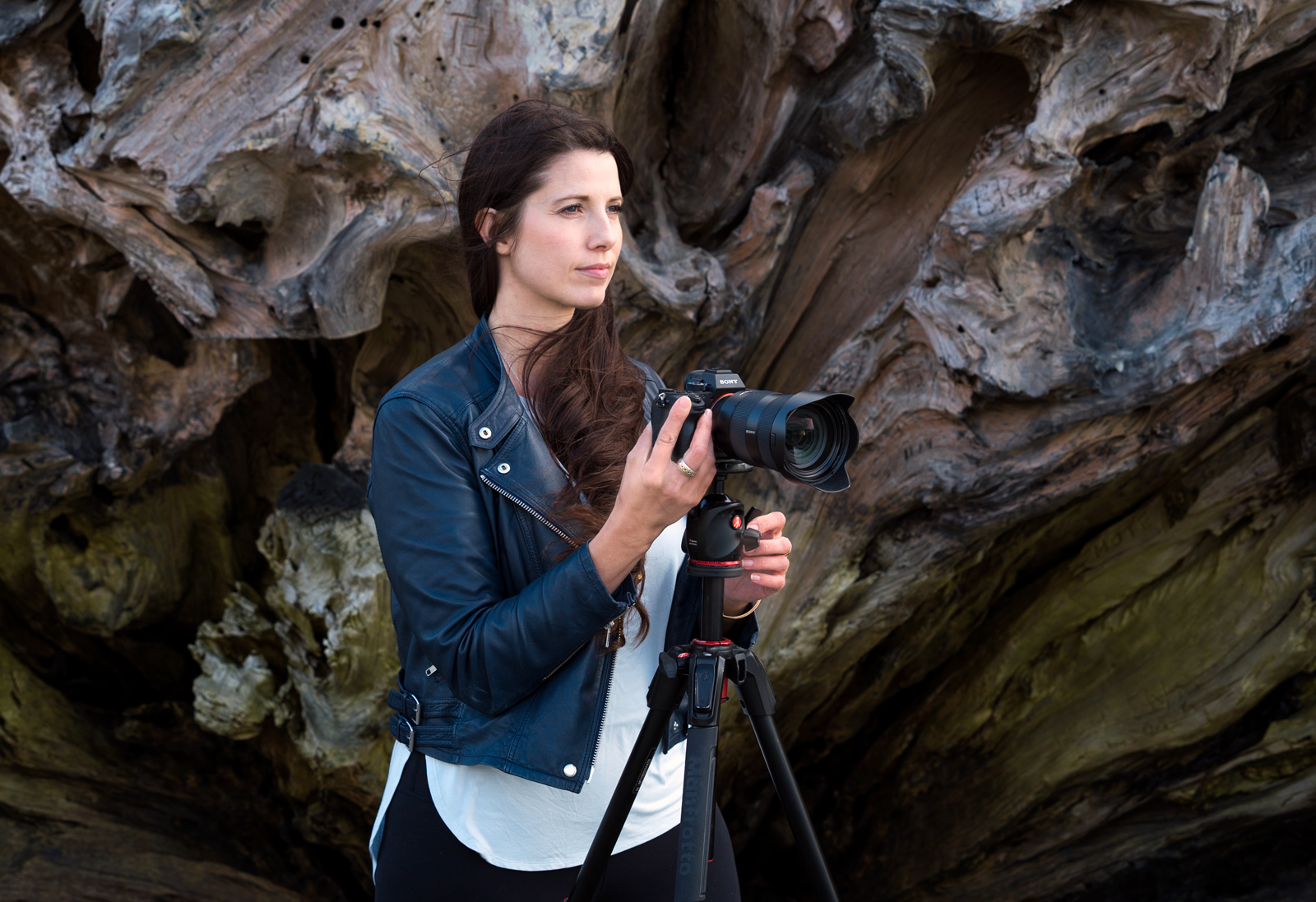 My name is Rachel Jones Ross. I am a light-chasing, coffee loving, intellectual junkie, who is most inspired by a sky full of stars! I started off teaching psychology and statistics in university before moving into teaching photography full time.

I am a proud Sony ambassador, and I am fortunate to have the support of both Sony and B&H Photo in my creative projects, as well as my workshops.

About Helen
Helen Maria Bjornsdottir is the co-owner and CEO of Local Guide, specializing in glacier and ice cave tours on Iceland's largest glacier. Helen is an explorer, and always up for an adventure. Although she travels a lot, her favourite place to explore is the ever changing glacier, Vatnajökull, in her own backyard. Fun fact: Helen's last name  means "daughter of bear."
After spending time with Helen in Iceland, I went home feeling creatively re-energized. Together, we explored lesser travelled roads and found new treasures to photograph; we chased the light of the sun, the moon, and the dancing aurora, and she guided me to some of the most incredible ice caves I've ever experienced.

Our Workshop Vision
We designed this workshop to capture the creative magic which comes from exploring new places, chasing light, and hiking in the heart of Iceland's glaciers and ice caves. This is the most flexible, and the most experience-focussed tour that either of us have ever created!
More Details
Accommodations are based on shared occupancy. The total cost of the workshop is $4500 (USD). A deposit of $950 is required to hold your spot. The balance remaining ($3550) is due 30 days prior to the workshop. Deposits are non-refundable. A single supplement fee is available on request if you wish to have your own room.
Join us January 29th to February 8th, 2022!
Workshop Dates: January 29th – February 8th, 2022


Contact
Please don't hesitate to reach out if you have any questions. You can contact us using the form at the bottom of the page.
Both Helen and I look forward to working with you!