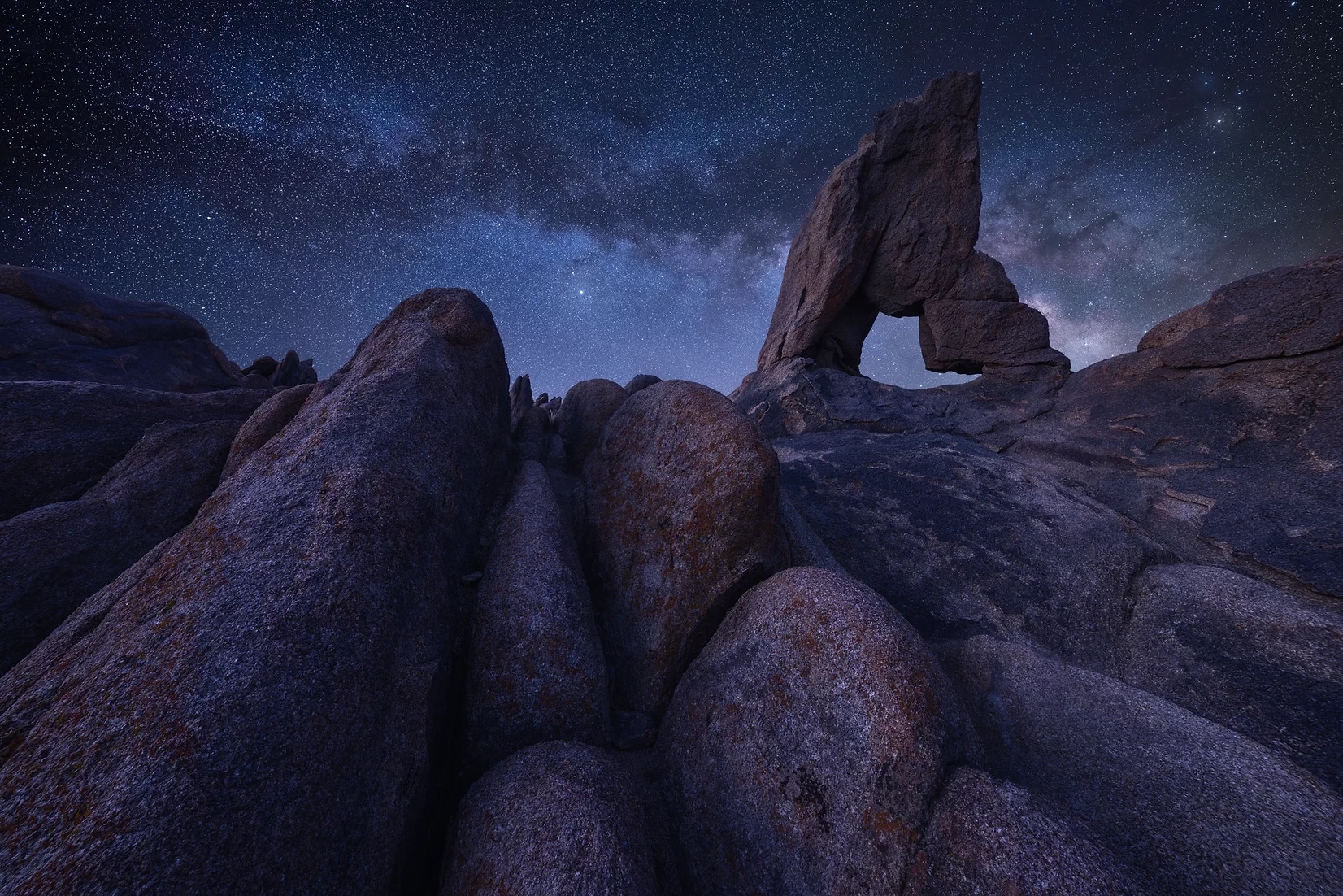 Experience the Wild West of the Alabama Hills the way cowboys once did, as they gathered around the campfire and watched the Milky Way float across the night sky. Timelapsing is a unique way to capture the experience of a night under the stars. A single image can only tell part of the story. The real magic is found in the movement of moonlight and starlight dancing across the landscape.
Join Rachel and Jess April, 2023 for five nights of capturing the night sky in motion, on a Timelapse Photography Workshop. We will be exploring a variety of landscapes from the Alabama Hills to the northern reaches of Death Valley National Park.
Both Rachel & Jess are proud members of the Sony Alpha Imaging Collective. We are excited to partner with Sony, who have graciously offered to provide gear for anybody wishing to put Sony's low-light cameras and lenses to the test! Of course, you are welcome to use your own gear of any brand.
What You Will Learn
This workshop is designed to introduce you to the magic of astro timelapsing. Some of the topics we will cover include: 
Mastering settings for the changing light at night

 

Creating a Timelapse in the natural light of the stars and the moon
Learning how to mask out parts of the scene with blue hour blending

 

Editing in LRTimelapse, DaVinci Resolve, and PhotoShop

 

How to set key frames, and use levels and ramping for smooth transitions

 

Multiple methods for removing noise and de-flickering

 
A basic understanding of night photography is highly recommended. If you are new to astro landscape photography and would like to gain some experience, check out our Wildly Creative: Astro Under Dessert Skies Photography Workshop happening the week before, April 16-22, 2023!
What is Included
All lodging 

 National Park Fees 

Photography Instruction

Post Processing. Editing is how you breathe life, creativity, and personal style into an image. We will give you the tools to help you express your creative visions through your photography, using LightRoom and/or Adobe Camera Raw, and Photoshop 
Required Gear
Intervalometer (either in camera or a remote trigger).

 

Weather in the desert varies greatly in April. It gets very warm during the day (reaching highs of 90 F) but can get very cold at night (reaching lows of 40 F). With that in mind, you will need to dress in layers, and be sure to have a warm jacket.

 
***STURDY TRIPOD*** I can't even tell you how many tripod issues I encounter on every workshop. You will be shooting in strong winds in the desert. You need a tripod that isn't at risk of blowing over when you mount your camera and lens on it. You will want it to get low (within a few inches of the foreground). Mefoto and the ManFrotto BeFree tripods are NOT acceptable. I use a Slik USA carbon fibre 734 with an SBH 200 DQ Ball Head. It is lightweight but sturdy and it gets low. This tripod has been all over the world with me and has worked reliably at every shooting location. SLIK has graciously extended a 15% discount to workshop attendees if you need to upgrade your current gear. Use the code RJR15.
Rain sleeve.

 

#ItNeverRainsIntheDesert she says! 😂😂😂 But sometimes it snows. And if it's not raining or snowing, the wind hurls sand at your camera, which gets lodged in every crevice. A plastic rain sleeve is sufficient.

 

Camera with interchangeable lens
Wide Angle Lens. I use a Sony 16-35 mm f/2.8 G Master, and a Sony 12-24 mm f/2.8 G Master. If you don't currently own a wide angle lens, you will need to rent one for the trip.
A few other things to remember 
BATTERIES and battery chargers!
Memory cards
Headlamp or flashlight for night shooting (please avoid anything with a red light function… if you bring a red light we will feed you to the coyotes!)

 

A note about camera straps. Camera straps blow and flap in the wind. Using camera straps on a tripod is a bit like attaching a parachute to your camera. We recommend removing the ones that come with your camera. If you feel better about having a strap, we recommend getting a black rapid style that quickly and easily detaches from your camera before you put it on a tripod
Laptop for post-processing
Itinerary
Our adventures will start after the sun goes down. We will begin each evening with classroom time to prepare you for the shoot ahead. We will then head out to location in time to watch the moonlight fade and the Milky Way rise over the desert landscape. 
In true night owl fashion, we will have breakfast after sunrise, and sleep during the day. We recommend bringing ear plugs and an eye mask if you are a light sleeper!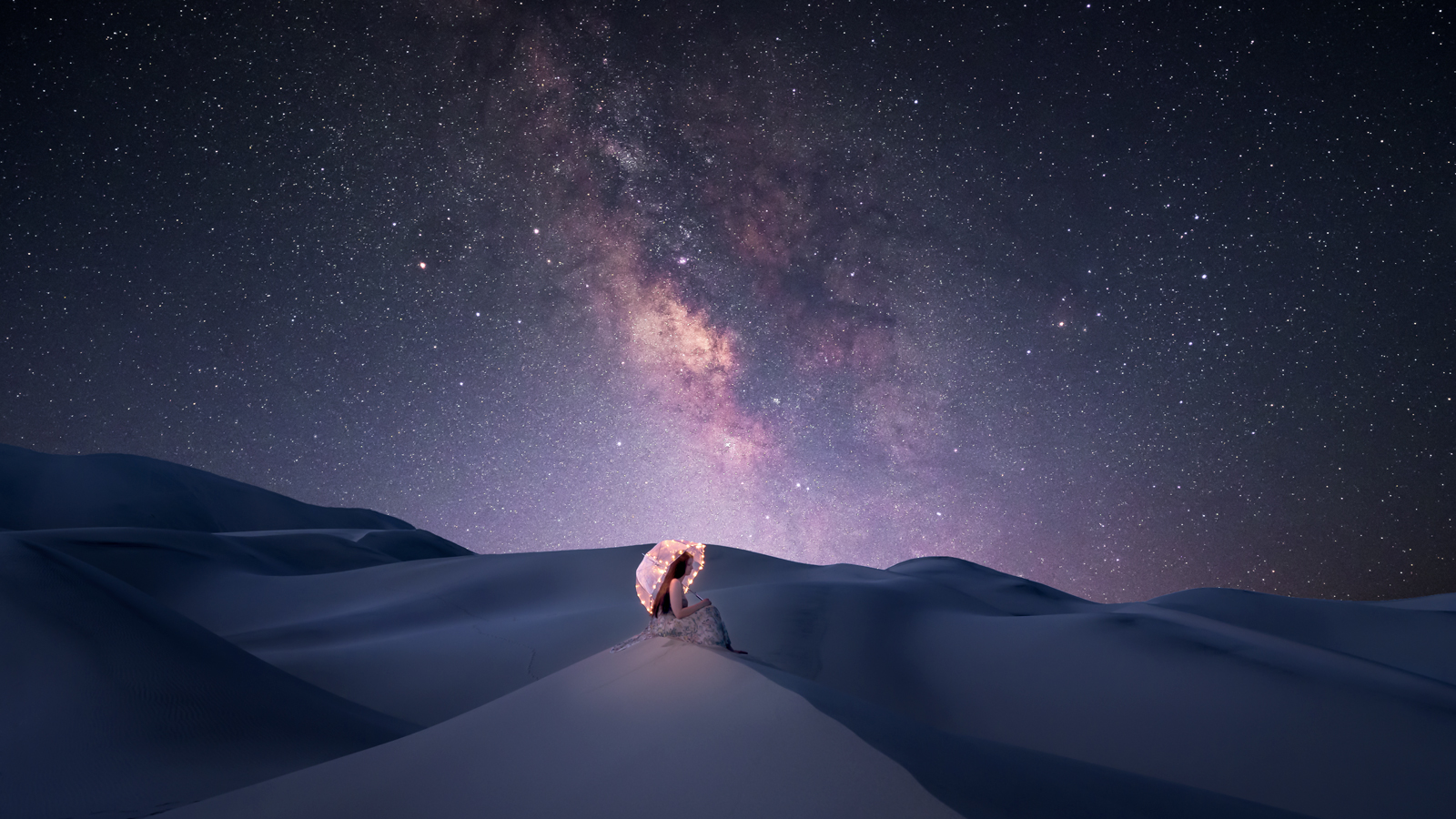 About Me
Rachel Jones Ross, of the House Sony. First of Her Name, The Unslept, Queen of the North, Khaleesi of Coffee, Breaker of Rental Cars, and Mother of Teenagers…
Rachel  is an astrophile, powered by caffeine, with a strong affinity for winter. You can typically spot Rachel in the wild anywhere clear skies can be found, but she will linger for sunrise and sunset when conditions are favourable. Rachel is a member of the Sony Alpha Imaging Collective, and teaches photography workshops both online and on-location at her home in the Canadian Rockies, as well as the California desert, Iceland, and Scotland.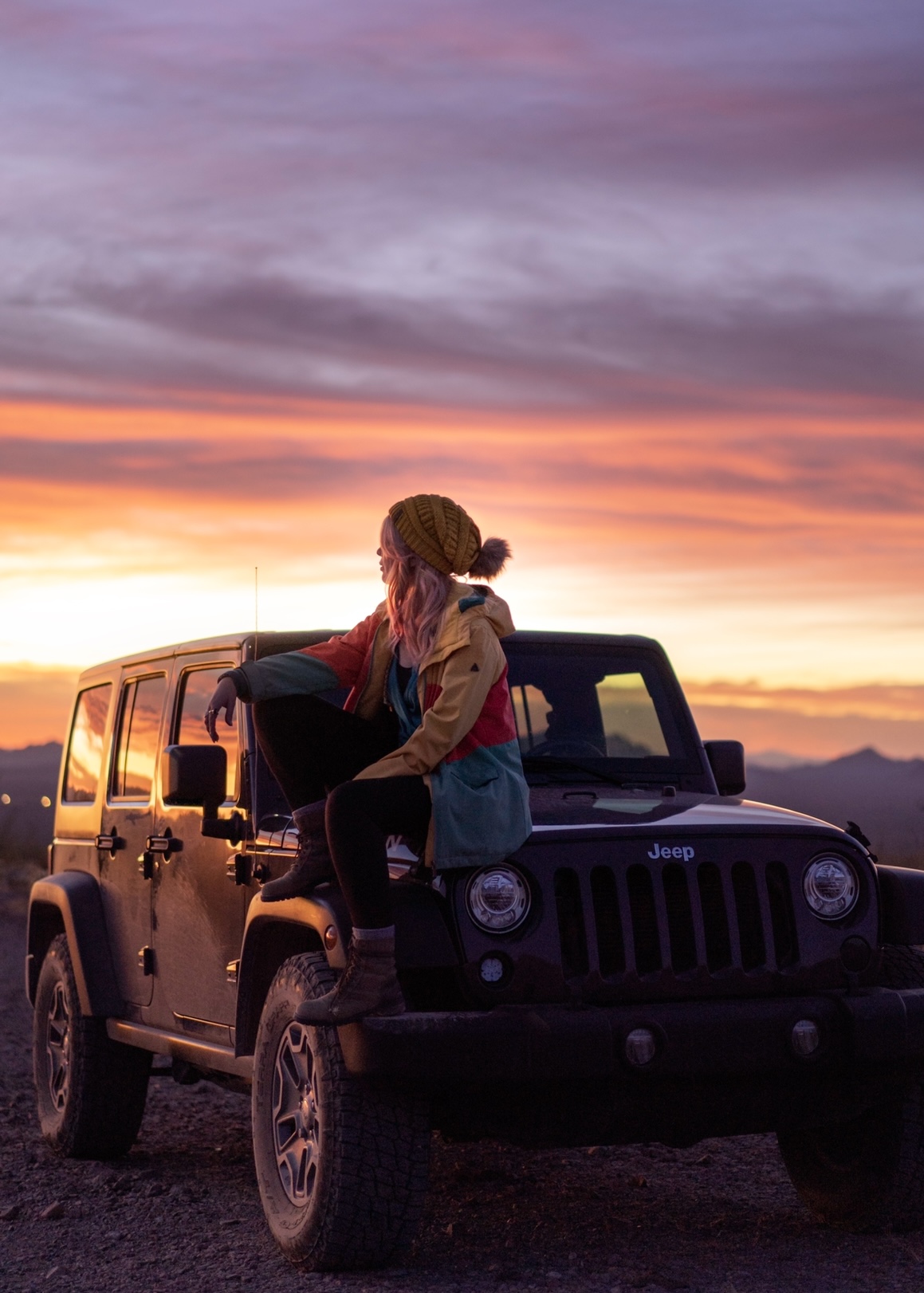 About Jess 
Jess Santos Nightborne of the House Sony, First of her Name, The Uncaged, Queen of the Wild West, Khaleesi of the Valley of Five Dunes, Wrangler of Stars, and Keeper of Unicorns…
With a true affinity for the night sky, Jess Santos spends her time following the Milky Way through vast desert landscapes of the southwest. When she isn't teaching workshops, she can be found exploring the back roads of the Mojave Desert in her jeep, Joseph Irwin. Jess first found a love of astrophotography in the salts flats of Death Valley and has been sharing the stories of the stars through her photography since that first night. She is extremely fascinated with life in the extreme environments of the desert and the varied ecosystems that can be found in what most deem a barren place.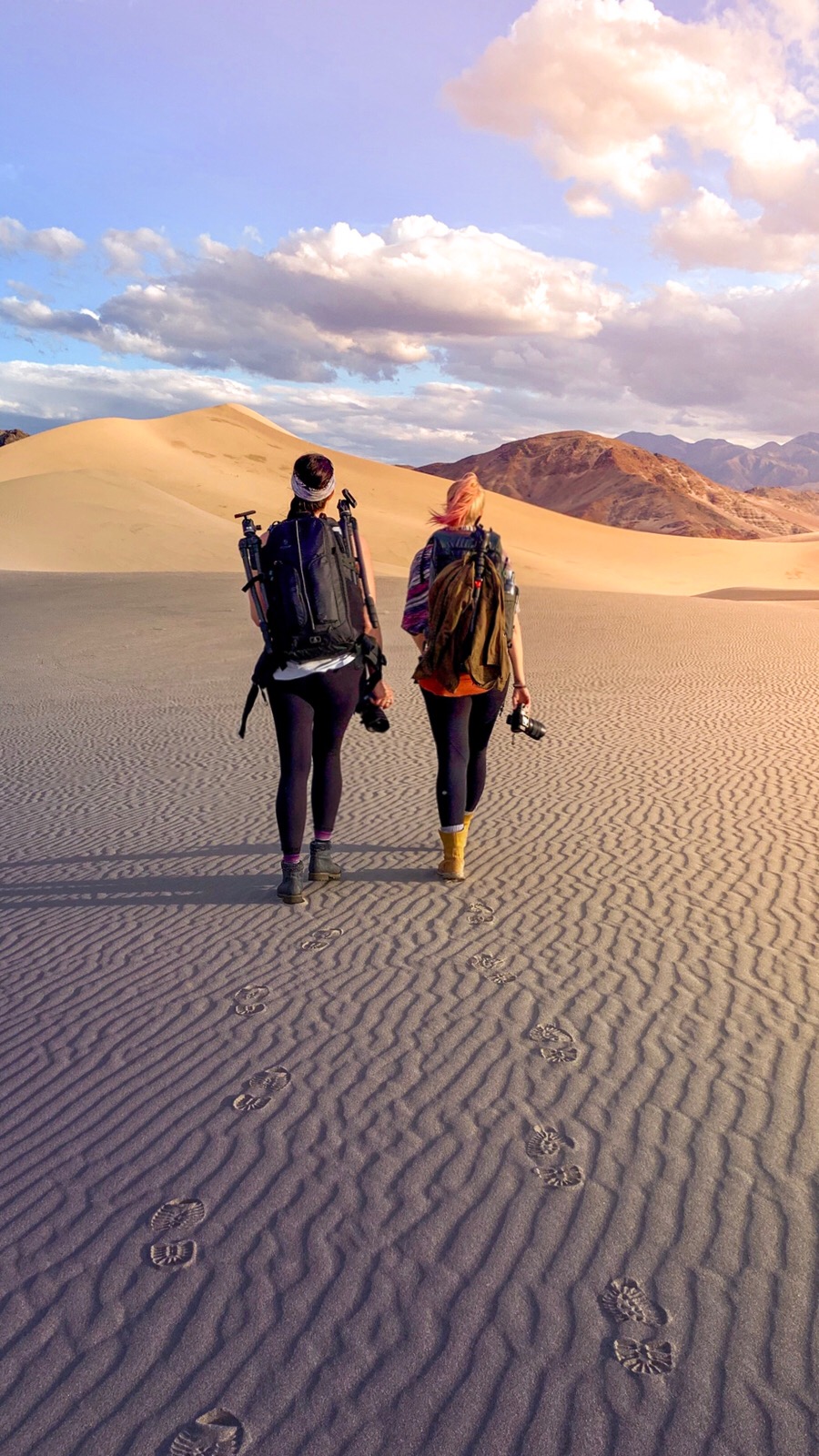 More Details
Accommodations are based on single occupancy. The total cost of the workshop is $3550 (USD). A deposit of $950 is required to hold your spot.
Changes Due to Covid
*Before Covid, deposits were non-refundable. However, we are trying to be as flexible as possible. In the event that you cannot attend, deposits can be credited toward another workshop at a later date. If for some reason you need to cancel within 60 days of the workshop, your deposit will be non-refundable and cannot be transferred to another workshop.

We will no longer be offering group transportation but will be offering single occupancy accommodations. You will need a high clearance vehicle such as a Jeep or SUV. Small cars will not be sufficient on some of the back roads, but carpooling is an option.
Workshop Dates: 
April 24-29, 2023
Contact
Please don't hesitate to reach out if you have any questions. You can contact us using the form at the bottom of the page.
We look forward to working with you!