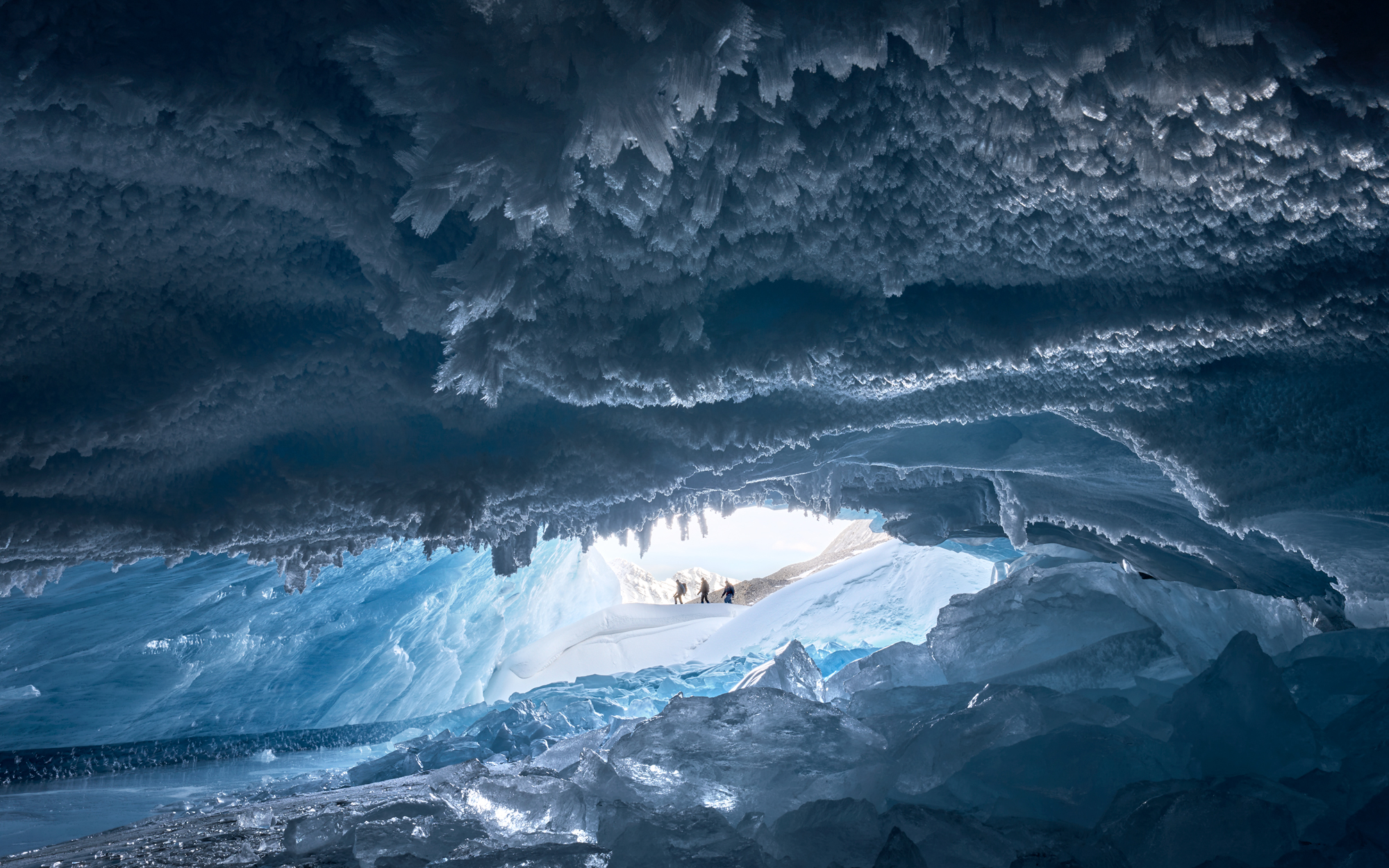 There is little that holds more wonder than the inside of a glacier. It is mesmerizing to wander the deep caverns of ice and explore the textures, shapes, and rich hues of blue.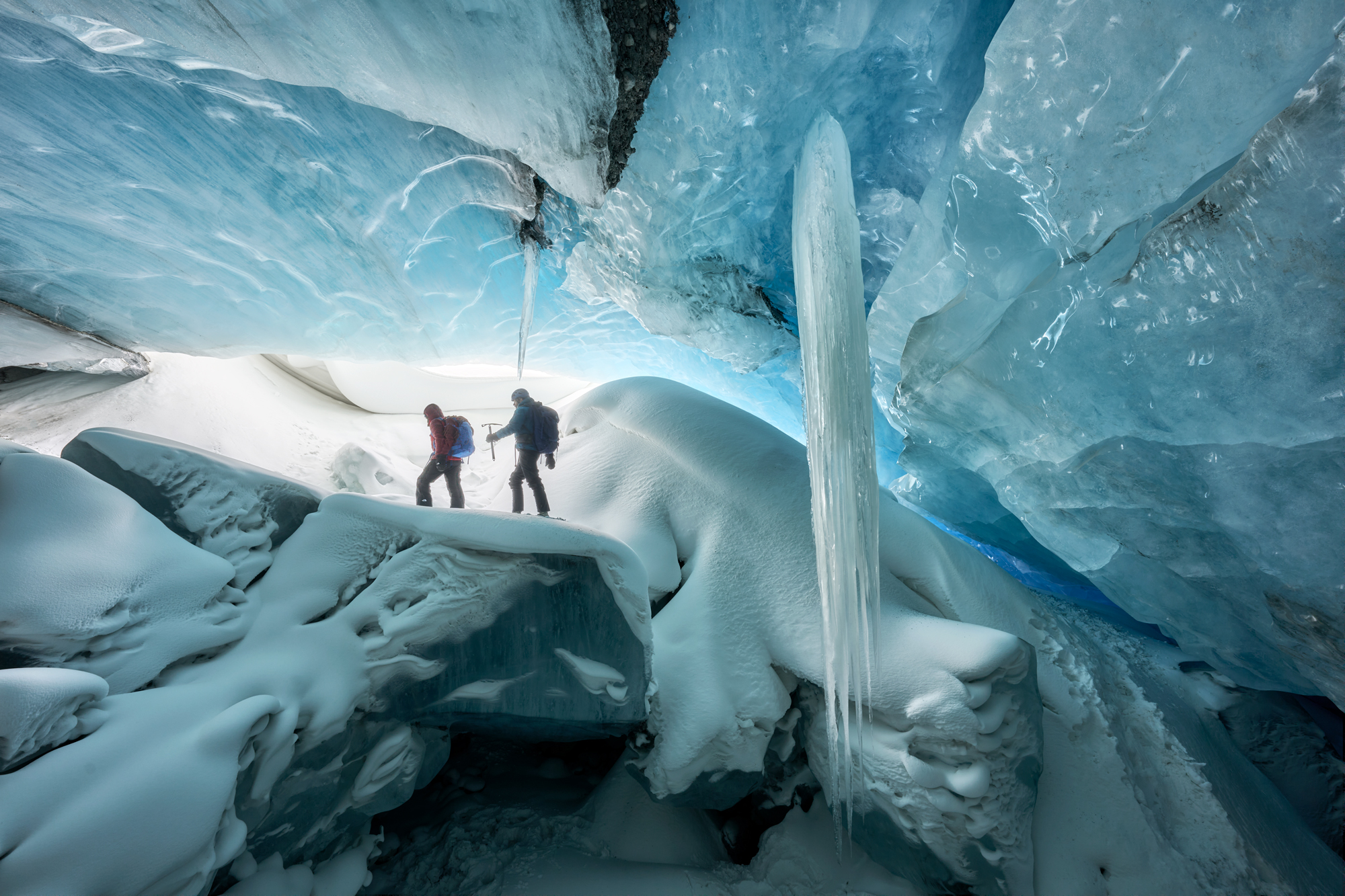 These particular ice caves range in size from expansive caverns to a network of narrow tunnels that run deep beneath the glacier. What is most captivating about these caves are the various formations that range from icicles that extend 30 feet from the ceiling of the glacier, to ice bubbles in the floor of the cave, to intricate frost formations that line some of the narrow passages.

Getting There
Unlike the ice caves in Iceland, the glacial caves of the Canadian Rockies are more difficult to access. This adventure is a 12 mile (out and back) snowshoe trek. The hike is considered moderately challenging because of the distance. It is mostly flat with some mild elevation gain and loss at the beginning of the trail.
What to expect
We will be accompanied by a certified ACMG mountain guide. You will need snowshoes and trekking poles. You can bring your own, or rent them locally. All safety gear will be provided for you.
We will set out before sunrise to reach our destination. You will want to bring plenty of snacks and water with you. You will also want to dress in layers.  I wear a merino wool base layer (top and bottoms), hiking pants, and a shell style jacket to hike in. When I arrive at the cave, I put on a layer of puffy pants, and a puffy jacket to add an extra layer of warmth while I'm shooting. I also wear a balaclava, warm toque (beanie), warm mittens, and I bring either ski goggles or polarized sunglasses for the hike. It is also a good idea to bring an extra pair of socks.
I carry minimal camera gear. You will absolutely need a tripod. I recommend something lightweight (I use the Slik USA CF 734). I typically carry my Sony a1 with the 12-24 mm, and a mid-range lens (like the 24-105, or a 55 mm prime). I also bring a small bag with an extra battery, lens cloth, rocket blower, and extra memory cards.

Small Group

This adventure will be limited to five guests. I love working with small groups; not only do I get to know you better, I can also tailor our time together to suit your needs. 
More Details
The Ice Cave Adventure Photography Workshop will take place January 11th – 12th, 2023. All prices are in USD and based on single occupancy. Lodging the night of January 15th, transportation from Lake Louise to the caves, park passes and photography instruction are included. Meals, drinks and snowshoes are not included.
*Before Covid, deposits were non-refundable. However, I'm trying to be as flexible as possible. In the event that you cannot attend, deposits can be credited toward another workshop at a later date. 
Want to See More of the Rockies?
Check out my "Frozen Bubbles" photography workshop running January 13th to 19th, 2023. This workshop has a little bit of 'everything winter,' with a strong focus on the famous frozen methane bubbles!
As always, please don't hesitate to contact me if you have any questions!