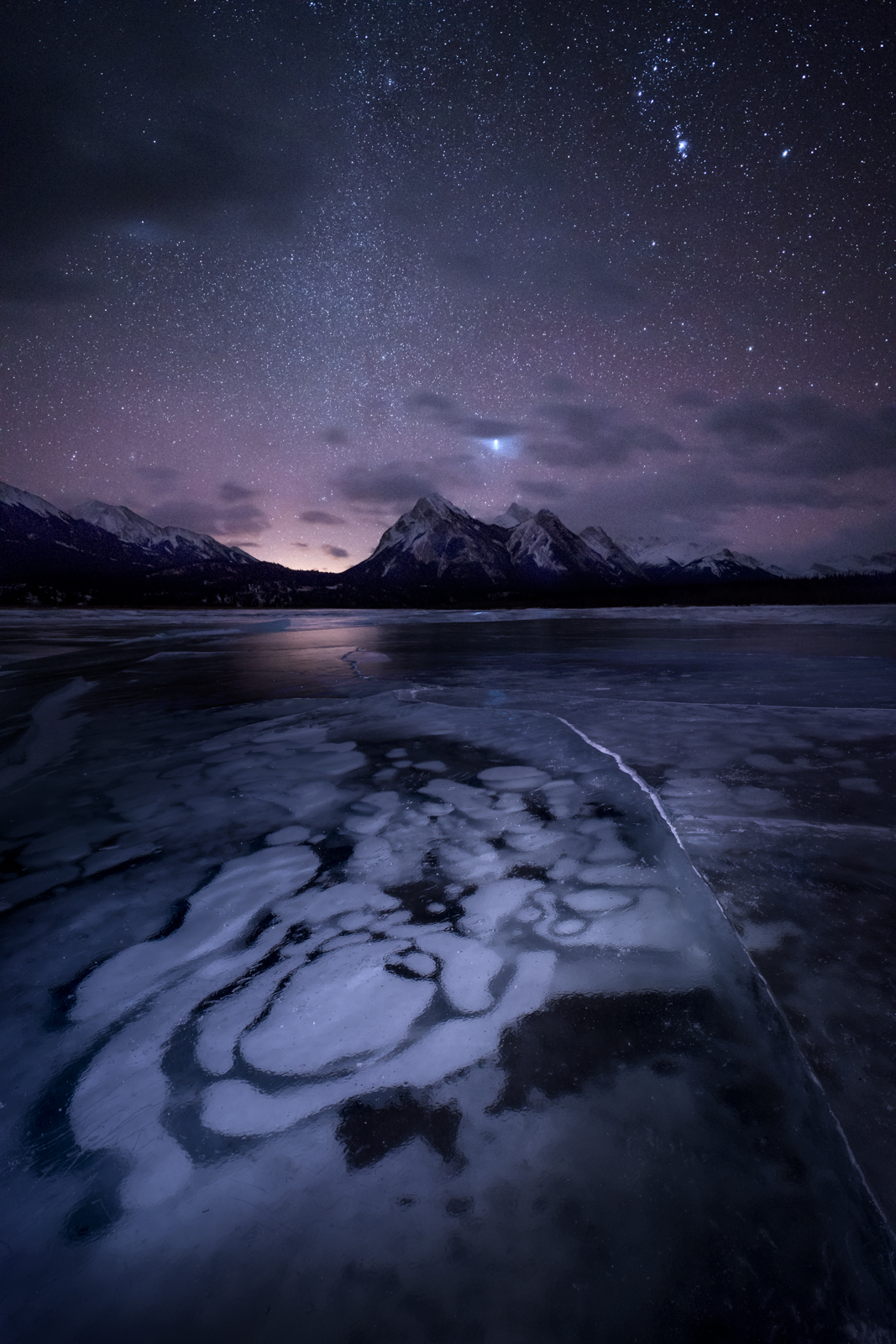 Abraham Lake is famous for its frozen methane bubbles. In the winter, trapped methane gas freezes in bubbles beneath the surface of the ice creating an otherworldly scene. Join me on my Abraham Lake Photography Workshop, December 30th to January 1st, 2019 and I'll show you how to capture the unique beauty of this incredible landscape, and take home images that inspire others!
During this 2 day workshop you will learn how to
Get super sharp images from corner to corner
Focus stack the foreground
Perspective blend
Manually shoot for high dynamic range
Creative compositions
Working creatively with light
Adding the human element to your photo
*Note – all prices are in US dollars
Recommended Equipment
Camera with interchangeable lens
Spare batteries
Shutter release cable (recommended but not essential)
A headlamp for night shooting. White light is preferred (no red lights!)
A STURDY tripod. I can't emphasize enough how important it is to have a solid tripod. Many people spend thousands of dollars on cameras and lenses, and mount their gear on a flimsy $60 tripod. If you invested money in a camera, don't risk damaging it by putting it on a tripod that won't stand up to wind and weather!
Warm layers

I recommend three layers to keep you toasty warm during our adventures. First, a thermal layer, such as Merino wool. This type of fabric keeps you warm and dries quickly. Second, a fleece layer. Fleece is very insulating. Finally, outer wear that blocks wind. A winter jacket and ski pants will be perfect.

Heat packs for inside of mittens and boots
Warm gloves, face mask, and toque
Micro spikes (ice cleats) that slip on over your boots
If you have skates, bring them! You can get some awesome day shots skating over the frozen bubbles, or just have some fun while waiting for the light!
Laptop for post-processing
Where to stay and getting around
You will need a vehicle as transportation is not included in the workshop. However, I strongly encourage carpooling to reduce our carbon footprint.
Abraham Lake is nestled in the remote foothills of the Canadian Rocky Mountains. Lodging options are pretty limited in this area. The closest accommodations are located right on the lake at a place called Aurum Lodge, which is open year round.  Aside from that,  there is a motel, restaurant and gas station located in Nordegg, the nearest town to the lake (about 40 kms away).
If you are only looking for a place to lay your head, there is a wilderness hostel called Rampart Creek – about 60 kms from the lake along the Icefields Parkway. Note that there is no electricity there for charging batteries so you would need to make sure you have enough charged batteries with you!
Want to extend your workshop? I will have two other workshops running back-to-back. Join me for the Jasper Photography Workshop January 3-5, 2019 and receive a $200 discount, and/or the Banff Winter Nights Workshop on January 6th for an additional $50 off! Simply use the code 'BringOnWinter' at checkout!
I hope to see you there!